Accommodations in St. Augustine, the oldest city in the United States, are brimming with antique beauty. You can choose between a luxurious hotel room like the venerable Casa Monica or an eccentric bed and breakfast, best hotels in st augustine. The majority of the bed and breakfasts in the city are located in old homes and are furnished with antiques, giving the area an authentic air. We chose a few things that are historically interesting and comfortable with modern conveniences.
In the centre of the ancient city, several excellent affordable options are neat, comfortable, and well-located for walking around the city. We prefer the Hilton Historic Bayfront and the new Double Tree downtown. However, the old city offers numerous options if you're looking for more historic lodging. We provide you with a few of our favourites that will transport you to a different time. There are also coastal retreats where you can enjoy the sand, surf, and the ultimate stay-and-play golf getaway at the World Golf Village. Here are some fantastic suggestions to assist you in picking the best hotels in St Augustine.
The best hotels in St Augustine:
1. St. George Inn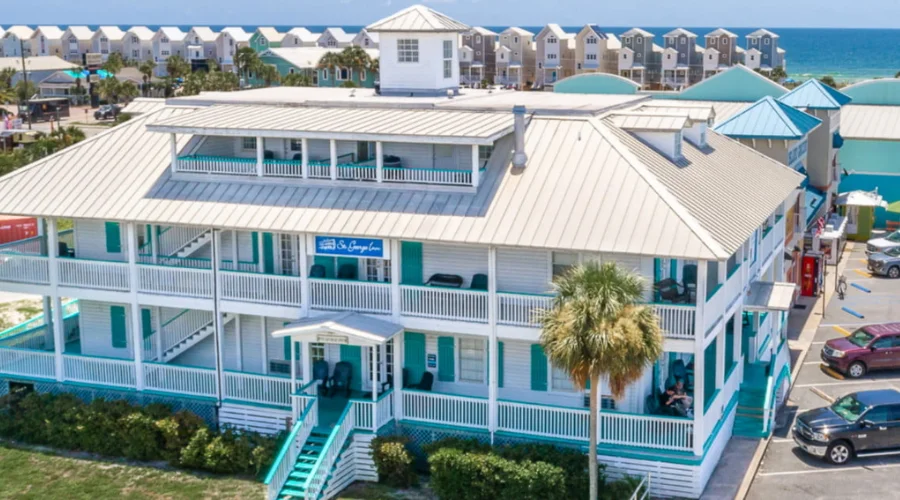 This century-old, locally owned inn offers rooms with spectacular views of the Castillo, the City Gate, Matanza's Inlet, or the inn's lovely courtyard. It is tucked away in the heart of St. Augustine. The St. George Inn has a wine bar on the property and is close to Old Town, which features streets lined with boutiques, eateries, and historic sites, including the oldest wooden schoolhouse. Additionally, St. George welcomes visitors who have small furry family members and allows pets.
---
2. Casa Monica Resort & Spa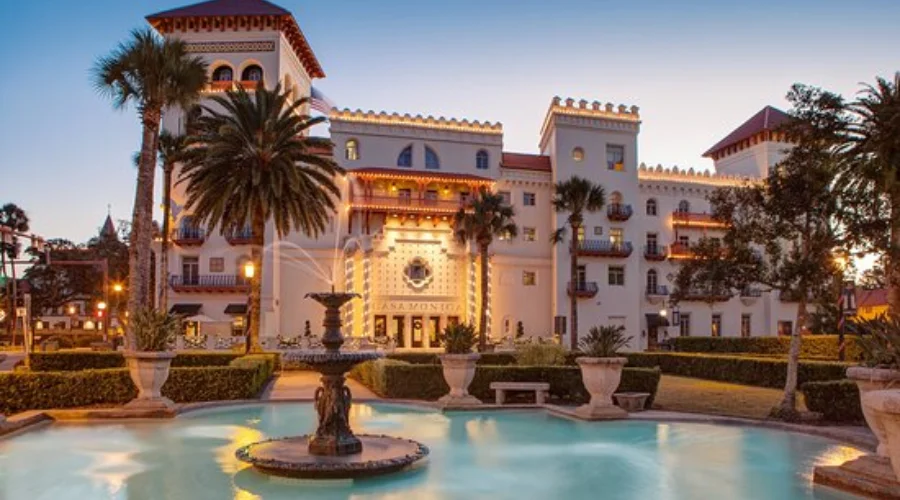 Get ready for awe-inspiring sights, from the Moorish and Baroque Revival architecture of the Casa Monica Resort & Spa to the original artwork and Spanish tapestries decorating the interior walls. While touring the grounds and the Grand Bohemian art collection, it's simple to fall in love with the elaborate chandeliers and hand-painted Italian tiles. You can enjoy drinks in the hotel's Cobalt Lounge's exotic ambience, or you can lose yourself in Costa Brava's ambience and superb dining. This one of the best hotels in St Augustine offers elaborate king and queen rooms with breathtaking city views and two-story suites divided by spiral staircases. Additionally, guests can take advantage of a free shuttle service and access to Serenata Beach Club, a private beach paradise with two sizable pools and beachside dining.
---
3. Marker 8
Marker 8 is a hidden gem with a contemporary appeal and some of the best waterfront views of the historic downtown skyline. Clean, modern furniture with a subtle nautical theme gives the design to the rooms. Breakfast in the Captain's lounge is available every morning, and after a day of sightseeing, they offer hors d'oeuvres and cocktails. Visitors can unwind in the swimming pool while seeing the boats as they navigate the bay. Dock your vessel at the hotel's exclusive harbor, spend a while, and enjoy calm sailing and stunning vistas of St. Augustine's surroundings. This is one of the best hotels in St Augustine.
---
4. Old City House Inn & Restaurant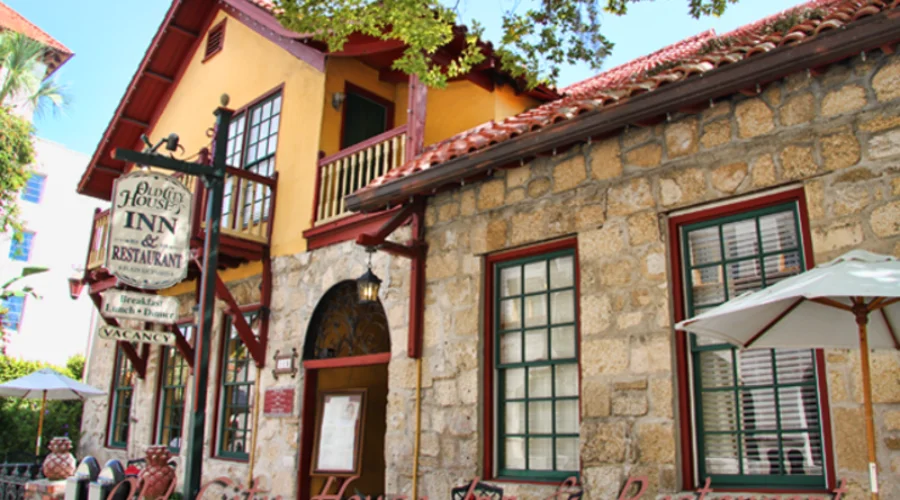 Do not be deceived by this bed & breakfast's late 18th-century construction. Each tastefully decorated room at the Old City House Inn & Restaurant has its unique tale, proving that beauty is in the eye of the beholder. It has cathedral ceilings, stained glass accents, gorgeous hardwood floors, sunburst windows, stunning hand-carved mahogany furnishings, and individual room entrances, giving it a home-like atmosphere.
Your stay in this one of the best hotels in St Augustine includes the everyday breakfast and a calm place to have dinner.
---
5. St. Augustine Beach House
You can't get any closer to the water than at the St. Augustine Beach House, which offers stunning views of the shoreline and the sounds of crashing waves from your balcony. You can sense the coastal feelings from this hotel's collection of seaside rooms because "beach house" is in the name. It is one of the best hotels in St Augustine beach fl.
This pet-friendly establishment offers amenities for your furry one, such as a gated play area and a dog-friendly beach just outside your door. The best part is that the downtown area and historical sights of St. Augustine can be reached in about ten minutes by automobile.
---
6. Saragossa Inn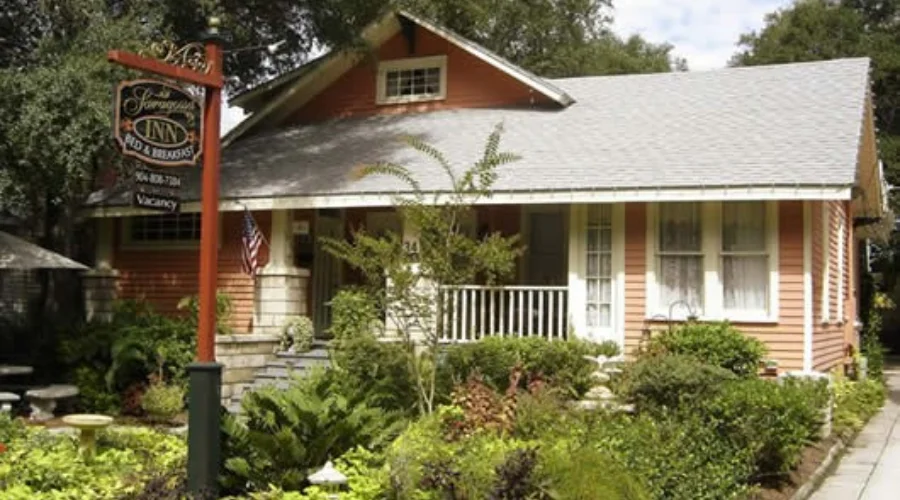 In a peaceful, residential neighbourhood, this one of the best hotels in St Augustine offers a distinctive bed & breakfast experience that has been retained with southern charm and ambience. Visitors will be transported back in time due to the beautiful Florida décor and traditional furnishings from the early 1900s.
Each bedroom has a separate porch entry and a small kitchenette. So, unwind in a rocking chair and start each day with a three-course breakfast before visiting the Castillo de San Marco or the Potter's Wax Museum. St. Augustine's centre is just a hop, skip, and jump away.
Also read : Book Your Hotels In Antalya Turkey At The Best Holiday Locations
---
7. Bayfront Westcott House Bed & Breakfast
The Bayfront Westcott House Bed & Breakfast, built in 1880, is your pass to peace in St. Augustine. On the veranda, a sumptuous breakfast is made available to guests. The Westcott takes great pleasure in providing visitors with a substantial, home-cooked start to each day, including biscuits and gravy, French toast, and eggs benedict. You will feel like royalty in the spacious rooms decorated with antique furniture and sumptuous hypoallergenic bedding.
If you stay in Alison's Attic Loft, located upstairs, you'll have a unique miniature attic experience with the romance of an in-room soaking tub. This B&B is only a few blocks from the Castillo De San Marco and is located in a calm area, close to both dining and shopping. As the sun sets, settle back with a drink and see the vessels cruising the bay from the front porch or private balcony. You'll undoubtedly see the Black Raven pirate ship, a well-known floating show, and attraction, and head out to sea.
---
Conclusion 
Get ready for stunning views from the St. Augustine lighthouse, historically accurate architecture, ghost and graveyard tours, visits to the area's vineyard and distillery, a wide variety of food and shopping options, and a buzzing atmosphere with Old Florida charm. You'll need more than one day to experience everything St. Augustine can offer. Thus, the article provides the top options for the best hotels in St Augustine. For more information visit our website Trenndingcult.
FAQ's