Are you looking to transform your garden into a cosy, inviting outdoor space? Well, to get started, you'll first have to install durable and stylish furniture, something like a wooden garden table. This piece of furniture is both functional and aesthetically pleasing, making it the perfect addition to your outdoor space. Whether you like to host huge barbecues or enjoy quiet mornings with a cup of coffee in the fresh air, a wooden garden table provides the ideal spot to gather, dine, and relax. 
VidaXL is a leading online retailer known for providing good quality garden furniture. It's the perfect place where you can find a wide range of wooden outdoor tables that suit your preferences and personal style. This blog will act as a good starting place for you where you can find the best wooden garden tables available on VidaXL. Let's go!
A diverse collection of wooden garden tables on VidaXL
At VidaXL, you'll find a diverse collection of wooden garden tables that are designed to elevate your outdoor space. The brand focuses on quality craftsmanship and stylish designs and thus offers an impressive selection of wooden garden tables that cater to various tastes and preferences. Here are some popular options from their collections that will make your garden party-ready.  
1. vidaXL Garden Table – Black Poly Rattan and Solid Acacia Wood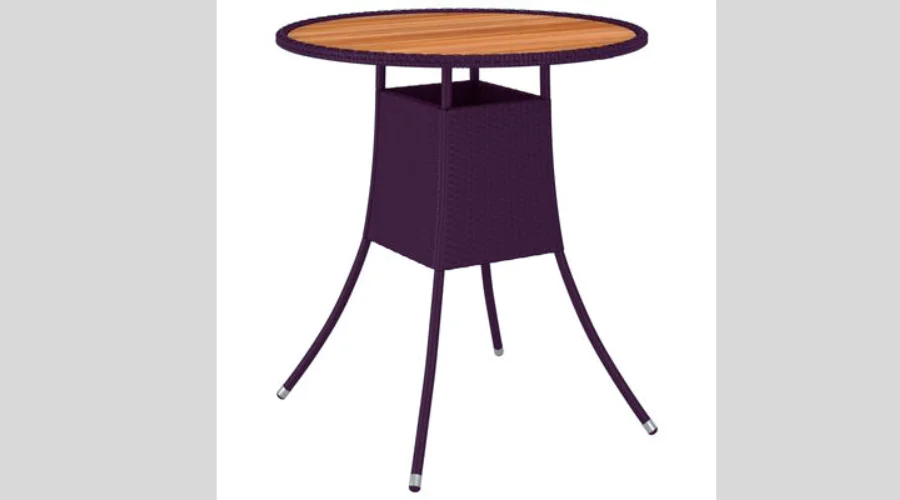 The vidaXL Garden Table offers a unique combination of black poly rattan and solid acacia wood, creating a stylish and inviting outdoor seating area. This round table has a diameter of 70 cm and is perfect for small outdoor spaces or as a side table. The table features a poly rattan weave that adds a contemporary touch. The solid acacia wood, on the other hand, speaks of durability and a natural aesthetic. This wooden garden table is both sturdy and weather-resistant, helping it withstand various weather conditions. Also, its compact size makes it easy for you to move it around and place it wherever needed.
---
2. vidaXL Garden Table – Solid Teak Wood
Enhance your outdoor space with the elegant and functional VidaXL Garden Table. This table will act as a timeless addition to your outdoor area as it is crafted from solid teak wood, renowned for its durability and natural resistance. The wooden garden table features a square shape measuring 80x80x80 cm, offering ample space for gathering friends and family. The rich, warm tones of teak wood bring a touch of elegance and enhance the overall aesthetics of your garden. You can trust that it will be a long investment due to its sturdy construction. Additionally, the natural oils in teak wood will provide protection against moisture and insects.
---
3. vidaXL Garden Table – Poly Rattan Anthracite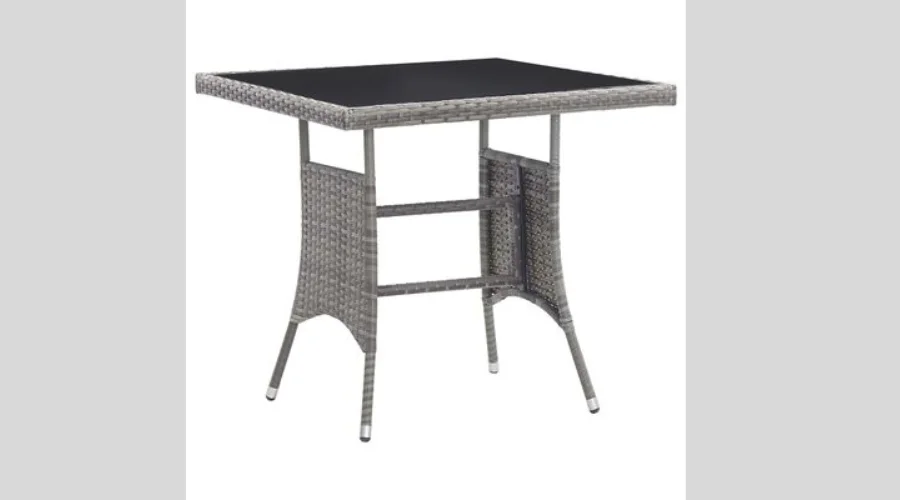 Whether you're enjoying a morning coffee or hosting a small gathering, this Poly Rattan Anthracite wood garden table will be a perfect addition to your outdoor area. This stylish table, measuring 80x80x74 cm, is perfect for smaller outdoor areas and balconies. The wooden garden table features a poly rattan construction in an elegant anthracite colour. creating a sleek and contemporary look. Despite its lightweight design, it remains sturdy and weather-resistant, making it suitable for outdoor use.
---
4. vidaXL Garden Table – Black Poly Rattan and Solid Acacia Wood
Experience the perfect blend of style and durability with the vidaXL Garden Table in black poly rattan and solid acacia wood. The sleek design and neutral colour palette make it a versatile addition to any outdoor space. The credit for its durability goes to its solid acacia wood construction. For a contemporary touch, the table comes with poly rattan weaving. This wooden garden table is built to withstand all weather conditions, making it ideal for outdoor use.
---
5. vidaXL Garden Side Table – Solid Teak Wood and Stainless Steel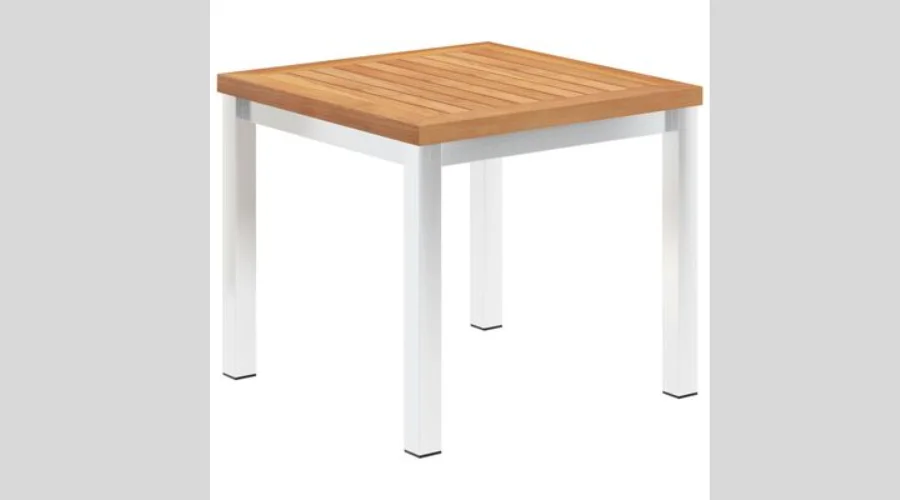 The vidaXL Garden Side Table creates a stylish and functional outdoor accessory. It effortlessly combines the natural beauty of solid teak wood with the sleekness of stainless steel, a durable combination. Measuring 45x45x38 cm, this compact side table is perfect for holding drinks, books, or decorative items. The solid teak wood provides durability and a warm aesthetic, while the stainless steel frame adds a touch of contemporary elegance. Whether placed next to a lounge chair or used as a standalone piece, this wooden garden table enhances the charm of your outdoor space while offering convenience and versatility.
---
Conclusion 
A wooden garden table not only provides a practical space for outdoor dining and gatherings but also adds natural beauty and warmth to your garden. VidaXL offers a range of top-notch wooden garden tables that combine style, durability, and affordability. By choosing high-quality materials and taking proper care, you can enjoy your wooden outdoor table for many years to come. Things like regular cleaning, choosing the right type of wood, applying protective finishes, and using table covers can make a huge difference when it comes to extending the life of your wooden garden table. Also, by shopping on a trusted platform like VidaXL, you can rest assured that your garden furniture will be a long-term investment. For more such updates, visit TrendingCult. 
FAQ's