Content creators rely heavily on video processing and delivery in today's multimedia-driven world. Adobe Media Encoder is a powerful solution for video encoding, transcoding, and media processing. It's an indispensable component of Adobe Creative Cloud, and it plays a decisive role in the multimedia industry by streamlining and optimizing workflows.
Overview of Adobe Media Encoder
Adobe Media Encoder is a versatile software that enables users to deliver audio and video files in various formats. The primary function of this software is to transcode media files into different formats, ensuring interoperability across platforms and devices. Adobe Encoder is your one-stop shop for exporting videos to all video-sharing platforms like YouTube and Vimeo. Also, it allows you to hit the mark with specific devices like professional tape decks, DVD players, mobile phones, and high-definition TVs, effortlessly and seamlessly.
The software offers comprehensive features and functionalities to enhance media processing. The user interface is a work of art, allowing for a seamless workflow that optimizes the efficiency of encoding tasks. All input and output formats are welcome, as the Media Encoder Adobe reigns supreme in flexibility and industry compatibility.
Interface and Workflow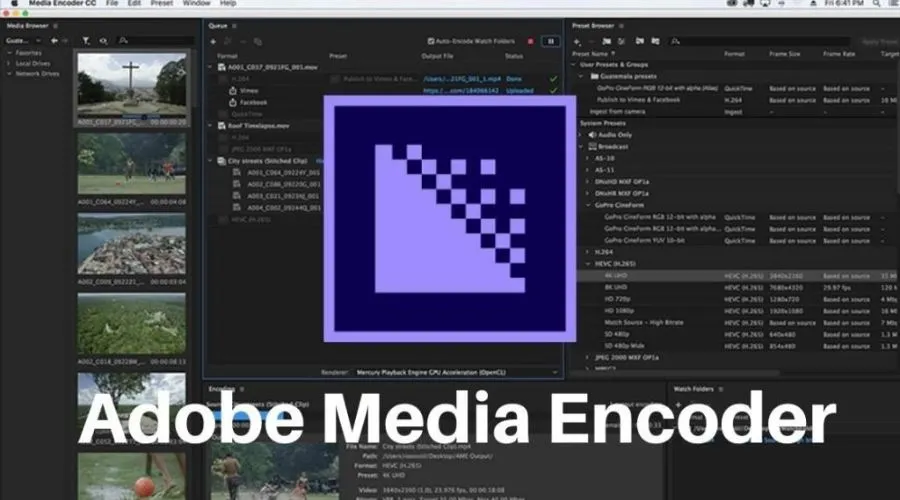 Adobe Media Encoder boasts an intuitive interface that streamlines the processing of media. The workspace has various panels, housing the Encoding panel, Queue panel, Preset Browser, Watch Folder, and Media Browser. These panels can be customized to suit individual whims, creating a bespoke workspace for each user.
The fundamental workflow of Adobe Media encompasses adding files to the encoding queue via the Queue panel. Users can import source video or audio files, Adobe Premiere Pro sequences, and Adobe After Effects compositions. The encoding process can start manually or automatically when an item is added to the queue. The software provides users with options to manage the encoding hierarchy and set preferences for when encoding should start.
Adobe Media Encoder avails an array of tools and possibilities for customization. Practitioners can utilize presets from the Preset Browser to streamline their workflow or tweak output settings in the Export Settings or Ingest Settings dialogues. The software further facilitates batch processing, empowering users to encode multiple files concurrently and devise presets for efficient and consistent encoding workflows.
---
Encoding and Transcoding
Media processing is an intricate art that demands both encoding and transcoding techniques. Encoding is the act of fashioning media files and transforming them to cater to specific platforms or devices. Meanwhile, transcoding is the process of morphing media files to a distinct codec or bitrate while preserving the audio and visual quality. 
Adobe Media blesses users with various encoding options and presets tailored to their unique needs. The software supports a variety of codecs, including the popular H.264, HEVC, ProRes, and DNxHD. Users can pick from various presets specially created for different purposes like web video, Blu-ray, DVD, broadcast, and more. These presets include preconfigured settings that guarantee optimum audio and video quality for specific output formats. 
Elevating the media quality is easily accessible with Adobe Media Encoder's proficiency in refining settings and parameters. Users can modify the resolution, bitrate, frame rate, and other enigmatic elements to optimize the output quality to their personal preferences. This software presents a melodic array of audio encoding options, such as selecting the audio format, bitrate, and sample rate, all at the user's fingertips.
---
Media Processing and Output Settings
Adobe Media Encoder boasts various media processing capabilities beyond mere encoding and transcoding. Its users are empowered to manipulate their videos with numerous dynamic features, from resizing to cropping to applying visual effects. This versatility enables content creators to finesse their videos to meet even the most particular specifications.
Configuring output settings is as simple as snapping your fingers. Users can easily select their desired resolution, bitrate, and file format, allowing them to customize their preferences. Adobe Media Encoder supports popular output formats like MP4, MOV, AVI, and WMV. Furthermore, users can create personalized presets to store their encoding settings for later use, streamlining their workflows and ensuring consistency across multiple projects.
---
Integration with Adobe Creative Cloud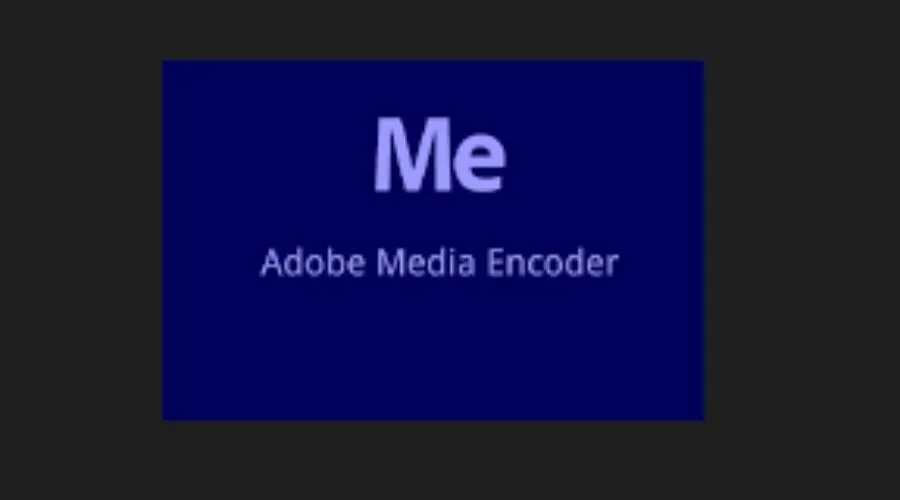 Adobe Media Encoder offers ample benefits, one of which is its remarkable ability to integrate flawlessly with other Adobe Creative Cloud applications. Its compatibility extends to Adobe Premiere Pro, After Effects, Audition, and Character Animator, creating a harmonious media production pipeline.
Transferring files between Adobe Media Encoder and its collaborators is effortless, promoting a seamless workflow. For instance, Adobe Premiere Pro users can dispatch their sequences straight to Adobe Media Encoder for encoding before re-importing the encoded files back for editing or distribution. This integration simplifies the entire post-production process, saving an ample amount of time and energy.
---
Tips and Best Practices
Maximize encoding efficiency and quality with the expert Adobe Media Encoder tactics:
Handpick the perfect preset: Handpick you're preset to streamline your workflow and secure the highest output quality. Pick from a plethora of Adobe Media Encoder presets to find the one that's tailored to your intended output.

Decipher the encoding settings:- Decode the encoding settings and their impact on video and audio quality. Test out different parameters to achieve your desired results while sustaining a balance between file size and quality.

Optimize resource usage:- The encoding process can be a resource-guzzling affair. Ensure your machine is up to snuff with Adobe Media Encoder's system requirements. Steer clear of running demanding tasks in tandem to guarantee a seamless encoding experience.

Diagnose issues:- In the event of any snafus during the encoding process, consult Adobe Media Encoder's documentation or online resources to troubleshoot commonplace hiccups. This will expedite issue resolution and streamline your workflow.

Harness shortcuts and hidden gems:- Adobe Media Encoder boasts a plethora of shortcuts and obscure features that can turbocharge your productivity. Get to know these shortcuts and unearth the software's lesser-known tools to squeeze every last drop out of Adobe Media Encoder.




---
Conclusion
Adobe Media Encoder enlivens content creators in the multimedia industry with its commanding capabilities. Its importance in video encoding, transcoding, and media processing is immeasurable. The tool's intuitive interface, the vast array of features, and seamless integration with other Adobe Creative Cloud applications create an effortless workflow and guarantee optimal output quality. Whether you're a seasoned video editor, a visionary multimedia artist, or a content creator with big ideas, Trending Cult furnishes you with the tools and flexibility to deliver your media content efficiently. Unleash its limitless capabilities, exploit its integration with Adobe Creative Cloud, and embrace the force of Adobe Media Encoder to elevate your multimedia projects to new heights. Adobe Media Encoder is your portal to optimized and visually striking videos in today's digital landscape.
FAQs