On the famous Costa Blanca region in Valencia, Spain, meet Benidorm. In this blog, we'll discuss about the best hotels in benidorm. A vibrant seaside city, the sun-kissed beaches unite with the busy streets of modern Spanish influences. Albeit a family, a group of friends, or a couple. There is a place for you in the beautiful city of Benidorm. The coastal town provides a host of marvellous hotels and resorts to choose from. This article is tailored for you to decide your taste. Sit back, relax and scroll through the best hotels in Benidorm. There is a nook for every tourist in Benidorm. Poniente beach is the quiet section where you can laze away listening to the calming sound of the waves with your family and loved ones on the peaceful promenade. Levante beach, in contrast, is the more happening side with a bustling boardwalk and numerous bars and nightclubs that neighbour is a place to be for the night lovers. In the middle of the two beaches is the vintage Old town of Benidorm, with historic architecture and a handful of shops and restaurants. If you want to explore the once-fishing village's roots, diving into the narrow streets is for you. 
Best hotels in Benidorm:
Glance over the best hotels in Benidorm: 
1. Hotel Don Pacho 
An Elegant hotel and one of the best hotels in Benidorm. 100 meters shy from the happening Levante beach. Before stepping out to the beach, you can enjoy the spacious rooms that Hotel Don Pacho offers. Coupled with the great space, dive into the pool, keep in shape at the gymnasium, and restore yourself at the SPA. The hotel has a brilliant resto-bar with cuisines from around the globe to keep your mind and tummy famished. This well-reputed hotel also counts as one of the best family hotels in Benidorm.
---
2. LevanteLux Aparthotel
Looking for modern comfort and convenience in one of the best hotels in Benidorm? The Levante Lux Hotel. Just a short 500-metre stroll from the beach, this stylish hotel boasts a range of top-notch amenities, including an inviting outdoor pool, a sun-soaked terrace, and a buffet restaurant. Rooms are spacious and chic with all the mod cons you need, including air-con, flat-screen TVs, and free Wi-Fi. And, with its location just a stone's throw from shops, bars, and restaurants, you're perfectly positioned to soak up all that Benidorm has to offer. Trust us. The Levante Lux Hotel is a top pick for a sensational stay in this sun-drenched Spanish town.
---
3. Benidorm Celebrations Music Resort 
One of the best hotels in Benidorm with an exciting party life. A vibrant and classy hotel with a lively atmosphere with modern refurbishments for young vacationers. Every room is well-equipped and spacious and has a private balcony or terrace. Yes, you heard right. With all this, guests can dance on a sun terrace with an on-site bar and jump into the pool afterwards. Bang in the heart of Benidorm and a short stroll away from the beach and nearby shops, bars, and restaurants, the hotel makes for one of the most positive stays in Benidorm.
---
4. The Flamingo Beach Resort: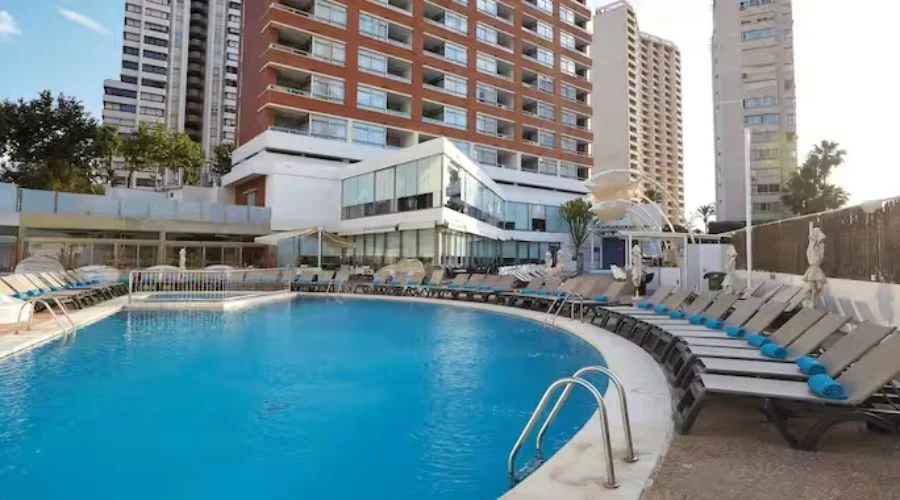 This resort is perfect for a chic and modern hotel in Benidorm. Just a few blocks from the beach, the amenities, two outdoor pools, fitness centre, and buffet restaurant will mesmerise you—Spacey, Mediterranean, and stylish. The rooms come with air-conditioning and free Wi-Fi. The plot is situated near local shops, bars, and restaurants. Explore the lively vibe of Benidorm during your stay here.
---
5. Hotel Villa Venecia: 
Considered the best hotel in Benidorm old town, the luxurious 5-star hotel is located in the heart of Old town, overlooking the stunning Mediterranean Sea and city. The hotel offers a rare and indulgent experience with 26 beautiful rooms and suites with a private balcony. Guests enjoy the rooftop terrace, swimming pool, jacuzzi, gourmet restaurant, and a SPA. If you're seeking a luxurious stay in Old Benidorm, this is what you should book.
---
Conclusion
Benidorm is a swell location for a summer vacation, as it is dry all year round. Whether you are here with family, friends, loved ones, or even alone! Benidorm has it all, from the relaxing Poniente beach and the ever-bustling Levante Beach. Some of the best hotels in Benidorm are Levante Lux hotel, Benidorm Celebrations Music Resort, and Hotel Villa Venecia. In case strolling through old historic architecture is what you desire, Old town Benidorm is also known as el Castillo. If you want a sunny escape, hip nightlife, and historical experiences, Benidorm is the place to be. For more information, explore the TrendingCult website!
FAQ's