Bridesmaids are an integral part of a bride's bridal party, which makes bridal proposals a special moment. Zazzle offers the perfect bridesmaid proposal cards, that are not just a simple invite but also a display of affection, creativity, and the promise of special occasions.
Let your bridesmaid proposal cards be an elegant, and completely unforgettable expression of your love story as you begin this lovely chapter of your wedding preparations. Let's check out some bridesmaid proposal card templates by Zazzle and mark the date!
Best bridesmaid proposal cards for your special girls
Bridesmaid proposal cards by Zazzle, where each card is skillfully made with attention to every last detail, is a selection of amazing designs that go above and beyond standard invitations. These cards fuse style, originality, and sincerity and are a work of art that was specifically created to reflect your own love story, giving your bridesmaids an experience they will never forget. 
Whimsical minimal script bridesmaid proposal card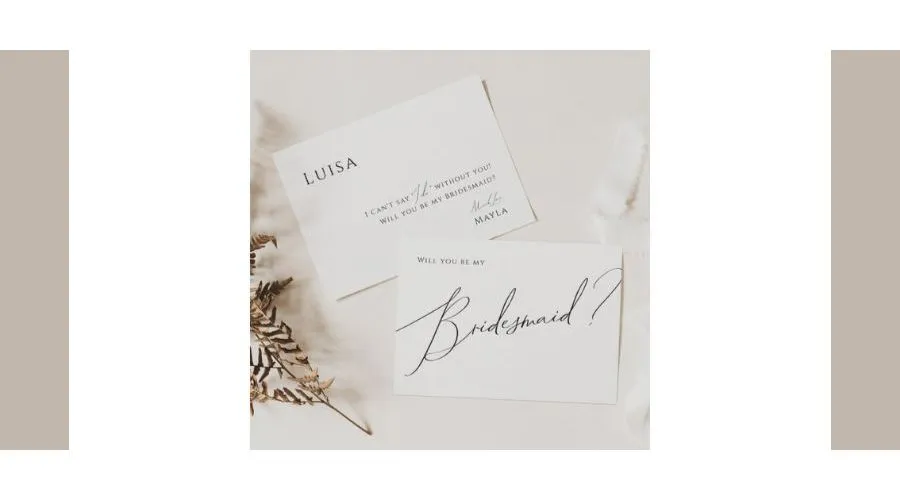 Imagine a card that exudes elegance and simplicity, a work of exquisite charm that perfectly expresses your wedding's vision. The 5″ x 7″ Whimsical minimal script bridesmaid proposal card is more than just an invitation, it's a piece of art. This card, which is made of premium 17.5 pt matte paper, oozes subtle elegance and has an uncoated matte surface that gives it a natural feel. 
With its formal shabby chic typeface and handwritten calligraphy lettering, the design is a tango between minimalism and sensuality. No matter the wedding season—whether it's the blossoming of spring, the warmth of summer, the rustic tones of fall, or the stunning snowflakes of winter—this black-and-white masterpiece adjusts flawlessly. 
This proposal card's flexibility to be customized is what really sets it apart. With plenty of room for personalization, you can add graphics, include images, and build a proposal that showcases your special love story.
---
  2. Color palette will you be my bridesmaid proposal card
Explore the world of personalized creation using the Bridesmaid proposal note card. This note card, which measures 4.25″ x 5.5″, is a blank slate with countless options. The matte texture lends it a timeless, elegant feel, and the double-sided printing makes sure that your message is well understood. 
This proposal card serves as a souvenir and a reminder of your relationship with your bridesmaids, thus it serves as more than just an invitation. You may make any aspect completely unique and add your individuality to it. Choose your wedding colors, place your best photo on the front, and write a special note on the back. This card goes beyond the norm by letting you use a color scheme that complements your wedding's theme.
---
  3. Whimsical faded photo bridesmaid proposal card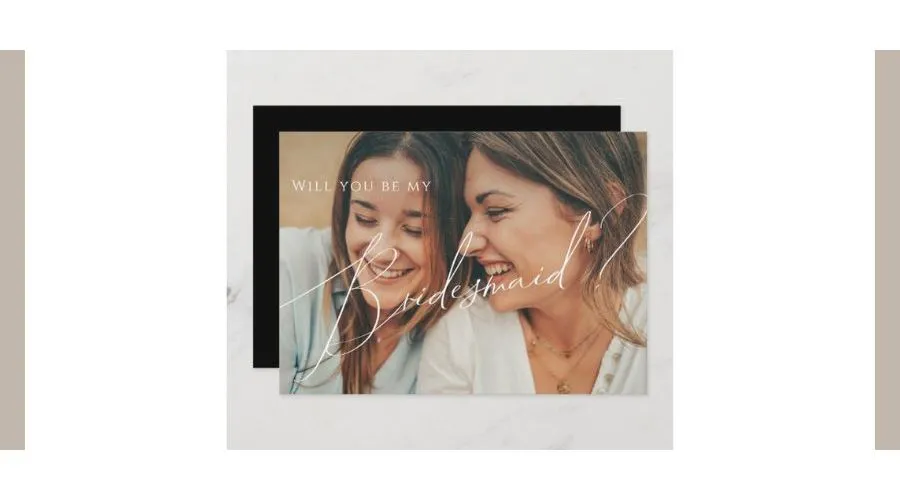 With the Whimsical faded photo bridesmaid proposal card, embrace the playfulness of love. This 5″ x 7″ invitation combines traditional simplicity with contemporary elegance. The combination of shabby chic font and handwritten calligraphy produces a charming and romantic ambiance. 
Your unique tale is waiting to be created on this proposal card, which is like a blank canvas. You can make sure that your bridesmaids receive a proposal that is as special as your relationship by having the opportunity to add graphics, insert images, and personalize every detail. This card has a touch of vintage allure thanks to the fading photo look, which also makes it a lasting keepsake.
---
  4. Jolie modern editable bridesmaid info card
The Jolie modern editable bridesmaid info card is the undisputed king of bridesmaid invitations. This work of art, measuring 5″ x 7″, expertly combines edgy style with perfect practicality. This card stands out due to its outstanding features, and complete editability. 
In this case, choosing a design is not the same as creating an experience. You can control the language and colors to suit your own choice in the customization section, With a digital pen, you can make a one-of-a-kind work of art that speaks to your soul each time you use a card. This is possible because the card's essence and your personality combine every time. 
It's more than just a card; it represents your individuality and serves as an extension of who you are.
---
  5. Be My Bridesmaid – Photo & calendar note card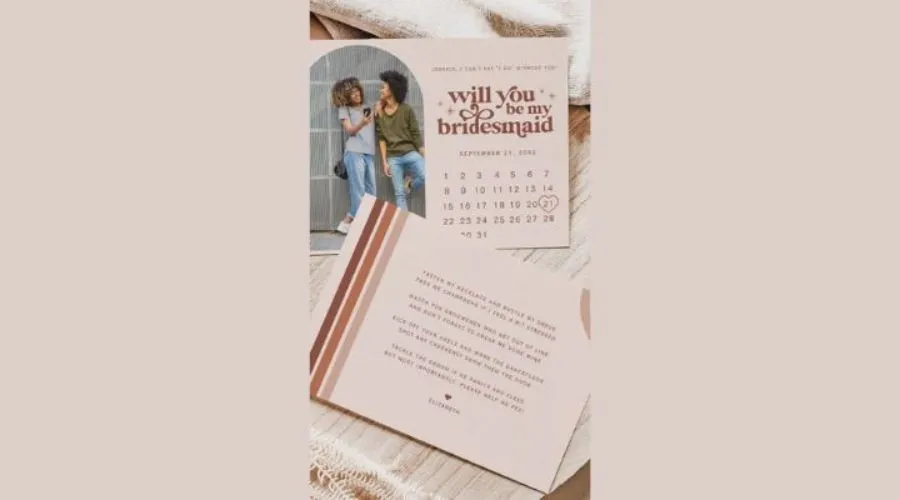 Be My Bridesmaid – Photo & calendar note card, a vision of retro allure and modern elegance, is sure to enchant. This card, which measures 4.25″ x 5.5″, goes beyond the scope of an ordinary invitation because it is a work of art. The background is blush pink with delicate terracotta accents, creating a cozy and welcoming atmosphere. Trendy typefaces dance against this background, bringing a little modernity to the classic aesthetics. 
This invitation is more than simply a piece of stationery, it's an adventure through your creative vision. The ability to completely customize this card is what gives it real value. You have control over the backgrounds, colors, and text. Imagine your favorite photograph, which captures a moment in time, adorning the front. 
Your sincere words find a place to land, conveying your feelings in a way that only you can. The design elements work in perfect harmony with your vision, and the color scheme becomes a reflection of the wedding's theme. Bridesmaid proposal cards are carefully chosen, not merely sent. They're a physical illustration of your inventiveness and a keepsake that your bridesmaids will treasure forever.
---
Conclusion
The art of proposing to bridesmaids develops into a cherished tradition in the enchanted world of weddings, where love weaves its magical threads through every detail. It represents love, originality, and the promise of wonderful moments to come. These bridesmaid proposal cards go beyond simple invitations, they are expressions of profound sentiment and the particular essence of your love story. 
Bridesmaid proposal cards on Zazzle go from tokens of affection to promises, unfathomable declarations of love, and treasures that your bridesmaids will cherish as you start this lovely chapter of your wedding preparations. Each bridesmaid proposal card holds the promise of an engagement in the art of proposals. For more information, visit Trendingcult. 
FAQ