Cottagecore, a romantic and nostalgic aesthetic, has captivated the hearts of many with its idyllic representation of rural life and the enchanting beauty of nature. This trend has sparked a resurgence of interest in cottagecore fashion, with individuals yearning for the simplicity and charm it embodies. Among the myriad of platforms offering cottagecore attire, Lulus has emerged as a prominent destination for those seeking ethereal and whimsical cottagecore dresses.
Features of Cottagecore Dresses on Lulus
Design Elements:
Cottagecore dresses on Lulus exude a dreamy and pastoral aesthetic, drawing inspiration from various sources such as vintage fashion, traditional craftsmanship, and the tranquility of the countryside. These dresses often feature delicate floral prints, ruffles, puff sleeves, and empire waists, reminiscent of an era when life was simpler and more connected to nature.
---
Versatility:
One of the remarkable aspects of cottagecore dresses available on Lulus is their versatility. Whether you are strolling through a meadow, attending a summer picnic, or simply desiring to infuse your everyday life with a touch of whimsy, these dresses offer a range of styling possibilities. With their timeless design and ethereal aesthetic, they can be paired with cozy cardigans, straw hats, or dainty accessories to create a complete cottagecore look.
---
Embracing the Cottagecore Lifestyle:
Cottagecore has become more than just a fashion trend; it has evolved into a lifestyle choice that celebrates a slower pace of life and a deeper connection with nature. By donning cottagecore dresses from Lulus, individuals can actively participate in this movement and embody its values.
---
List of the Cottagecore dresses on Lulus that you never want to miss:
1. Green Swiss Dot Button-Front Maxi Dress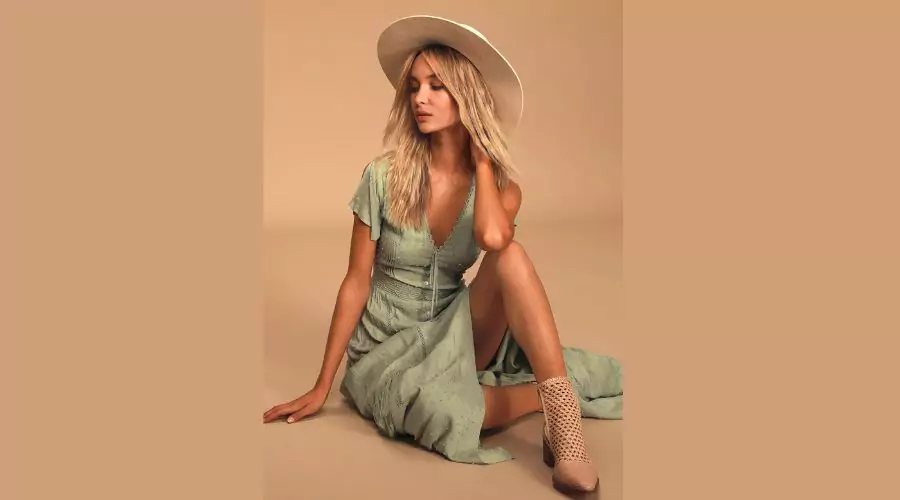 The Green Swiss Dot Button-Front Maxi Dress is a charming representation of cottagecore fashion. It features a delicate, lightweight fabric adorned with small, textured dots, reminiscent of handcrafted textiles. The cottagecore prom dresses evokes images of meadows and lush landscapes, further deepening its connection to the natural world. With its full-length silhouette and button-front detailing, this dress exudes a vintage charm that harkens back to a simpler time.
At the heart of cottagecore fashion lies the desire to reconnect with nature. The Green Swiss Dot Button-Front Maxi Dress accomplishes this by evoking a sense of being one with the environment. The choice of the green color palette invokes feelings of serenity, growth, and the rejuvenation found in nature.
---
2. Floral Print Tiered Midi Dress
The Floral Print Tiered Midi Dress is a true masterpiece that reflects the charm and simplicity of cottagecore. This dress typically features a midi-length hemline that falls elegantly below the knees, providing a timeless and graceful silhouette. 
The standout feature of this dress lies in its enchanting floral prints. Inspired by nature's bounty, the prints often consist of dainty flowers, delicate blooms, or even wild meadow motifs. The soft, pastel color palettes evoke a sense of nostalgia, reminiscent of vintage botanical illustrations.
---
3. Navy Blue Button-Up Mini Dress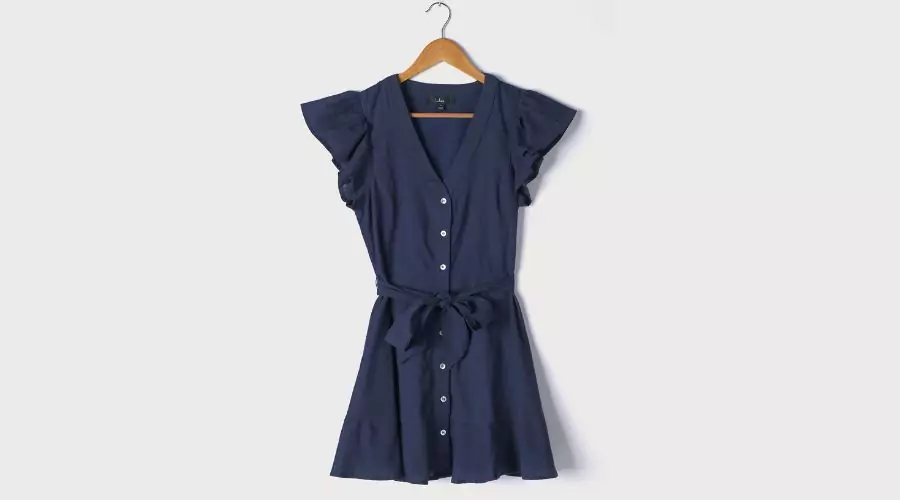 The navy blue button-up mini dress embodies a perfect blend of classic elegance and rustic charm. It features a fitted bodice with a row of buttons down the front, creating a visually appealing and effortlessly chic look. 
The dress typically has a defined waistline that flares into a flirty mini-length skirt, showcasing a touch of femininity and playfulness. The rich navy blue color adds depth and sophistication to the overall design, making it a versatile choice for various occasions.
The cottage gore aesthetic, often associated with idyllic countryside living, embraces simplicity, nature, and a yearning for a slower-paced lifestyle. It celebrates the beauty of the natural world, nostalgia for bygone eras, and the idea of a cozy, harmonious existence.
---
4. White Floral Embroidered Tie-Strap Mini Dress
The White Floral Embroidered Tie-Strap Mini Dress is a visual delight, evoking a sense of nostalgia and natural beauty. The white hue symbolizes purity and innocence, while the intricate floral embroidery adds a touch of enchantment. The tie straps, a nod to vintage aesthetics, lend a touch of playfulness to the dress. 
The mini length adds a hint of flirtation, making it an ideal choice for a summer day or a picnic in the countryside. The dress's lightweight and breathable fabric ensure both comfort and style, allowing the wearer to embrace the carefree spirit of cottagecore.
Cottagecore is more than just a fashion trend; it represents a yearning for a simpler and more sustainable way of life. In an increasingly fast-paced and technology-driven world, cottagecore fashion offers a nostalgic escape, harkening back to a time when people lived in harmony with nature.
---
5. Green Floral Print Midi Dress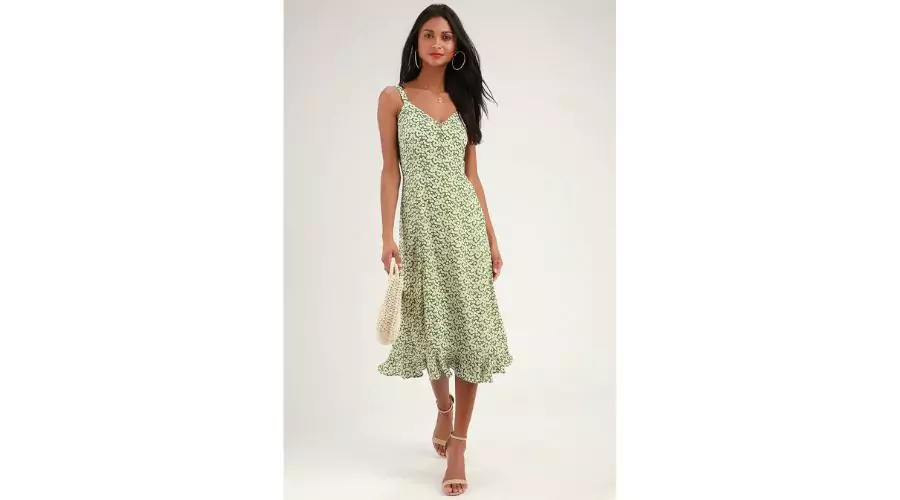 Cottagecore fashion draws inspiration from pastoral living, traditional craftsmanship, and nature's beauty. It evokes images of quaint cottages, blooming meadows, and idyllic landscapes. The Darling Daisies Green Floral Print Midi Dress encapsulates these elements through its design and choice of materials.
Floral patterns are synonymous with cottagecore, and the Darling Daisies dress embraces this tradition with its captivating green floral print. The intricate motifs of daisies, delicate blossoms, and lush foliage create an enchanting visual spectacle reminiscent of a countryside garden. The print's vibrancy and whimsical charm evoke feelings of femininity, grace, and natural beauty.
---
Conclusion
Cottagecore dresses on Lulus have successfully captivated the imaginations of many, offering a pathway into a world where simplicity and nature reign supreme. Through their design elements, versatility, and embodiment of the cottagecore lifestyle, these dresses enable individuals to immerse themselves in the romanticized vision of rural life and forge a deeper connection with the natural world. For more information, visit Trendingcult.
FAQ's