Fashion trends come and go, but some styles have the power to captivate us time and time again. One such trend that has made a significant resurgence in recent years is the puff sleeve top. With its whimsical and feminine appeal, the puff sleeve top has become a must-have fashion staple in many women's wardrobes.
Features of puff sleeve top on Lulus
Embracing Femininity:
One of the key reasons for the enduring popularity of women's puff sleeve tops is their ability to exude femininity. The puffed sleeves create an illusion of softness and elegance, accentuating the shoulders and arms in a graceful manner. By wearing a puff sleeve top, women can tap into their inner romanticism, embracing a delicate yet confident aesthetic that is both captivating and empowering.
Versatility in Styling:
Puff sleeve tops offer incredible versatility when it comes to styling. Whether you're aiming for a casual or formal look, these tops can effortlessly adapt to various occasions. For a chic daytime ensemble, pair a white puff sleeve top with high-waisted jeans and ballet flats. To transition to an evening affair, opt for a bold-colored puff sleeve top, tuck it into a sleek pencil skirt, and complete the look with statement heels. The possibilities are endless, allowing individuals to experiment and showcase their personal style.
Quality and Comfort:
Apart from their aesthetic appeal, puff sleeve tops on Lulus are crafted with utmost attention to quality and comfort. The fabrics used are carefully selected to ensure a luxurious feel against the skin. Additionally, Lulus prioritizes providing a wide range of sizes, accommodating different body types and ensuring a comfortable fit for all.
List of the puff sleeve tops on Lulus that you never want to miss:
1. White Textured Puff Sleeve Tie-Back Bodysuit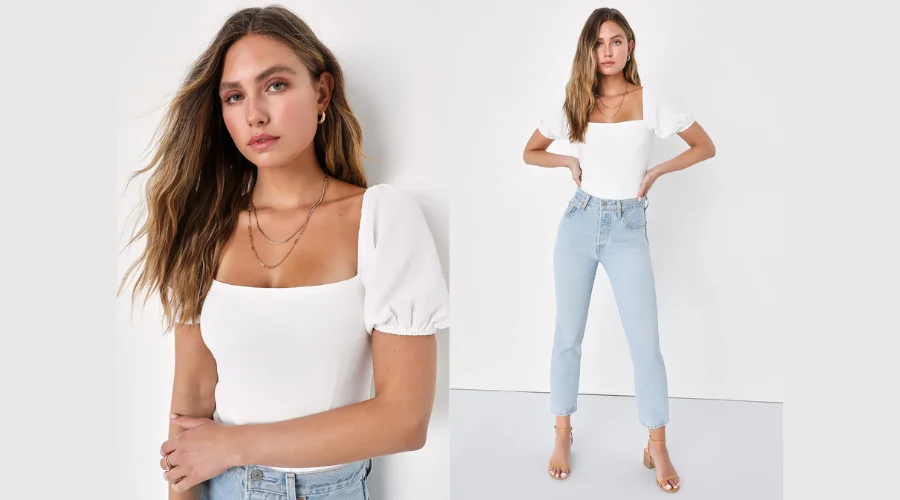 The White Textured Puff Sleeve Tie-Back Bodysuit stands out with its exquisite design and attention to detail. The defining feature of this elegant ensemble is its voluminous puff sleeves. The puff sleeve top trend has been revived from historical fashion eras, infusing a touch of nostalgia and femininity into contemporary aesthetics. The voluminous sleeves cascade down the arms, creating a visually striking silhouette that adds depth and dimension to any outfit.
The bodysuit's white textured fabric further elevates its appeal. The texture lends a tactile element to the garment, adding visual interest and sophistication. The choice of white enhances the bodysuit's versatility, as it effortlessly complements various skin tones and can be paired with a wide array of bottoms, ranging from jeans to skirts. Moreover, white embodies purity and elegance, making the bodysuit a go-to choice for both casual and formal occasions.
---
2. Ribbed Floral Puff Sleeve Faux-Wrap Top
The Ribbed Floral Puff Sleeve Faux-Wrap Top is a masterpiece in terms of both design and functionality. The most distinctive feature of this top is its puff sleeves, which add a touch of femininity and playfulness to any outfit. The voluminous sleeves taper down at the wrists, creating a flattering and elegant silhouette. The ribbed texture of the fabric adds depth and visual interest to the top, making it suitable for both casual and formal occasions.
The faux-wrap style of the Ribbed Floral Puff Sleeve Top adds an element of sophistication and versatility to the overall design. The wrap detailing creates a V-neckline, accentuating the neckline and collarbone while providing a figure-flattering fit. The wrap-style also adds a touch of allure and can be adjusted to suit individual preferences, allowing for a customizable and comfortable fit.
---
3. Floral Print Puff Sleeve Ruched Bodysuit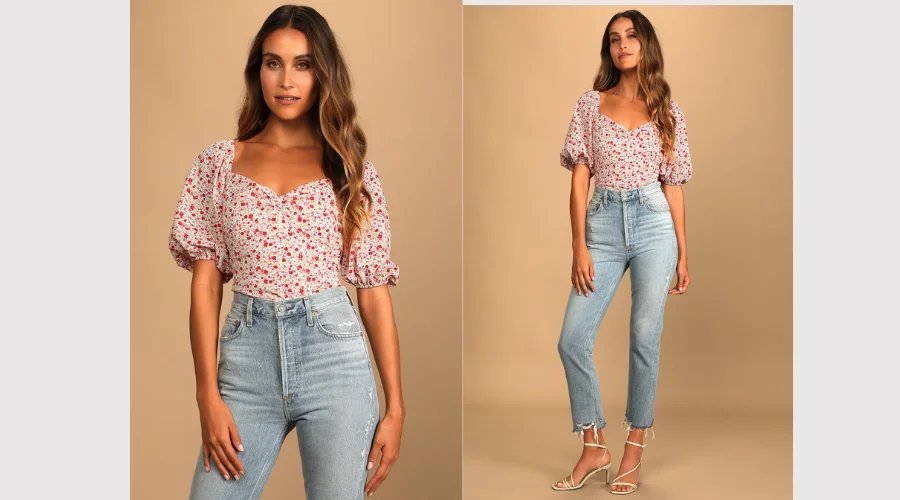 One of the key advantages of the floral print puff sleeve ruched bodysuit is its versatility, allowing for a wide range of styling options suitable for various occasions. Whether it's a casual day out or an evening event, this garment seamlessly adapts to different settings. Paired with high-waisted jeans or a denim skirt, the bodysuit exudes a relaxed yet stylish vibe, making it ideal for brunches or daytime outings.
The ruched detailing on the floral print puff sleeve ruched bodysuit adds depth and texture to the overall design, elevating its visual appeal. The ruching, which involves the gathering of fabric through stitching, creates soft pleats and folds that enhance the bodysuit's structure and fit. This technique not only adds visual interest but also serves to flatter various body types.
---
4. Black Puff Sleeve One-Shoulder Bodysuit
The Black Puff Sleeve One-Shoulder Bodysuit is a versatile piece that effortlessly transitions from day to night. Its sleek black color complements any skin tone and provides a blank canvas for various styling options. Whether paired with jeans for a casual daytime look or a high-waisted skirt for a night out, this bodysuit offers endless possibilities.
The focal point of the bodysuit is undoubtedly the puff sleeve top. The voluminous puff sleeves add a touch of drama and femininity, making a bold statement wherever you go. The single-shoulder design creates a modern and chic asymmetry, further enhancing the visual appeal of this garment. Its unique combination of elements makes it a standout piece in any wardrobe.
---
5. Green Floral Lace-Up Puff Sleeve Peplum Top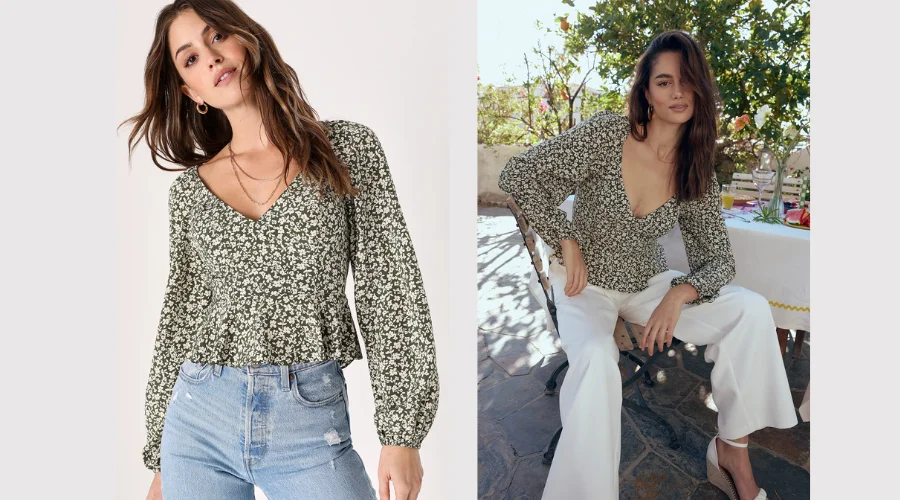 At the heart of the Green Floral Lace-Up Puff Sleeve Peplum Top is its standout feature—the puff sleeve design. Puff sleeves are characterized by their voluminous and gathered appearance, creating an alluring and romantic aesthetic. The exaggerated puff sleeves evoke a sense of nostalgia, reminiscent of the Victorian era, while simultaneously offering a contemporary twist to modern fashion.
The choice of the color green adds a touch of sophistication and freshness to this peplum top. Green represents nature, growth, and renewal, making it a perfect choice for those who seek a connection with the natural world. The intricate floral lace-up detailing enhances the overall appeal of the top, exuding a sense of delicacy and femininity. The combination of the lace-up feature and the puff sleeves creates a harmonious balance between boldness and refinement.
Conclusion
The puff sleeve top has undoubtedly emerged as a timeless fashion piece, capturing the hearts of fashion enthusiasts worldwide. Lulus, with its impressive collection of puff sleeve tops, has played a significant role in popularizing this trend and making it accessible to a wider audience. Whether you're seeking to embody romance, embrace femininity, or simply elevate your everyday style, the puff sleeve top is a versatile and enchanting choice. So why wait? Visit Lulus today and indulge in the beauty and charm of puff sleeve tops! For more information, visit Trendingcult.
FAQ's