As the Nike Dunk made its way from the basketball courts to the streets, its impact on street fashion was undeniable. The sneaker's sleek and versatile design allowed it to effortlessly complement a wide range of outfits, from sporty casual to urban chic. This versatility, coupled with the sneaker's association with basketball and skateboarding culture, solidified its position as a must-have item in sneaker collections worldwide. Trending Cult has curated a list of the top Nike dunk shoes.
List of best Nike dunk shoes for everyday styling
1. Nike Dunk Low Twist shoes
The Nike Dunk Low shoes are crafted with a mixed material upper, combining durability and style. With a sleek black and white color scheme, these shoes create a classic and versatile look. The lace-up fastening ensures a secure and comfortable fit, while the textile lining adds a soft and cozy feel. The rubber sole provides excellent traction and support, making them perfect for everyday wear or for adding a touch of sporty sophistication to any outfit. Whether you're hitting the streets or the gym, these trainers offer the perfect blend of fashion and function.
---
2. Nike Dunk Low Twist Trainers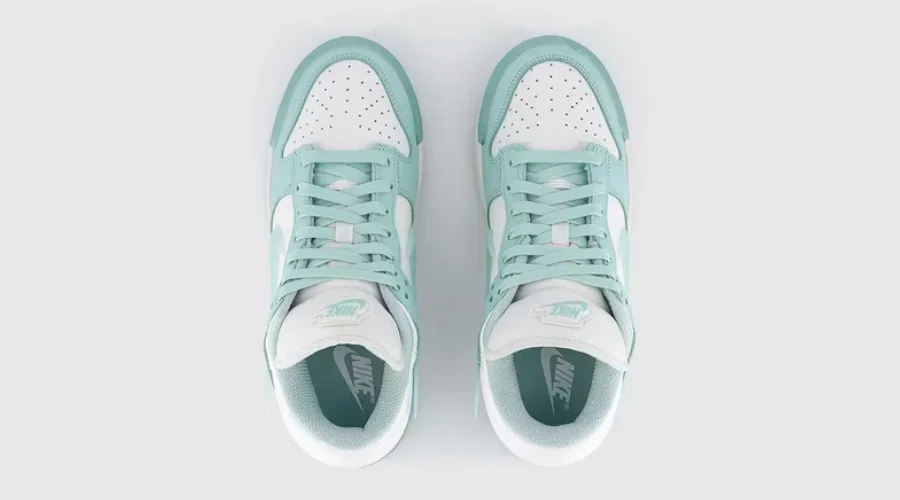 These shoes feature a stylish and refreshing color combination of white and light green. The upper, crafted with mixed materials, ensures durability and a modern look, making these trainers a perfect choice for both casual and sporty outfits. The rubber sole provides excellent traction and support, making them ideal for various activities. Whether you're strolling through the city streets or heading to the gym, the Nike Dunk Low Twist Trainers offer a perfect balance of style and performance. Step out in confidence with these eye-catching and comfortable sneakers.
---
3. Dunk Low Trainers Black Opti Yellow White
The Nike Dunk Low Trainers bring back the iconic basketball style from the 80s with a modern twist. These trainers feature leather overlays that not only add durability but also give them a classic and timeless look. The low-cut collar is not only fashionable but also perfect for the summer months, allowing you to flaunt your stylish Nike socks. These trainers are versatile and easy to wear, making them a perfect addition to any outfit.
---
4. Dunk Low Trainers White Sail Opti Yellow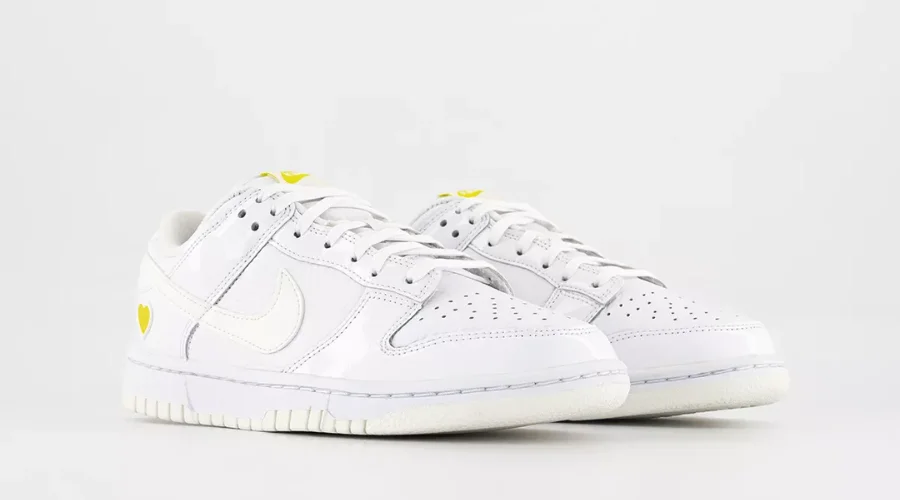 These Nike Dunk Low Trainers also known as the "Yellow Heart," are a charming and nostalgic take on the classic Dunk Low silhouette. Designed as a special edition for Valentine's Day, these trainers combine platonic vibes with a touch of romance. The upper is crafted with a combination of gloss, luxuriously smooth, and tumbled leather, giving the shoes a premium and sophisticated appearance. The sail finish adds a subtle touch of elegance to the overall design.  The color combination of white and yellow exudes a sense of freshness and positivity, making them perfect for creating an unforgettable first impression.
---
5. Dunk Low Trainers Medium Grey Varsity Red White
These shoes are the new standout addition to your sneaker rotation. These sneakers boast a luxurious and smooth satin upper, making them one of the most refined Nike silhouettes to date. With their classic retro Dunk design and off-court allure, they exude a coveted sense of style. The upper showcases a perfect blend of University Red and Medium Grey, creating a classic colorway that is sure to catch attention. Whether you're a sneaker enthusiast or simply someone looking for a stylish and comfortable pair of shoes, these shoes are an excellent choice.
---
6. Dunk Low Trainers Gorge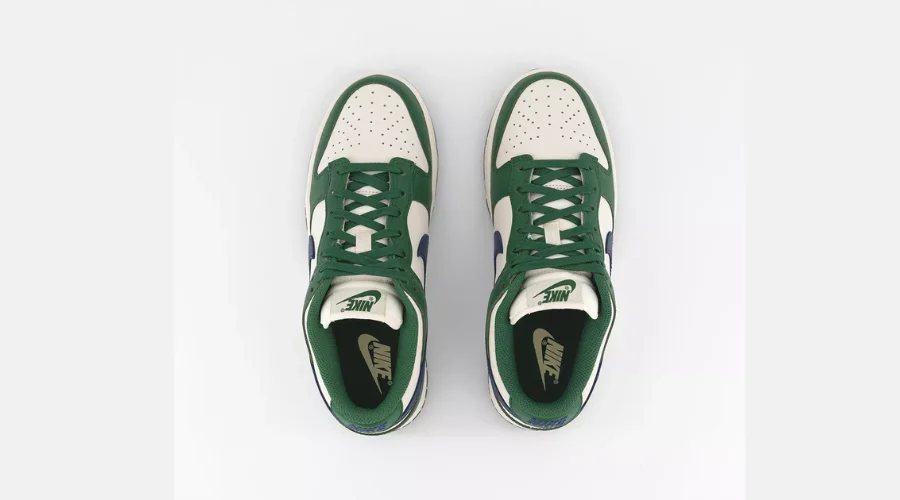 These sneakers feature leather overlays, providing a hardwearing and practical construction that can handle your daily adventures. The fashionable low-cut collar not only offers a sleek and stylish look but also ensures breathability and comfort during the summer months. Whether you're heading to the gym, hanging out with friends, or exploring the city, the Nike Dunk Low Trainers are the perfect choice for effortless style and versatility. Embrace the basketball heritage and streetwear appeal of the Nike Dunk Low Trainers and elevate your sneaker game to new heights.
---
7. Dunk Low Trainers White
The Nike Dunk Low Trainers in White are a timeless classic that effortlessly blends sporty style with everyday comfort. The clean white colorway exudes a fresh and versatile appeal, making it easy to pair with various outfits. These trainers feature a lace-up fastening for a secure and adjustable fit, while the textile lining ensures a soft and comfortable feel against the foot. Whether hitting the streets or adding a sporty touch to casual ensembles, the Nike Dunk Low Trainers in White is an essential addition to any sneaker collection.
---
Závěr
Whether you're a sneaker enthusiast, a fashion-forward individual, or simply looking for a comfortable and stylish pair of shoes, the Nike Dunk Low is undoubtedly a classic choice that will never go out of style. So, if you're looking to add a touch of urban chic to your wardrobe, consider stepping into a pair of Nike Low Dunks from the Office shoes and embracing the timeless allure of this iconic sneaker.
Pro více informací navštivte Trending Cult.
Nejčastější dotazy