Flatform sandals have emerged as a trendy and versatile footwear option, gaining popularity among fashion-forward individuals seeking a perfect blend of style and comfort. These unique sandals feature a platform sole with a uniform height from heel to toe, providing a subtle lift without the discomfort of traditional high heels. Flatforms offer the best of both worlds, elevating your height while ensuring all-day comfort. In this blog, Trending Cult will delve into the world of flatform sandals, style variations, and the best flatform sandals for every day to enhance your overall look.
Style Variations of Flatform Sandals
Flatform sandals come in a myriad of styles, catering to diverse fashion tastes. From sleek and minimalistic designs to eye-catching patterns and embellishments, there is a flatform sandal for every occasion. Popular styles include:
a) Classic Leather Flatforms: Timeless and versatile, these sandals are perfect for casual outings and can be paired with jeans, skirts, or dresses.

b) Espadrille Flatforms: Infused with a touch of boho-chic charm, espadrille flatforms are characterized by their woven jute soles, offering a perfect combination of comfort and style.

c) Sporty Flatforms: Featuring sporty and chunky soles, these sandals are ideal for a relaxed and athleisure-inspired look.

d) Glamorous Flatforms: Embellished with studs, rhinestones, or metallic accents, glamorous flatforms add a touch of sophistication to your evening attire.
List of best flatform sandals for women 
Dr. Martens Blaire Slides Black Hydro

Dr. Martens Blaire Slides Black Hydro | trendingcult
The Dr. Martens Blaire Slides in Black Hydro offer a perfect blend of style and comfort for the modern woman. Crafted with a leather upper, these slides exude a timeless appeal that can effortlessly elevate any outfit. Whether you're strolling through the city or heading to a casual gathering, the Blaire Slides are a versatile and chic choice. Embrace the iconic Dr. Martens design and experience the ultimate combination of fashion and functionality with these stylish slides.
---
  2. TOMS Valencia Espadrilles White
Step into sustainable fashion with the TOMS Valencia Espadrilles in White. These stylish espadrilles not only elevate your style but also make a positive impact on the environment. The insoles are crafted with eco content, featuring OrthoLite® technology and a new Custom Eco Insole made from recycled rubber, providing superior comfort and support. Embrace eco-conscious fashion with TOMS Valencia Espadrilles and make a difference in the world with every step you take.
---
  3. Courtney Slides 2 Black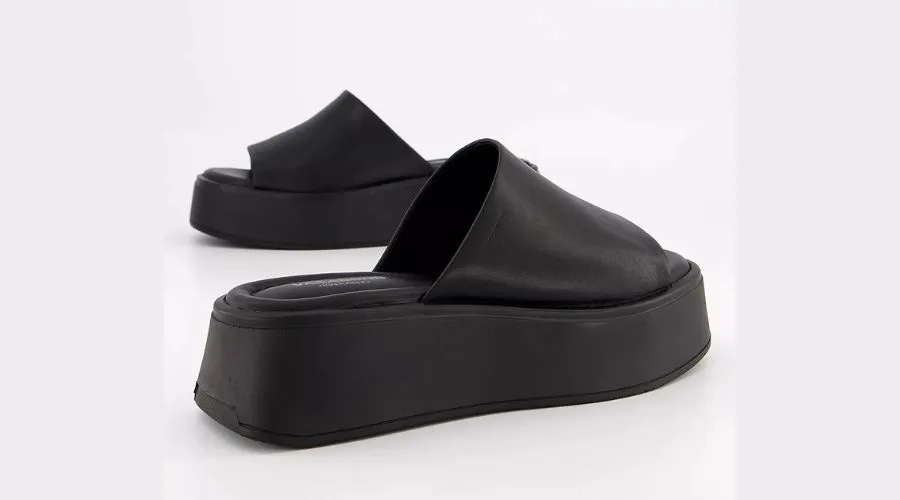 These premium slip-on sandals are crafted from a smooth cow leather upper, offering a sophisticated and timeless look. With padded insoles providing long-lasting comfort, you can confidently wear these slides all day long. In a classic black colorway, these slides are versatile and easy to pair with any outfit. The slip-on design makes them effortless to wear, while the leather upper, sourced from Portugal, adds a touch of luxury. Whether you're strolling on the beach or exploring the city, the Courtney Slides 2 are the perfect blend of style and functionality.
---
 4. Flatform Mevia Sandals Black
Get ready to elevate your summer style with the Flatform Mevia Sandals in Black. These sandals are designed with both fashion and sustainability in mind. The quick-dry webbing is made from recycled plastic, and uses traceable and verifiable REPREVE® polyester yarn by Unifi®, making it an eco-friendly choice. The removable ankle strap and multiple points of adjustability ensure a customizable and secure fit. Plus, the added Microban® treatment keeps unwanted smells at bay, ensuring your feet stay fresh all day long.
---
5.Courntey Sling Back Sandals Black Leather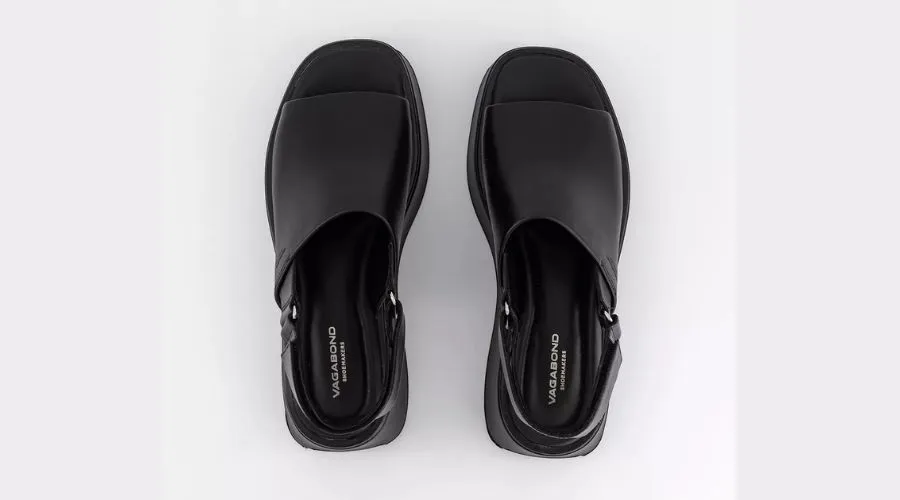 Step into elegance and comfort with the Courtney Sling Back Sandals in Black Leather. These sandals exude sophistication with their sleek black flatform sandals and leather upper, making them a versatile and timeless addition to your wardrobe. The flatform heel design adds a contemporary touch and provides a 2″ height boost, offering both style and comfort. Whether you're heading to a special occasion or just out for a stroll, the Courtney Sling Back Sandals are the perfect choice for a chic and polished look.
---
 6. Melba Wedge Caged Sandals
These exquisite sandals are a must-have addition to your shoe collection, offering a perfect blend of elegance and edgy sophistication. The caged design adds a contemporary twist to the classic wedge sandal, making it a versatile choice for various occasions. Crafted from premium leather, these sandals boast durability and a luxurious feel. The buckled ankle strap ensures a secure and adjustable fit, while the open-toe shape adds a touch of femininity. Whether you're dressing up for a special event or simply stepping out for a casual outing, these sandals are the ideal companion to elevate your ensemble.
---
Conclusion
Flatform sandals are a stylish and comfortable footwear option that allows you to effortlessly elevate your fashion game. With their rich history and versatile designs, flatforms have become a staple in the closets of fashion-forward individuals worldwide. From casual outings to formal occasions, ladies flatform sandals from Office Shoes offer endless possibilities to express your personal style. Embrace the comfort and chicness of flatform sandals and step confidently into a world of fashion that values both style and comfort.
For more information, visit Trending Cult.
FAQs