Because of their versatility and comfort, jeans have become an essential segment in most women's wardrobes. Women wear jeans not only because they are fashionable but also because they are functional for daily activities. Jeans for women are available in diverse styles, colors, and sizes, allowing women to express their particular style and originality. Furthermore, depending on the occasion, jeans may be dressed in many ways, making them a versatile item in one's collection. Women use jeans for various reasons, including comfort, fashion, and functionality. Sinsay has an extensive assortment of jeans for women. It has ultra-modern and fashionable jeans for very comfortable women. Sinsay carries an extensive collection of jeans for women flared, white jeans, and faded jeans. Sinsay has an exclusive collection of jeans and trousers.
---
Find the best jeans for women on Sinsay
Here are the top 5 jeans for women on Sinsay that will make them look fashionable and elegant. The top five jeans collections are as follows:
1. High-waist skinny jeans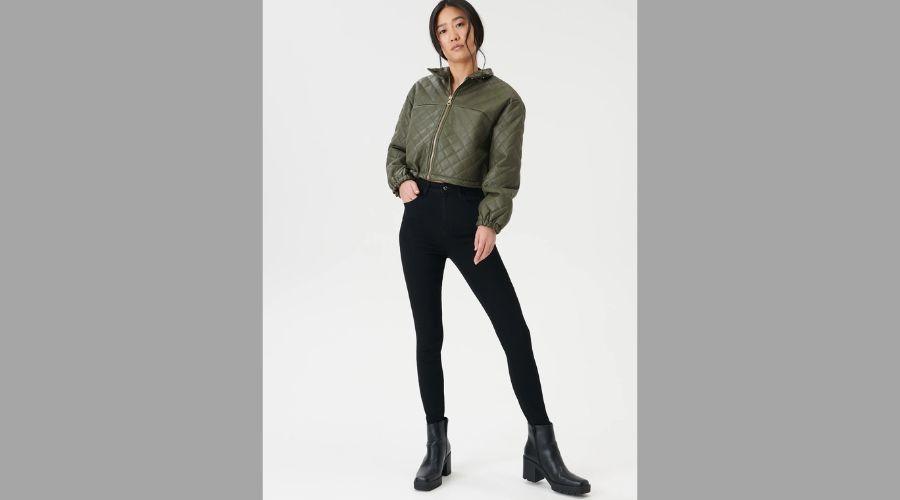 These high-waisted skinny jeans for women are super comfy and stylish. Because they sit higher on the torso than low-rise jeans, high-waisted jeans help hide any bulging at the waistband. High-waisted skinny jeans have the major advantage of giving the appearance of longer legs, especially when worn with heels. By highlighting the body's curves and flattening the stomach, they also have slimming effects. High-waist skinny jeans also offer more comfort and coverage than low-rise jeans. These jeans for women are available in four colors: white, light blue, dark blue, and black. 73% cotton, 25% polyester, and 2% elastane were used to make it. It is secured with buttons and a zip. It has four pockets.
---
2. High-waisted mom-fit jeans
These mom-fit high-waist jeans for women are the best option for all body types. Mom jeans with a high waist offer a retro, carefree look that enhances the figure of women of all sizes. These jeans have a wide relaxed fit through the hips and legs and sit high on the waist, typically above the belly button. This specific pair of jeans lengthen the legs and draw attention to the body's natural curves. Mom-fit jeans with a high waist are very adaptable. Women wear these jeans in a variety of settings, including dating nights. There are six different colors available for these jeans. They are made of 100% cotton material.
---
3. Ladies' Jeans (Trousers)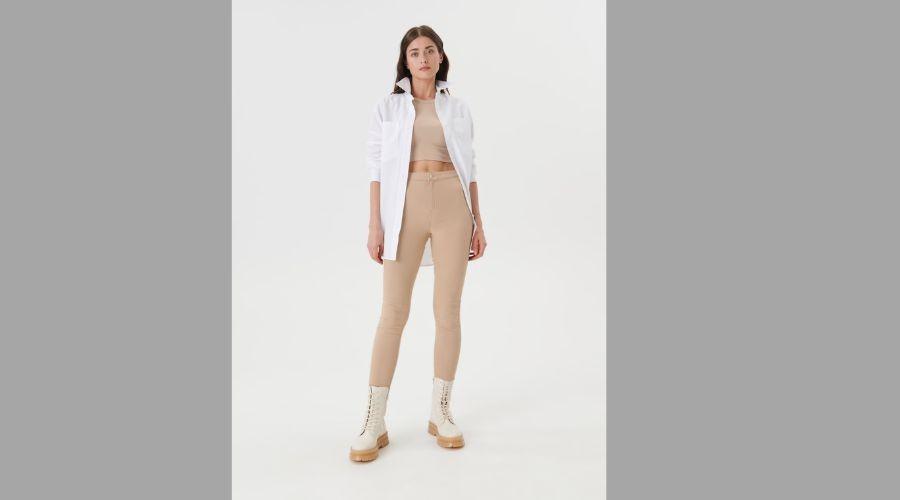 There are various reasons why women like wearing jeans as trousers. They are adaptable and suitable for a variety of settings. They are also strong and have a long lifespan. Additionally, inexpensive and providing excellent value for money, jeans, and trousers are simple to coordinate with other pieces of clothing and can be used with many types of footwear. Since they have been around for a while, jean trousers have established themselves as a mainstay in many people's wardrobes. It is made with 67% cotton, 31% polyester, and 2% elastane. It is available in three colors beige, dark grey, and black.
---
4. Mid-rise flare jeans
 Women choose mid-rise flare jeans because they are flattering and can be worn on various occasions. They can also provide the appearance of longer legs. Additionally, mid-rise jeans can be worn for extended periods without becoming uncomfortable. Additionally, they are fashionable and go well with various clothes and shoes. This collection of jeans for women is available in two colors: black and blue. 73% cotton, 26% polyester, and 1% elastane are used to make this item. This substance is produced without the use of genetically modified seeds. If necessary, recycled fibers are mixed-up with fresh ones. Recycling is employed for producing polyester. While compared to normal manufacturing, recycled cotton, and polyester use less water, energy, and natural resources. As a result, it has a less detrimental effect on the environment.
---
5. Mid-rise slim jeans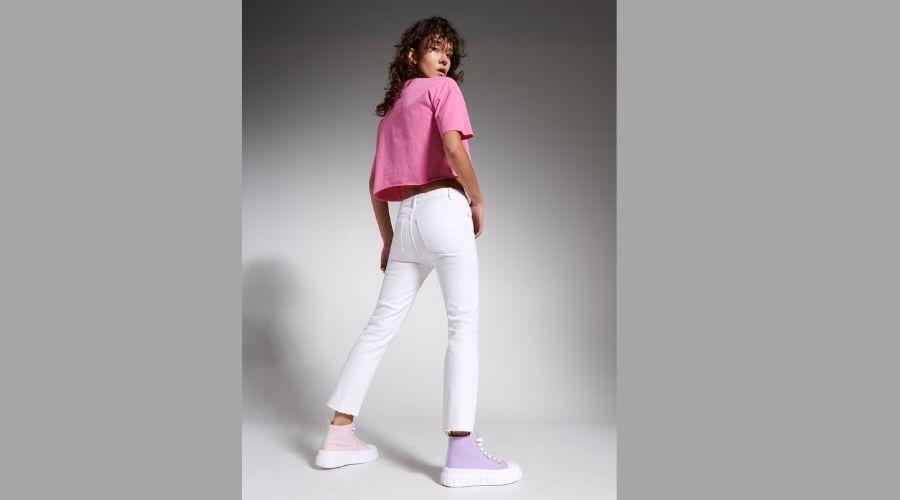 These mid-rise slim jeans for women are the best option for every woman. Women choose to wear mid-rise white jeans for women since they are adaptable and go well with a variety of shirts and shoes. They are dinnertime date nights. Additionally attractive, mid jeans can give the appearance of longer legs. These are available in white color.
---
Conclusion
Jeans are essential for women's wardrobes due to their versatility, comfort, and functionality. Depending on the situation, you can dress up or down in jeans. They are also strong and have a lengthy lifespan. There is something for everyone concerning the styles and colors of jeans.
Sinsay has a variety of styles, colors, and sizes, making it a versatile item. For more intriguing material like this, follow Sinsay and the official website of TrendingCult.
 FAQ's