Nowadays no one can imagine their life without technology. From waking up in the morning to going to bed at night, every minute you need the help of technology to do your work. With the advancement of technology, electronic door lock has emerged as a fruitful innovation. Electronic locks for doors are much more secure than traditional mechanical locks. It's electronic component and intelligent system provide enhanced control, flexibility, and protection to your residence or commercial space. With these modern smart locks, you can secure your premises that offer features like keyless entry, remote access, and integration with smart home ecosystems.
Home Depot has a variety of smart door locks to give the ultimate security to your home. Let's dig into the article of Trending Cult for a better understanding of these electronic door locks' inner workings, benefits, applications, and the potential of them to become a hero of the future security system.
Here are some of the best electronic door locks by Home Depot
1. Yale Lock Touch NS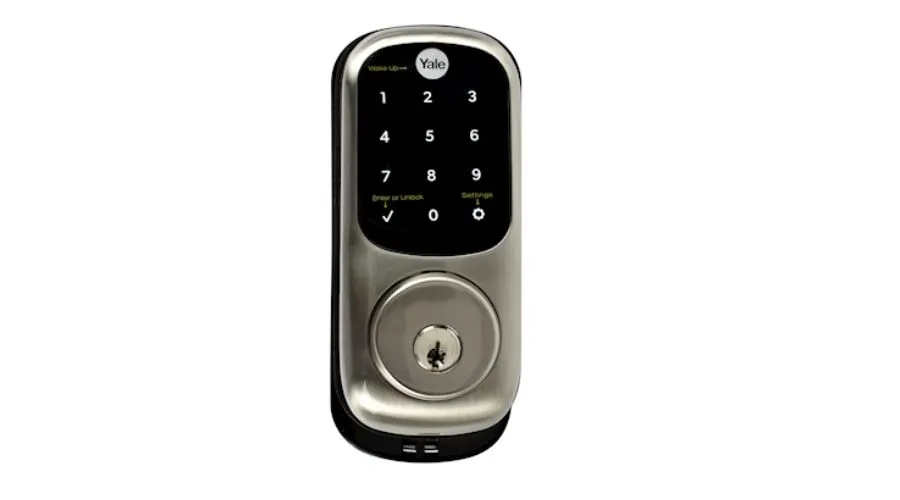 Access can be controlled at the doors using a key or codes thanks to the Yale Touch Lock. This electronic door lock runs on batteries and has a memory that can hold up to 25 codes. A touch screen is built into the structure for entering codes. Its programming is voice-assisted. It is made of metal with a nickel finish, which prevents corrosion and increases its durability. The Yale Connect app, which manages various deadbolts, safes, and digital locks, is compatible with it. It is 8.5 x 15 x 7 cm in size. The lock, 4 AA alkaline batteries, 2 keys, an adapter for thin doors, hardware, and installation instructions are all included in the package.
---
2. Yale Metallic Digital Lock
The interior of the home or office is protected by a touch-screen digital lock of the Yale Metallic Lock with an automatic lock for greater security. Due to its metallic construction, this smart lock can be installed more enduringly and effectively on doors that range in thickness from 3.5 to 4.4 cm and have an adjustable backset between 6 and 7 cm. Includes 4 AA batteries, 2 keys, an installation template, a manual, and a slim door adapter. Fits smart places. This electronic door lock has battery backup.
---
3. Yale Residential Electronic Lock NS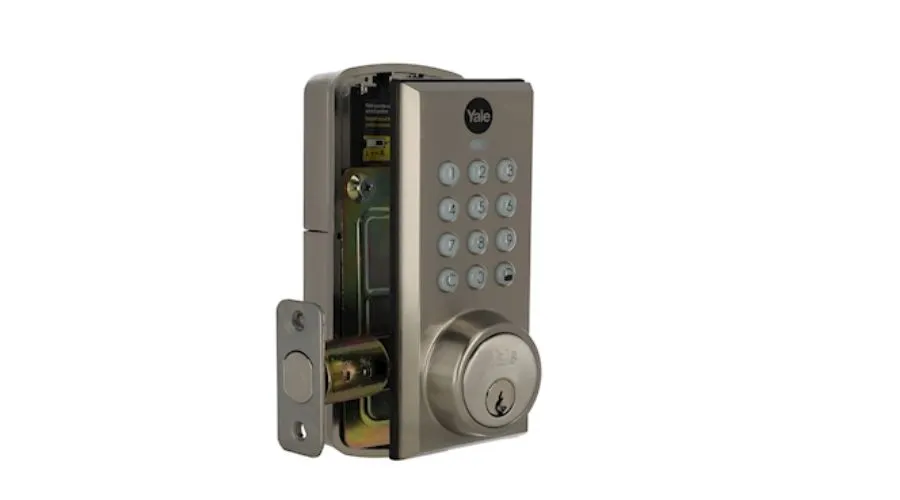 The Yale Residential Electronic Lock NS offers the highest level of security because it can store up to 10 different user codes without the need for conventional keys. With its illuminated keypad, you can enter the access code in dimly lit areas or at night. It is made of weather-resistant metal with a satin nickel finish. This electronic door lock can be closed effectively no matter how far the bolt was mounted thanks to its adjustable backset (or entry), which ranges from 60 to 70 mm. Its design makes it ideal for use on doors that are between 30 and 45 mm thick. It uses 4 AA batteries (included) to run and emits an alarm when the battery is running low. It automatically closes doors and it's easy to install.
---
4. Kwikset Obsidian Electronic Lock with Touch Screen
Patented secure screen technology is used in electronic keyless entry locks of Kwikset Obsidian Electronic Lock to help prevent fingerprint code detection on touchscreens. With up to 16 user codes that can be customized for added security and a custom automatic door closing after 30 seconds for added peace of mind, the alarm function can be set to sound after three consecutive incorrect user codes are entered and the screen is temporarily locked. A modern design with a glass-like surface, an ultra-sensitive advanced touchscreen for instant screen viewing and speedy user code entry, and a dedicated lock button that only requires one touch to lock your door are all features of this electronic door lock that prevents unauthorized access to programming buttons.
---
5. Yale Metal Touch Latch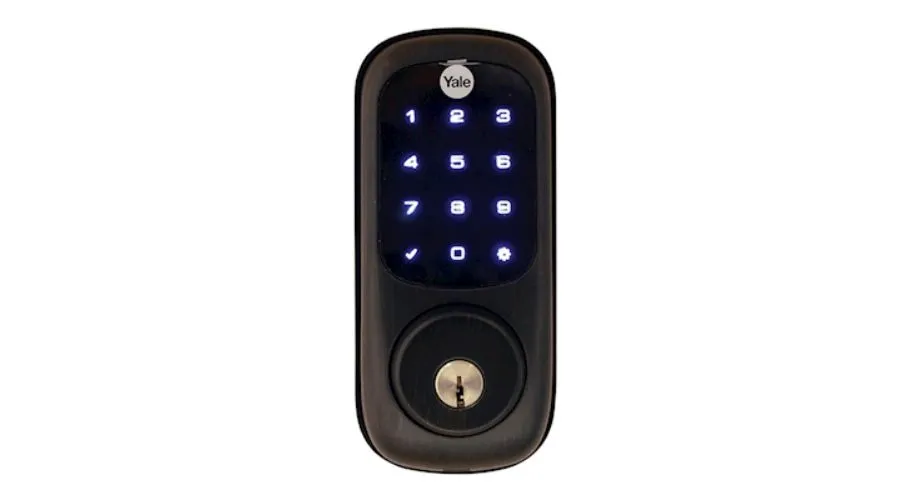 Yale Metal Touch Latch allows for key or keyless access control at the doors. It can register up to 250 users with a pin code using Zigbee or Z-wave plus network modules (not included), and its memory can hold a maximum of 25 codes. Its structure is voice-activated, has an adjustable backset to 60 or 70 mm, a touch screen for entering codes, and is made of metal with an antique bronze finish to make it resistant and long-lasting. This electronic door lock can also be installed indoors with a thickness range of 35 to 50 mm. The Yale Connect app, which manages various deadbolts, safes, and digital locks, is compatible with it. It is 15 x 6.5 cm in size.
---
Conclusion
Hope, you got a brief overview of electronic door locks. These door locks are a perfect fusion of technology and security. Home Depot has a range of smart locks to offer you that give the ultimate security to your homes or even workplaces. The smart electronic technology of this lock requires no key for entry. You can control electronic locks for doors remotely with your smartphone and can see who is there at your doorsteps. Secure your place with the electronic door lock. For more information, visit Home Depot and the official website of Trending Cult.
FAQ's