When we think of Timberland, rugged outdoor boots for adventurers often come to mind. But did you know that Timberland also offers a fantastic line of sandals for women? These aren't your ordinary sandals; they embody the same commitment to quality, durability, and style that Timberland is renowned for. Whether you're planning a weekend hike, a stroll on the beach, or just looking for comfortable everyday footwear, Timberland sandals for women have got you covered. Culto di tendenza will delve into the reason to choose Timberland and the top 6 comfortable and stylish sandals for women on Office shoes that can wear every day.
Why choose Timberland sandals for women?
Choosing Timberland sandals for women is an easy decision when you seek the perfect blend of comfort, durability, and style. With a legacy of craftsmanship dating back to 1952, Timberland has mastered the art of creating high-quality footwear that stands the test of time. Their sandals are meticulously designed to provide unparalleled comfort, featuring cushioned footbeds, supportive soles, and adjustable straps for a personalized fit. Whether you're embarking on outdoor adventures or simply strolling through the city, these sandals are versatile enough to complement any outfit and occasion. 
The brand's commitment to sustainability and eco-friendly practices also adds an extra layer of appeal, allowing you to make a conscious choice for a greener future. With Timberland, you not only invest in premium footwear but also become part of a timeless legacy associated with rugged durability and stylish elegance.
Top 6 Timberland Sandals women to slay everyday seamlessly:
Everleigh Gladiator Sandals Black Full Grain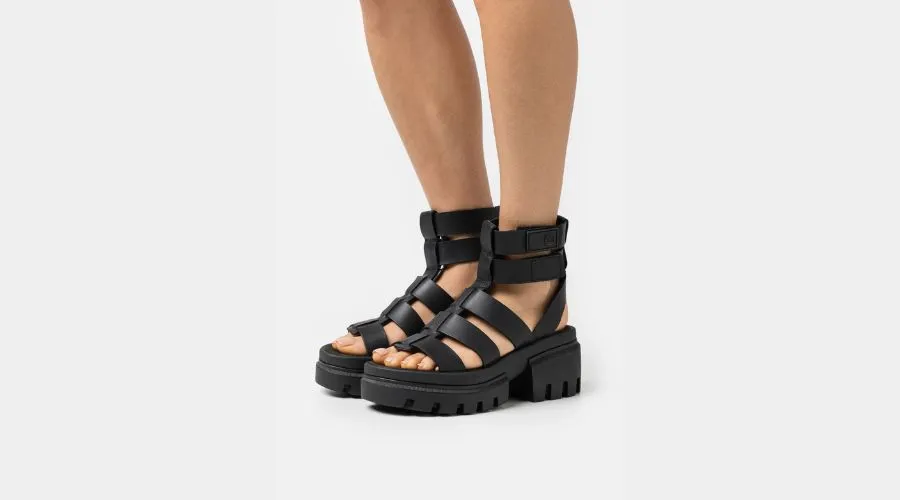 Get strength and style with their stunning full-grain leather gladiator sandals. The textile lining provides a soft and comfortable feel against your skin, making them a joy to wear throughout the day. The rubber sole offers excellent traction, making these gladiator sandals suitable for any adventure, whether you're exploring the city streets or taking a stroll in nature. The lace-up fastening adds a touch of sophistication and allows for a customizable fit, ensuring your feet stay securely and comfortably in place.
---
Everleigh Slide Mules Wheat Nubuck
Step into the epitome of casual sophistication with these Timberland slide Mules. Crafted with a soft and luxurious nubuck upper material, these slide mules exude elegance and comfort. The wheat color adds a touch of warmth to any outfit, making them a perfect choice for effortless, everyday style. With the convenient slip-on design, you can effortlessly slide into these sandals and be ready to take on the day in no time. Whether you're running errands or meeting friends for a casual outing, the Everleigh Slide Mules are the ideal blend of fashion and ease, offering a versatile and timeless addition to your footwear collection.
---
London Vibe X Strap Sandals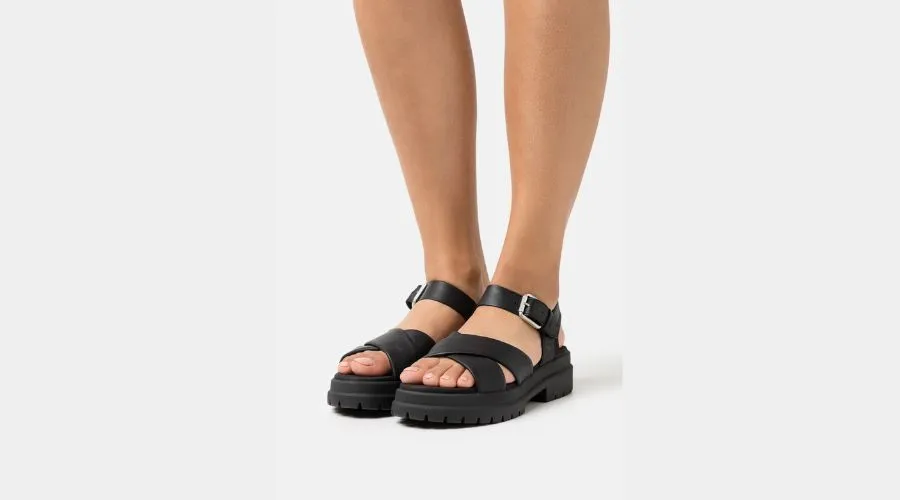 Experience the essence of urban chic and timeless elegance with these X Strap Sandals. Crafted with exquisite leather upper material, these sandals exude a sense of luxury and sophistication. The X strap design adds a modern twist, elevating your style to new heights. The cleated sole not only provides excellent traction but also adds a touch of edginess to your overall look. With the secure buckle fastening, you can easily slip these sandals on and off while ensuring a snug and comfortable fit.
---
Adley Way Sandal 2 Band Sandals
Step into a world of vibrant style and unmatched comfort with Adley Way Sandal 2 Band Sandals bright pink Timberland sandals. The two-band design adds a touch of simplicity and elegance, allowing you to pair them with a wide range of outfits effortlessly. The textile lining ensures a soft and cozy feel against your skin, while the chunky heel adds a subtle lift, providing just the right amount of elevation for a confident stride. Embrace the bold and beautiful with these sandals, the perfect choice for fashion-forward women seeking both style and comfort.
---
Everleigh Ankle Strap Sandals Black Full Grain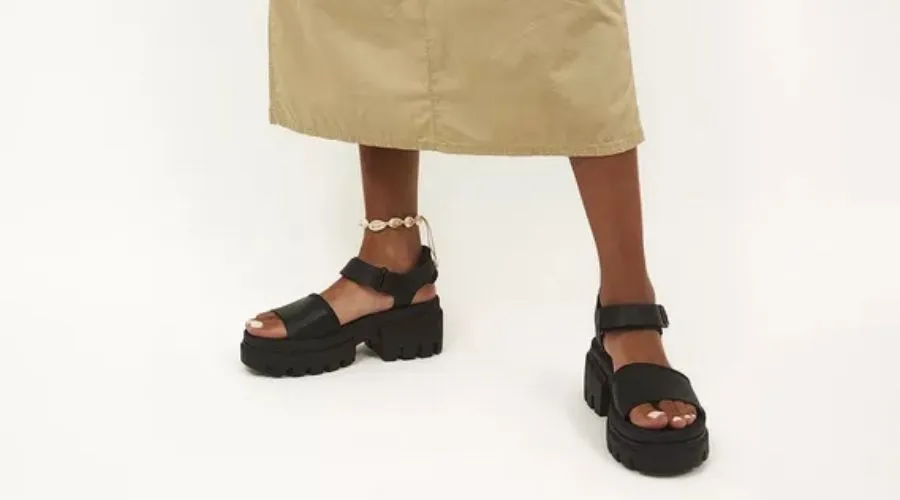 Everleigh Ankle Strap Sandals Black Full Grain Timberland sandals boast a luxurious leather upper material that exudes sophistication and style. The sleek black design complements any outfit, making them versatile for various occasions. The ankle strap adds a chic touch and ensures a secure fit, keeping your feet comfortably in place. With the convenient hook and loop fastening, you can easily adjust the fit to your preference, providing a personalized and comfortable experience.
---
Ray City Closed Fisherman Sandals Black Webbing
Ray City Closed Fisherman black sandals with high-quality textile upper, synthetic lining and rubber soles offer superior comfort and durability. The hook and loop fastening system allows for easy adjustment, while the closed fisherman design adds a touch of elegance to your outfit. Whether exploring the outdoors, strolling through the city streets, or attending a casual event, these sandals will be your reliable and fashionable companion.
---
Conclusione
Timberland takes environmental responsibility seriously. The brand is committed to sustainability and incorporates eco-friendly practices into its manufacturing processes. They have initiatives to reduce their environmental footprint, including using recycled materials in their products and planting trees to offset their carbon emissions. 
Timberland sandals for women on Office shoes are the epitome of comfort, style, and durability. These sandals come in various designs, from simple and minimalist to more intricate and embellished styles. Whether exploring the great outdoors or navigating the city streets, these sandals will be your reliable companion. With a wide range of designs to choose from, there's a perfect pair for every occasion and style preference. For more information, visit Culto di tendenza.
Domande frequenti