Designing an office remains incomplete without appropriate office furniture. It's important to have the right selection of furniture for organising your office to make it look appealing and spacious. It's never an easy task when you want to place furniture in the office without making it look congested, especially when there is limited space in the room. This is where you need to have multiple options while selecting or looking for office furniture. 
vidaXL brings an extensive collection of office furniture to help you make the right selection according to your office design. When you are spending the majority of your time in the office and have frequent clients visiting the office, having attractive and easily accessible office furniture can add a serene touch to your ambiance. Explore what vidaXL has in store for your workplace.
Top collections of office furniture for you 
1. vidaXL writing desk 140x50x77 cm black carved wood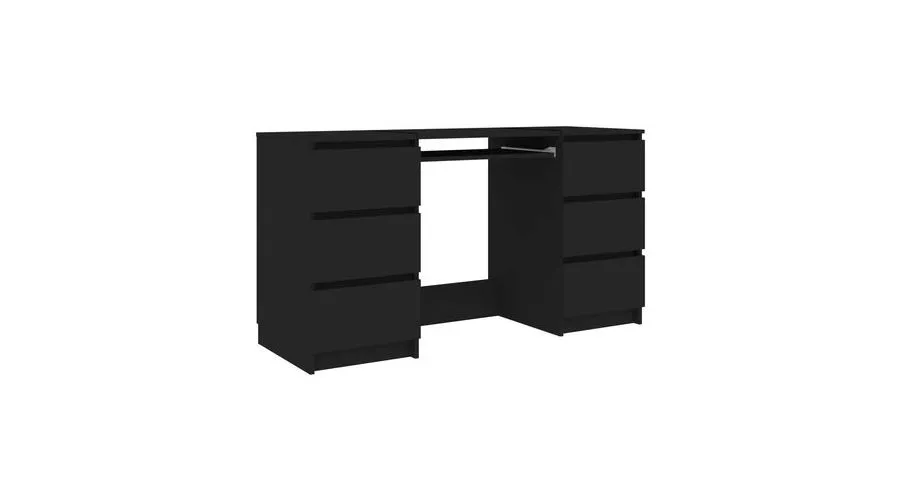 This writing desk is a great choice for redesigning your office. It can serve as a tool for writing and managing your office tasks easily. The table design is sturdy, durable, and smooth to use for any type of office space. The table does not occupy much space in your office and is also compatible to use as a study table at home. 
The table comes with six drawers for storing important documents and papers conveniently. In a study room, the table has ample space for storing your books or computer. Made from durable wood with a sleek black colour design, it gives an appealing vintage look to your office and study room.
---
2. vidaXL desk 90x45x76 cm white chipboard  
This vidaXL office furniture is a perfect table to use for personal and office use. The furniture is easy to assemble and accommodate in your office and room space. If you need a new replacement of furniture anywhere at home or in your office, this is a must-buy office furniture. 
Let your office have easy accessibility where you can get your work done conveniently. The desk is made of durable chipboard, is light in weight, and sturdy. The overall length of the desk is 90cm and only takes up a little space. You won't have to worry about making your office look congested with this convenient piece of furniture.
The desk is an ideal choice for children to use as a study table as well. You can place the table in a corner of the room for your kids to work on their schoolwork or study. It comes with ample space for storing books, documents, and other essentials.
---
3. vidaXL desk with side cabinet finished wood high gloss white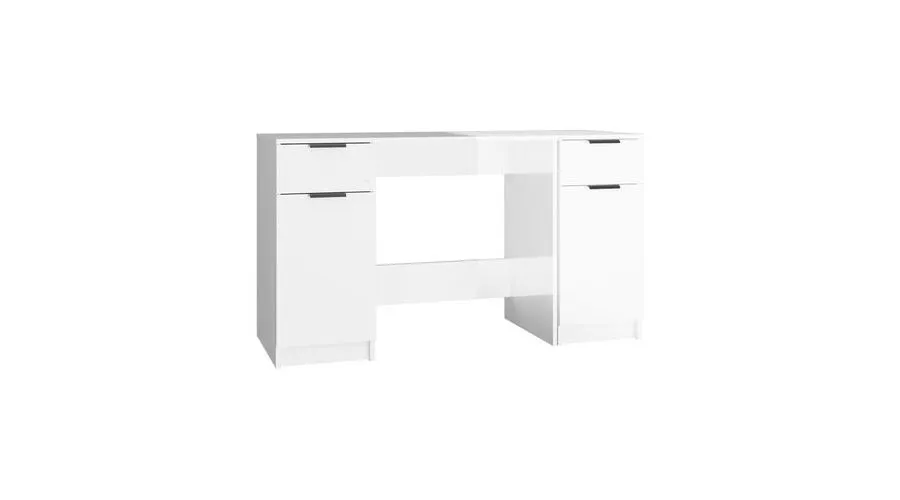 This desk with a side cabinet finished wood high gloss white is made with a sleek touch of unbeatable charm, perfect to set up as a study table or for office use. This is a wonderful modern desk that you don't want to miss out on. 
The desk is sturdy in design and comes with sufficient space for storing books, documents, papers, and other essentials. The desk is also moisture-resistant, making it super easy to clean and maintain. 
Set the table anywhere in the office to add a serene look to your office ambiance. The minimalist design of the desk also fits perfectly with modern interior design. This is a great choice for setting up your office or your study room.
---
4. vidaXL writing desk 110x50x76 cm solid recycled teak wood 
This writing desk 110x50x76 cm solid recycled teak wood is a minimalist piece of office furniture. If you want to add a vintage look to your office, this is a must-buy. Made from durable teak wood, it is suitable for use in offices, living or study rooms, and more. The desk is sturdy, solid, stable, and eye-pleasing with sufficient drawers to store your important documents and papers. Whether you need to store your pens, notepads, or trinkets, the four spacious drawers have you covered.
---
5. vidaXL Drawing table with 2 drawers and stool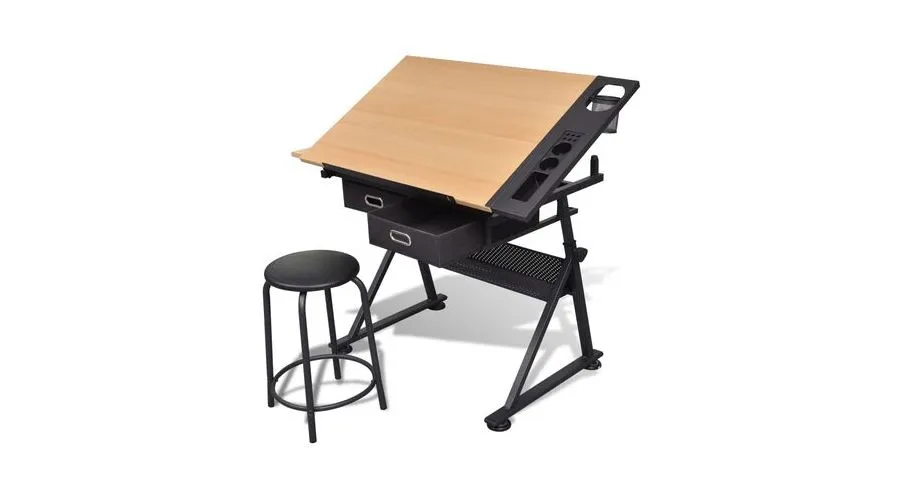 For adding a piece of unique office furniture to your workplace, this drawing table is a must-buy. This is mainly designed for art and craft work like drawing and sketching.
This is a high-quality tiltable table top that will make your working hours sturdy and convenient. The overall design of the table is quite accommodating to any living space. The table is extremely suitable for draftsmanship. The double tray design allows for completing multiple tasks altogether. Individuals can easily adjust the height of the table accordingly, and the sheet stopper keeps the paper secure from flying away. 
The two drawers are great for storing your essentials, making your working space look spacious and inspiring. The tool that comes with the table is also thickly padded to give the comfort you need while working for hours.
---
Conclusion 
Office furniture is undoubtedly a great addition to your office design. vidaXL's collection of office furniture is versatile in design, allowing individuals to set them in any living space. They are not strictly designed for office use only but could be used in the living room, study room, etc. The size of the tables is a standard one which allows you to set them easily without having to make your space look conjusted. With affordable prices, shop the best office furniture on vidaXL. For more information, visit Trendingcult. 
FAQs