For weddings, you don't have to break the bank to locate the perfect dress that accentuates your best features and makes you feel like a million bucks. Reasonably priced wedding dresses have become more and more popular in recent years, giving brides the chance to look stunning on their wedding day without going over budget. 
We'll be revealing the top five reasonably priced wedding gowns from Debenhams that are full of style and charm in this blog. This will guarantee that on your special day, you look stunning in a gown that is also affordable. But before that let us help you understand how you can choose the right silhouette for your particular body type.
So, without any further ado, let us delve into the world of budget-friendly and chic wedding dresses.
How to choose the right silhouette for your particular body type? 
It's critical to consider your unique shape, stature, and measurements while choosing the perfect wedding dress silhouette to accentuate your desired body type. 
Following is the list of critical factors to keep in mind while choosing the right silhouette:
Hourglass
An hourglass body is characterized by a narrow waist and hips that are roughly equal in width. Most dress silhouettes will fit someone with this type of figure. Nonetheless, you might want to think about donning a mermaid-shaped dress to accentuate your waist.
Pear shaped
The ideal dresses for ladies with the pear shape—characterized by wider hips than shoulders—are those with balanced proportions. The shapes of the ball gown and the A-line both work well to create the illusion of a stronger upper torso. The focus of the observer is drawn upward by sweetheart-shaped necklines and off-the-shoulder sleeves.
Apple shaped
If you have an apple shape, which is defined by a wider waist and more slender hips, pick gowns that detract from your center. The A-line and empire waist silhouettes lengthen and give the torso a more toned appearance. Wedding dresses with V- or plunge necklines provide the illusion of a longer neck, elongating the upper torso.
Rectangular
Curve-enhancing dresses work well on rectangular forms because their torsos are straight and their hip and shoulder widths are similar. A-line and mermaid dresses draw attention to the hips and breasts. Sleeves that fall off the shoulders or a sweetheart neckline will draw attention to your upper body.
Petite
Women with smaller frames should aspire to appear taller through their dressing choices. When a garment has a sheath or A-line silhouette, the shape is longer. In addition, a plunging neckline or a high waistline elongates the neck and legs.
Ultimately, the best course of action is to go wedding dress shopping and try on a range of styles in order to select one that will make you feel stunning and self-assured on the big day. When choosing a wedding dress, experimentation is crucial if you want to discover the perfect silhouette for your body.
---
Top 5 Budget-friendly and Trendy Options for Wedding Dresses
1. Deep V Embroidered Long Sleeve Maxi Dress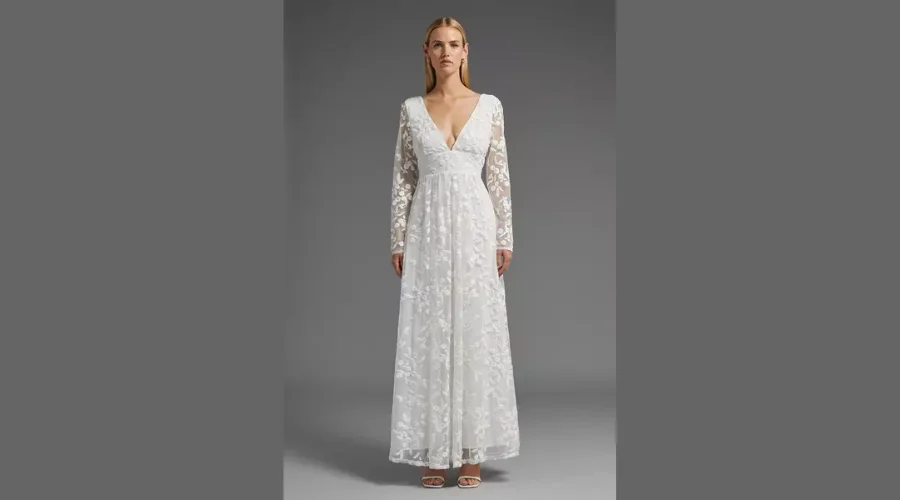 For your special day when you want to look your best, the Deep V Embroidered Long Sleeve Maxi Dress is a great choice. It has a refined yet romantic look owing to its deep V neckline and exquisite embroidery. 
The long sleeves add a touch of modesty to the ensemble, while the maxi length adds a sense of refinement and elegance. This dress will turn you into a real vision of beauty and get you a lot of attention.
---
2. Eyelash Lace Bardot Long Sleeve Dress
We offer an absolutely perfect dress that is appropriate for the most special day of your life. No matter the venue or wedding theme, we have the ideal bridal gown that will make you radiate elegance and confidence. Discover a range of styles, from the timeless elegance of shift dresses to the sweeping charm of floor-length gowns, and everything in between. 
Our captivating wrap and Bardot dresses are made to be your go-to option so you can embrace the current fashion trend head-on. Take center stage in our exquisite Eyelash Lace Bardot Long Sleeve Dress, created to transform every bride into an exquisite vision of beauty on her wedding day. Wearing this dress will make you the star of the show.
---
3. Plunge V Full Skirted Jacquard Dress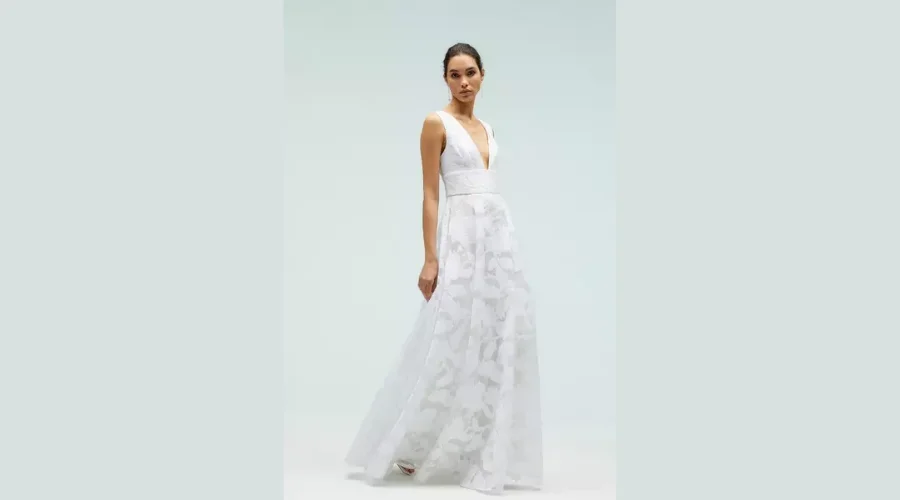 A wonderful example of bridal clothing, the Plunge V Full-Skirted Jacquard Dress will help you exude pure elegance on your special day. This dress is the perfect choice for any bride because it subtly and effectively blends elegance and attractiveness. The dress has a timeless quality to it due to the luxurious fullness of the skirt and its deep V-neckline, which exudes seduction.
It is made from the finest jacquard fabric available, and it offers both comfort and style. Wearing a dress that exudes beauty and romanticism will boost your bridal look and help you create memories that will last a lifetime. Your wedding day will be remembered for all the right reasons with this gorgeous gown.
---
4. Premium Corded Embroidery Bridal Maxi Dress With Belt
Wearing this stunning bridal gown will ensure that you are the center of attention from sunrise to dusk. It is designed to perfection and features a figure-enhancing fit-and-flare silhouette that emphasizes your body, as well as a waist that is delicately beaded to provide a touch of sophistication. 
Because this dress is covered from head to toe in elaborate beading and embellishments, it is a dazzling and compelling masterpiece that will make you the center of attention on the day that is most important to you. Raise the bar for your bridal experience by selecting a gown that exemplifies romance and beauty. This will help to transform your wedding day into something truly spectacular and unforgettable.
---
5. 'Liz' Embroidered Bridal Dress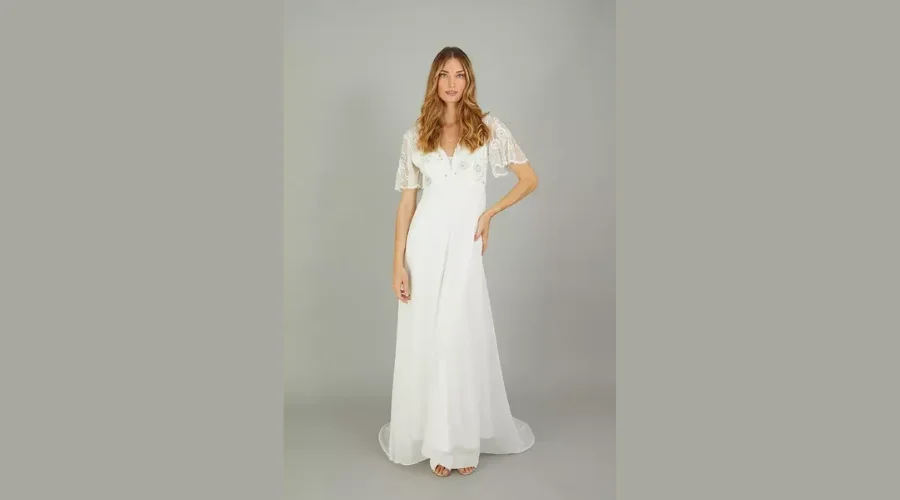 The dreamy Liz gown is the ideal choice for brides seeking the perfect balance between simple elegance and elaborate details. The addition of delicate, flouncy sleeves and an elegantly embroidered floral bodice accented with modest beaded ornaments will lend just the right amount of sophistication to your bridal appearance. 
Being one of the best wedding dresses, this dress features a scallop accent that adds a sense of sophistication to the overall appearance, and its tight empire waistline flows into a swishy A-line skirt. The subtle yet exquisite train, which is visible when you spin to show the dress's charming v-shaped dip in the back and the discrete zip fastening, completes the angelic appearance. Elegance and sophisticated beauty go hand in hand, and Liz's gown is a great example of how to blend both to create a stunning bridal statement.
Conclusion
You have the right to shine on your wedding day in a dress that fits your budget and your unique style because it is a once-in-a-lifetime experience. Our list of the top 5 budget-friendly wedding dresses shows that you may look like a million bucks without breaking the bank. 
Making the right choice can not only help you save money but also project confidence, which will add to the beauty and unique experience of your wedding day. As a result, give top priority to finding an exquisite wedding dress that fits into your budget and will make you feel like a million bucks on your special day.
You can explore the diverse selection of wedding dresses on the online store of Debenhams. There you can easily find affordable and chic wedding dresses. And, for more such fashion-related blogs, check out our website Trendingcult. 
FAQs