The choice of stylish options while shopping for plus-size apparel has increased due to the emergence of more brands that are committed to fulfilling the unique fashion needs of women with curvaceous figures.
These companies offer a broad range of attractive and figure-flattering solutions, guaranteeing that people who wear plus sizes can access clothing that is both fashionable and comfortable, celebrating their own style and body type. This article will help you examine some of the most well-known companies that have made significant contributions to the women plus size clothing and fashion industry as a whole.
Top Branded Options Available For Women Plus Size Clothing
1.   Karen Millen Plus Size Compact Stretch Viscose Mini Cut-Out Dress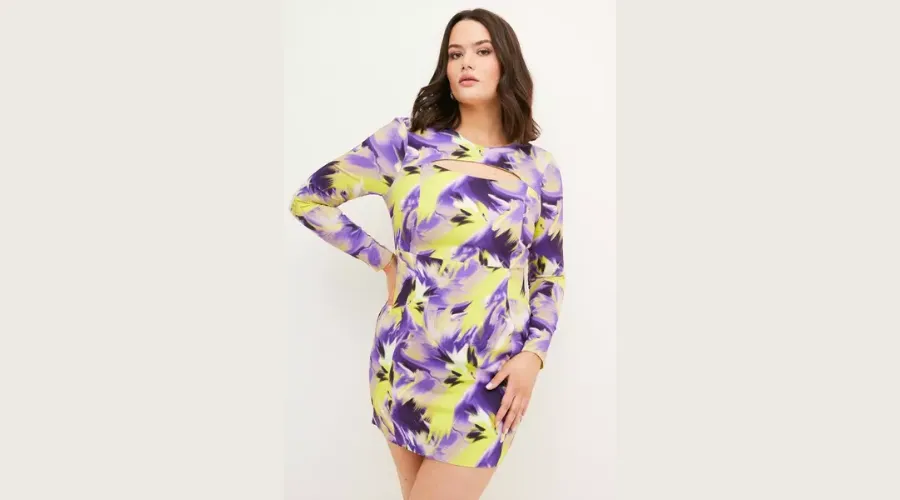 Want to spice up your outfit with some vivid hues? Take a look at this eye-catching dress with a graphic print; it flaunts confidence in its front and back cut-outs, its sculpted sleeves, and its flirtatiously high hemline, all of which serve to stretch your legs. This dress, made from our signature Compact Stretch fabric, has a comfortable stretch and a flattering, form-fitting silhouette. Don't forget to accessorize with a pair of hefty earrings to fit with the sporty gold zipper on the back.
2.   Karen Millen Plus Size Snake Print Mesh Jersey Midaxi Dress
This stunning Snake-Print Midaxi Dress will take your evening adventures to the next level. Made from a stretchy jersey fabric, it has a relaxed yet refined shape that looks great on everyone. It's great for any time of year thanks to its lightweight construction, which allows for a wide range of style options.
3.   Oasis Plus Size Spot Funnel Neck Belted Midi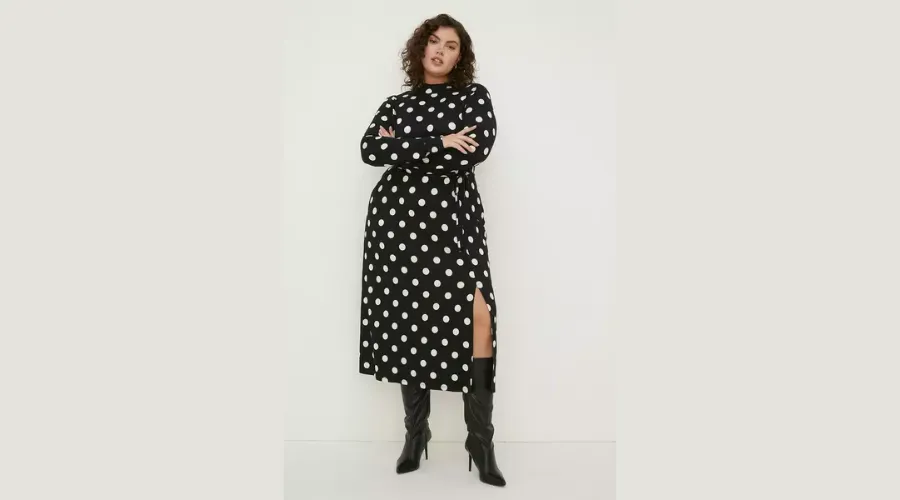 This midi dress, which is part of the Plus line and features a strong polka dot print, is a confident addition to your wardrobe. It has a chic funnel neckline, a split in the front, and a matching belt to cinch in your waist. This item is part of the Conscious Clothing line and was made with viscose that was harvested in a sustainable manner.
4.   NastyGal Plus Size Towelling Shirt and Shorts 4 Piece Cover Up Set
Planning a trip to the beach? Indulge in some R&R in style with NastyGal's complete beach cover-up set, designed specifically with larger bodies in mind. The shirt, shorts, bag, and scrunchie are all made from a toweling fabric that will keep you dry on the beach. It goes wonderfully with a bathing suit and adds to the fun of summer excursions, pool parties, and lazy days at the beach. This set contains a large beach bag and a matching scrunchie, and it is made out of a high-quality, absorbent toweling fabric. The shirt in the set has a button-front closing, and the shorts have a high waist.
5.   NastyGal Plus Size Crochet Strappy Mini Dress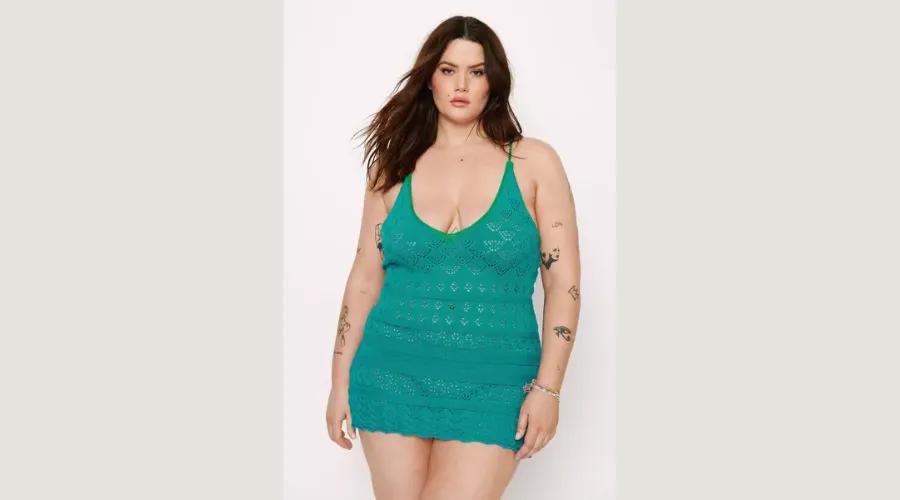 Invest in these timeless pieces to elevate your holiday wardrobe. This plus-size crochet mini dress has a flattering, form-fitting design and fun scalloped edging. It goes great with sandals and trendy sunglasses for a transition from the beach to dinner. This dress is a must-have due to its figure-flattering bodycon cut, alluring deep V neckline, and seductive low back. The contrasting spaghetti straps are a lovely little touch that makes this summer staple stand out.
What is the best place to find plus-size clothing for all occasions?
When it comes to women plus size clothing, Debenhams is a one-stop shop for all your needs and wants. They have an extensive selection, so you may be sure to find the perfect set there.
It is an all-encompassing destination for all of your clothing needs, from everyday wear to professional gear to dress clothes. Their low costs set them apart, guaranteeing high quality without breaking the wallet. Their plus size clothing is known for its durability and longevity.
In addition, they provide excellent support services that make buying with them a breeze. When going through their distinctive offerings, keep your body type in mind, try on multiple sizes until you find the one that fits you best, and seize the chance to branch out stylistically.
Enjoy the thrill of finding the perfect outfit for any event at Debenhams.
Conclusion
With the fashion industry's recent acceptance of diversity, a new era of style has arrived, offering women plus size clothing more alternatives than ever before. Buying plus-size clothes has never been more exciting thanks to the abundance of brands producing comfortable, stylish, and figure-flattering clothing for those with curvaceous bodies.
Companies such as Karen Miller, boohoo, and Oasis provide a wide range of women plus size clothing options, from business casual to elegant evening attire, enabling each lady to effortlessly and fashionably display her unique sense of style for any given situation.
Whether you are looking for show-stopping ensembles or everyday essentials, Debenhams has every brand that specializes in women plus size clothing to meet your fashion needs. And, for more such interesting fashion blogs, check out our website Trendingcult.
FAQs