Every special occasion needs protection from rain and scorching heat. Hiring a party tent for a particular celebration or birthday party, wedding, graduation, reunion party, etc, and depending on the sheer size of the venue and occasion, party tents are life savers. They are a crucial factor and add more than protection from sudden rain to sweltering sun heat. Moreover, the overall experience of your guests and the outline decoration of the event are rooted in these party tents. How grandeur your event should be is also affected by the size of these party tents that come with large accommodations. Even your guests can feel that atmospheric grandeur as soon as they enter the tent as though in a large hall or an open event.  
These party tents on vidaXL come with varied collections of party tents. Some of these have large windows on the sides and are portable to open on one side to allow free airflow and more view to natural glances along the sides walls. Especially this is fantastically accommodating in summer events where people may feel less suffocated. The large entrance with the party tents gives a glamorous welcome to guests. 
In addition, these party tents are highly customized especially when it comes to layout and furniture setting. For instance, if you need a band or DJ instruments or a dance-floor area for the guests these party tents are conveniently accommodating. This spaciousness opens doors to lively fun and entertainment with your friends and families while seething them up.
VidaXL brings some of the most versatile party tents for all your planned events  
1. vidaXL Collapsible Party Tent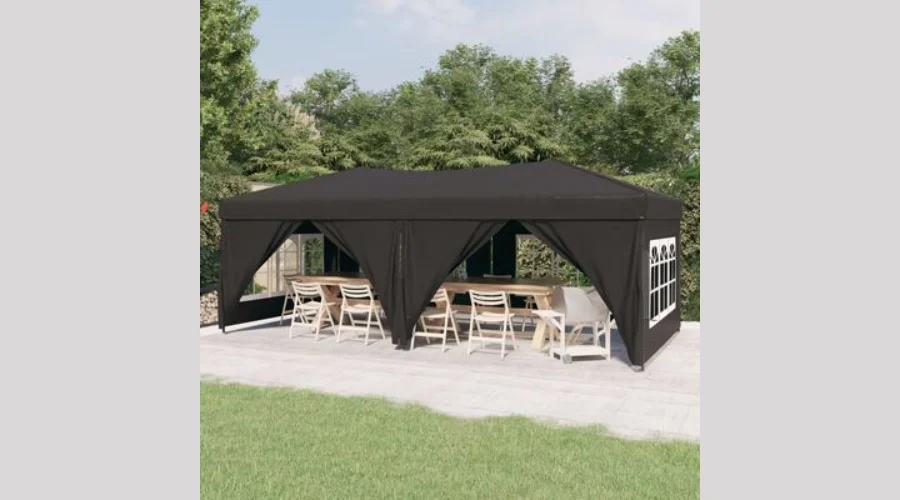 The Collapsible party tents on vidaXL with side walls of 3×6 m anthracite is a party tents for all outdoor events. If you're planning for a large family gathering for BBQs, camping trips with college friends, picnics with a large group of friends or birthday parties, and more this Collapsible party tent is your fantastic choice. It's easy to store things and transport, made out of 210D Oxford fabric with silver coating. It's UV resistant and high water repellent. The fabric protects people in the tent from harmful UV rays and perfectly stays protected from humidity and rainy weather while you keep the event going with your loved ones. 
Moreover, the side walls of the tent prevent insects from flying in and the side panels, decorative windows with zippered door panels are practical for easy to move in and move out. However, if you are worried about the stability of the tent, then your worry is taken care of since the steel frames provide enough strength for stability. But unfortunately, the Collapsible Party Tent is not advisable to use during heavy adverse weather conditions.   
---
2. vidaXL Gazebo with Curtains Taupe 
The Gazebo with Curtains Taupe is an excellent choice for outdoor events, such as shows, weddings, or barbecues with friends and families. It's easily portable to install in your backyard, or garden, or as a large awning to sit under with your loved ones on summer hot days. The tent is sturdily built, and durable enough to use it for years due to the powder-coated steel frame. The tent has detachable curtains and a protective top which are made of polyester fabric with PA coating to ensure UV resistance. Hence it's very suitable for outdoor activities. The panels which are located on the side of the tents are for a quiet evening, personal resting without the insects' invasion.  However, it's not recommended to use it under extreme weather conditions such as storms, heavy rainfall, or snow. Otherwise, vidaXL Gazebo with Curtains Taupe is an ideal party tent with a large capacity of people to sit and is definitely a worthy purchase.
---
 3. vidaXL Garden Gazebo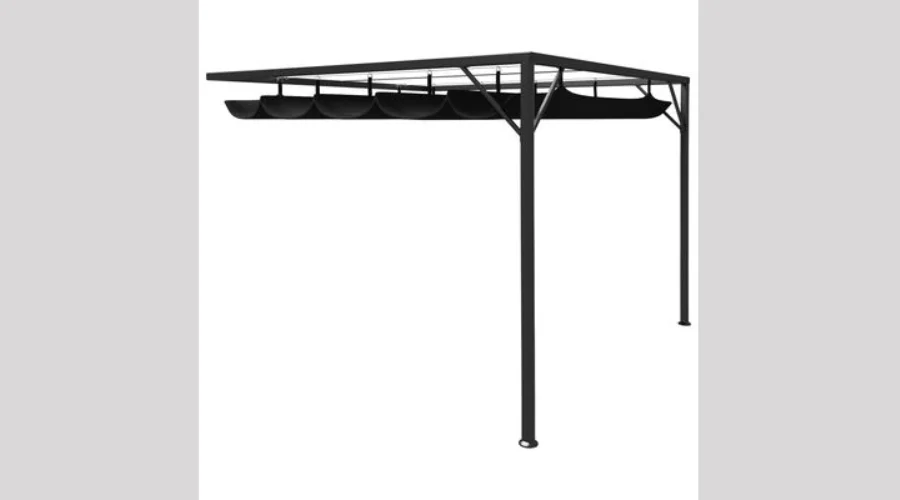 The vidaXL Garden Gazebo party tent is designed with a Pull-Out Roof of 3×3 m Anthracite. It has a customized shade provider and a quiet adoration for personal space making it enjoyable with loved ones and friends. The powder-coated steel frames are for stability after pitching up. 
It has a retractable PA-coated roof, which protects you from UV rays and is water resistant. It has a rotatable roof and by shaking the bar with a hand it could be placed in the right place. The roof could also be easily removable to let the sunlight in and for shade as well. It is an ideal party tent for all types of outdoor activities with your friends and families. However, it's not recommended to use the vidaXL Garden Gazebo party tent during heavy storms, or heavy windy weather. 
---
4. vidaXL Gazebo with Insect Screens 
The vidaXL Gazebo with Insect Screens is a classic design with elegance and offers perfect protection from the sunlight and is an ideal party tent. The party tent can be used for all types of outdoor activities with your friends and families for dinners, barbecue gatherings, family gatherings, and other activities. The tent is made of Oxford fabric with a PA coating, to give you overall protection from harmful UV rays. The gazebo tent is built out of strong aluminum and steel, and therefore it has high resistance to rust, reliably stable. 
The six mesh screens are the main barriers, preventing insects from entering the tent while allowing perfect ventilation for air to circulate. In addition, the tent has the dimensions of 4 x 3 x 2.7 m (L x W x H). It can easily fit a group of people in the tent without having to worry much about space. Hence just perfect for a decent gathering. The cones with mounting accessories, so the tent can be easily attached to the ground which will give a sturdy stand.
---
5. vidaXL Gazebo with Curtains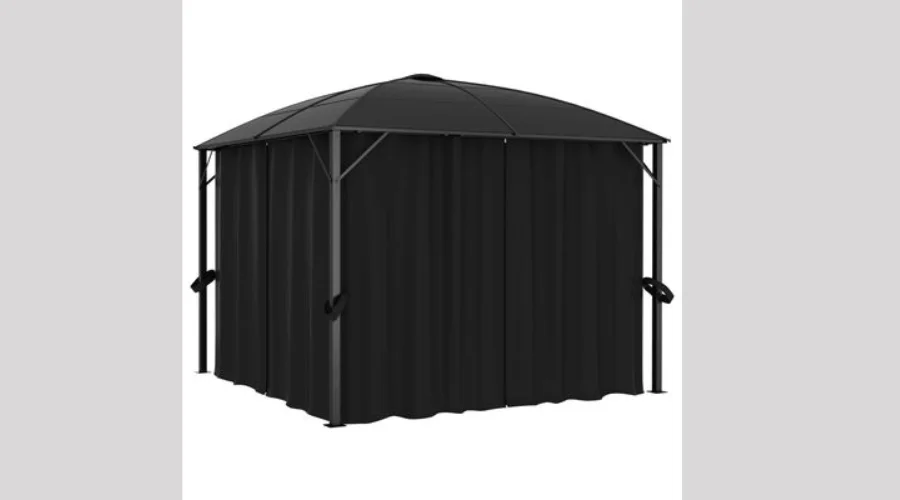 The vidaXL Gazebo with Curtains 300x300x265 cm Anthracite is another fantastic choice of party tent if you're looking for a family gathering, birthday parties, campings, and more. The tent has an appealing look mixed with a classic look and elegance. But perfect for sheltering the gatherings. Easy your lunch or dinner time and drinks with your people under the shelter. Moreover, the roof is made of PC plates with 6 mm thickness giving a perfect UV resistance. The frames are made of aluminum steel which lay a strong sturdy for the tent to stay stable during the entire time of partying. Since the curtains are made of polyester it is super easy to keep it clean. The curtain cords are there to pull in and pull out the curtains as you need. Since it's easy to assemble The vidaXL Gazebo with Curtains 300x300x265 cm Anthracite is perfect for your outdoor gathering with your loved ones.
---
Conclusion 
Needless to say, party tents on vidaxl are very practical, versatile, and visually appealing which makes them an excellent choice for hosting outdoor events. They are also designed to give good weather protection, a spacious atmosphere, and a comfortable ambiance wherever they are set up. This gives an overwhelming and accommodating experience to the guests and people participating. For more information visit the official website of Trendigncult.  
FAQ's