Desk lamps are a crucial factor in creating an ideal working environment. Home Depot has something to offer everyone, whether you're looking for a space-saving clamp-on design, a conventional and exquisite desk lamp, an industrial-style architect lamp, or a modern and sleek LED desk lamp. With a broad selection of desk lamps in a variety of styles, they ensure that everyone will be able to choose the ideal desk light for their particular workspace. They make sure that quality and diversity go hand in hand by providing both affordable options and more expensive styles. The selection of desk lights guarantees to provide both stylish and useful illumination for your place.
3 key considerations when buying desk lamps
1. Lighting Needs and Task Specificity
Think about the key tasks you perform at your desk, such as reading, writing, or learning. Choose a desk light with a dimmer switch and a colour temperature preset so you can change it for various tasks throughout the day. Choose a lamp with a flexible neck or an adjustable arm to direct light exactly for the best illumination.
2. Design and Aesthetics
Make sure the desk lamp you choose matches the design of your workspace. To create visual appeal, consider using classic, modern, industrial, or minimalist design elements. Select materials and finishes that appeal to your sense of style to improve the environment of your workspace.
3. Energy Efficiency and Eco-Friendly Features
Choose energy-efficient LED desk lamps for cost savings and a reduced environmental impact. Look for ENERGY STAR certified lamps that adhere to eco-friendly practices. Prioritize long-lasting LED bulbs to minimize waste and enhance sustainability by reducing the need for frequent replacements.
Most recommended desk lamps
1. Indoor Desk Lamp Incandescent Light 15 W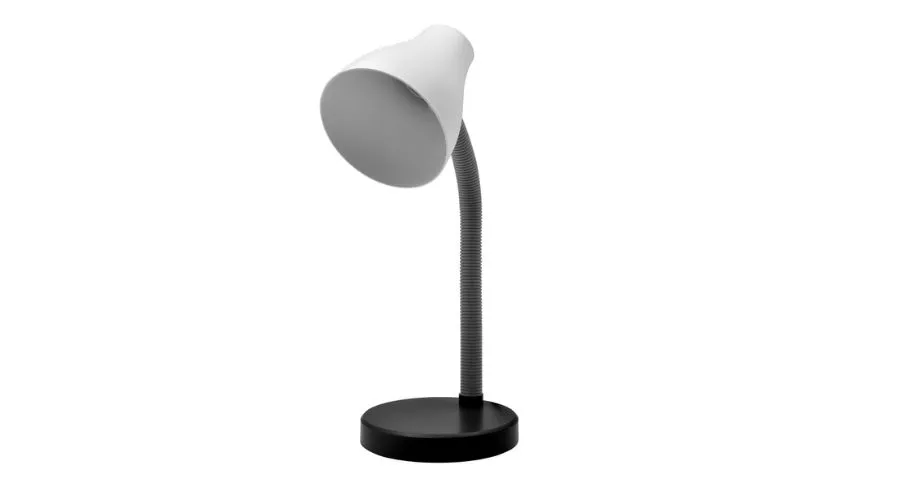 This desk lamp is the best option for evenly lighting interior work places like offices or classrooms. This lamp has an automated on/off feature that turns on and off when it senses outside light, which is both convenient and economical. It guarantees dependable performance for frequent use because it is made of sturdy plastic. Any workstation will look chic thanks to the modern design in white with black accents and a semi-gloss surface.
---
2. Indoor Table Lamp with Warm Light LED, 3.5 W
This is one of the best desk lamps because it is flexible and adaptable for evenly lighting desks in offices, study areas, or other workspaces. A cozy and welcoming glow is provided by the integrated 3.5-watt LED light, fostering a pleasant and effective working environment. This light is convenient because it doesn't need any extra bulbs and provides long-lasting performance and energy efficiency. It's a great option for concentrated work and reading because its adjustable design lets you focus the light exactly where you need it.
---
3. Table Lamp For Study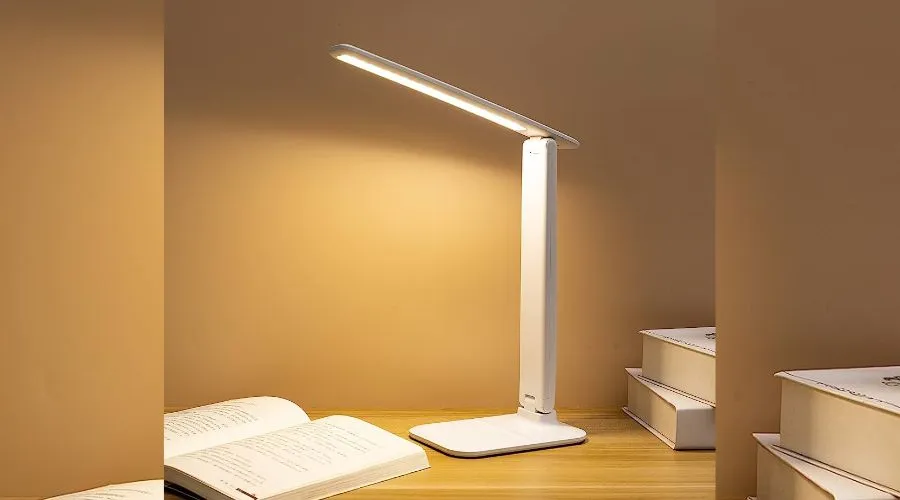 This lamp was created to offer the best lighting for reading, writing, and studying, ensuring decreased eye strain and improved concentration. It complements any study space with a stylish and practical design, fostering an environment that is favourable for both work and learning. You may alter the light's direction and intensity to suit your individual study demands thanks to the adjustable features.
---
4. Table Lamp Arm 4.8W LED Pink
The pink Table Lamp Arm 4.8W LED from Home Depot is a chic and useful addition to any desk or bedroom table. It offers cool and bright illumination that is ideal for reading and working thanks to its 4.8-watt energy-efficient LED bulb. Your ability to put the light precisely where you need it will increase your productivity and comfort.
---
5. Desk Lamp Daburu Black 1 Light
A stylish and contemporary lighting option for your workstation or study area is the Desk Lamp Daburu Black. It provides sufficient lighting from a single source for activities like reading, writing, or working on projects. With its sleek black finish, it adds sophistication to any environment, and its adjustable design lets you focus the light exactly where you need it.
Przeczytaj także – Obejmij nowoczesną elegancję: akcesoria łazienkowe, które musisz mieć, aby ulepszyć swój wystrój
---
Wniosek
The right desk lamp may completely transform your workspace. The appropriate bulb can significantly improve your work experience, from increasing productivity to adding aesthetic appeal.  Desk lamps can be used to provide task-specific lighting for activities like reading, writing, studying, or working on a computer, enhancing visibility and reducing eye strain in the workspace. Particularly notable for their energy economy, durability, and adaptable lighting options are LED desk lamps. Therefore, investing in a top-notch desk lamp is a smart choice whether you're studying, working, or engaging in hobbies. For more information on table lamps, visit Home Depot and the oficjalna strona Trending Cult.
FAQ