Imagine waking up to the soothing sounds of the Aegean Sea, spending your day under the warm Grecian sun, and ending with a spectacular sunset painting the sky – all in the serene setting of an adult only hotels in Greece. Greece, with its rich history, stunning landscapes, and pristine beaches, is an idyllic destination for those seeking a tranquil retreat. To add to this charm, a selection of adult only hotels  are sprinkled across the country, offering an undisturbed oasis of peace and luxury. These establishments cater specifically to adults, creating a relaxed environment perfect for couples, groups of friends, or solo travelers who want to enjoy Greece's beauty in a mature setting. Join us as we journey through the top 5 adult-only hotels in Greece, each offering a unique blend of Greek hospitality, incredible amenities, and breathtaking locations.
Best adult only hotels in Greece
1. Alia Palace Luxury Hotel and Villas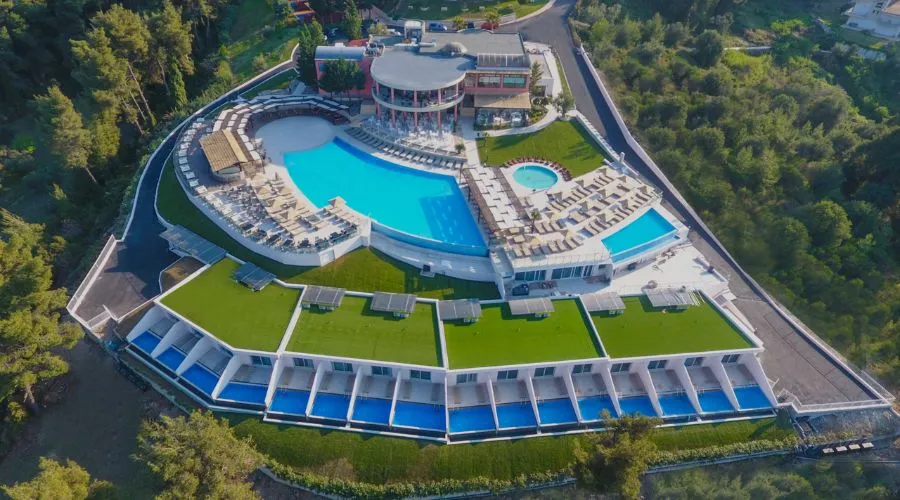 Discover a paradise of relaxation at the Alia Palace Luxury Hotel and Villas, an adults-only retreat nestled in the beautiful landscape of Pefkohori, Halkidiki, Greece. This exquisite hotel exudes tranquility and luxury, making it an ideal destination for couples or solo travelers seeking a serene and indulgent getaway.
The Alia Palace Luxury Hotel and Villas enjoy a strategic location, perched on the top of Pefkohori village, offering breathtaking views of the azure waters of the Aegean Sea and the village below. The hotel is just a short walk away from the beach and the vibrant local nightlife, allowing guests to enjoy the best of both worlds.
The hotel offers an array of luxurious amenities designed to ensure an unforgettable stay. From tastefully decorated rooms and villas with private pools to world-class dining options and a rejuvenating wellness center, every detail has been thoughtfully curated for the ultimate comfort and enjoyment of the guests. Enjoy the perfect blend of Greek hospitality and sophisticated luxury at the Alia Palace Luxury Hotel and Villas, a truly unique adults-only haven in the heart of Halkidiki, Greece.
---
2. Natura Club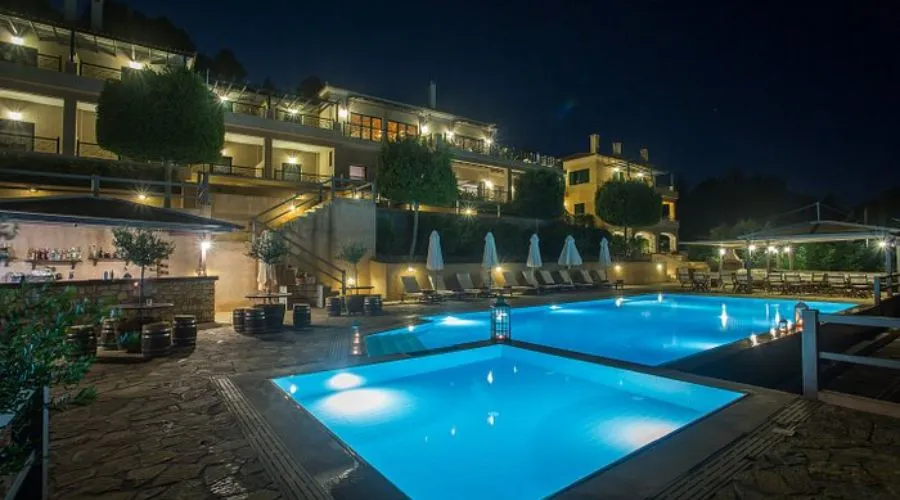 Immerse yourself in an authentic Grecian experience at Natura Club, a peaceful retreat nestled between the azure Ionian Sea and the verdant mountains of Kyparissia, Peloponnese, Greece. This stunning hotel offers an idyllic getaway in a region renowned for its rich natural beauty, historical sites, and traditional charm.
Located just a few kilometers from the city of Kyparissia, Natura Club allows guests to explore the captivating local culture and stunning landscapes at their leisure. Whether you wish to wander through the city's vibrant streets, visit historical landmarks, or simply relax on the nearby sandy beaches, Natura Club's location offers easy access to a diverse range of activities and experiences.
The hotel itself features an array of modern amenities designed with comfort and relaxation in mind. Guests can enjoy stunning views from their spacious rooms, indulge in local cuisine at the hotel restaurant, or unwind with a refreshing swim in the outdoor pool.
Experience the enchanting beauty of Greece's Peloponnese region and savor a memorable stay at Natura Club, where Grecian hospitality and modern luxury come together in perfect harmony.
---
3. Cavo Olympo Luxury Hotel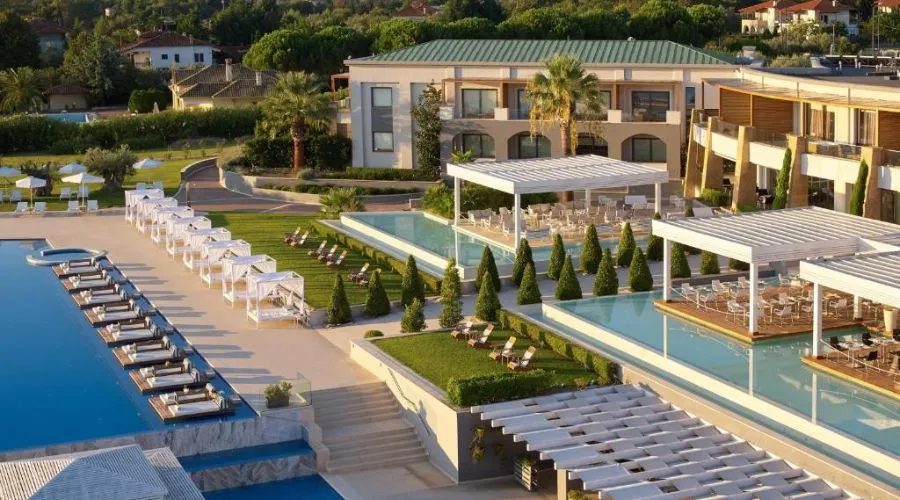 Cavo Olympo Luxury Hotel embodies modern elegance through its sophisticated design and high-end amenities. The accommodation ranges from stylish rooms to luxurious suites, each offering spectacular views of the sea or Olympus Mountain. The tastefully decorated rooms come equipped with all the modern amenities you would expect for a comfortable stay.
The hotel offers an array of world-class services and facilities, including a chic restaurant serving exquisite Greek and Mediterranean cuisines, a spa and wellness center for a rejuvenating experience, and a stunning infinity pool that appears to merge with the Aegean Sea.
Cavo Olympo Luxury Hotel offers a unique blend of serene natural beauty, mythical allure, and contemporary luxury, making it a dream destination for any traveler seeking a truly unforgettable Greek getaway.
---
Who should look for adult only hotels in Greece 
Anyone seeking a serene and peaceful getaway should consider adult only hotels in Greece. These establishments cater specifically to adults, creating an ambiance of tranquility that's often sought after by couples seeking a romantic retreat, solo travelers wanting a restful respite, or groups of friends desiring a peaceful vacation. Adult only hotels in Greece provide an environment where adults can relax, free from the usual hustle and bustle associated with family-oriented resorts.
Moreover, these adult only hotels in Greece are often designed with mature interests in mind, offering amenities like sophisticated dining options, spa facilities, and a range of activities that adults can enjoy. This makes adult only hotels in Greece ideal for those in search of a luxurious and quiet vacation experience.
Furthermore, adult only hotels in Greece are spread across the country, from the bustling cities to the tranquil islands, offering a range of choices depending on one's preferred setting. If a serene and peaceful Greek vacation is on your agenda, consider booking your stay in one of the many excellent adult only hotels in Greece has to offer.
Conclusion
The adult only hotels in Greece truly offer a paradise of tranquility, each one a unique haven that blends relaxation, luxury, and the enchanting beauty of Greece. These top five adult-only hotels serve as idyllic destinations for those seeking an escape from the hustle and bustle of everyday life. Whether you're looking to soak in the captivating Aegean Sea views, indulge in exquisite Greek cuisine, or simply immerse yourself in the serene environment, these adult-only hotels in Greece provide the perfect setting. Their commitment to offering a tranquil, luxurious experience tailored specifically to adults sets them apart in the hospitality industry. The next time you plan your vacation, consider these top five adult-only hotels in Greece – a vacation of tranquility and indulgence awaits. For more information about holidays to Greece visit loveholidays and the official website of Trending Cult.
FAQ's