Bakery business cards are the enticing calling cards of the baking world, serving as a deliciously compact showcase of a bakery's personality and offerings. These tiny canvases blend the visual charm of high-quality images of mouthwatering treats with essential contact details, making them a vital ingredient in building and retaining a loyal customer base. A successful bakery business card captures the essence of your bakery, from its color palette to typography, evoking a sensory experience before the first bite. It's a piece of art that represents not just a business but a passion for creating delectable delights.
The ingredients of great bakery business cards
Just like a delightful pastry relies on the right mix of ingredients, your bakery business cards should blend various elements to create the perfect recipe.
Bakery logo: Your logo is the face of your bakery. It should be prominently featured on your business card, serving as a visual representation of your brand.

Contact information: Ensure your business card includes essential information such as your bakery's name, address, phone number, email, and website. This makes it easy for customers to get in touch or visit your bakery.

Imagery: Visuals are crucial for a bakery. High-quality images of your signature baked goods can make your business card more enticing. Whether it's a luscious croissant, a delectable cupcake, or a perfectly golden baguette, images can instantly trigger cravings.

Color palette: The color scheme of your business card should harmonize with your bakery's branding. Warm, inviting colors like pastel pinks, buttery yellows, and chocolatey browns are popular choices for bakery cards.

Typography: Choose fonts that reflect the personality of your bakery. For instance, a whimsical, hand-lettered font might be perfect for a cute cupcake bakery, while an elegant script font may suit a high-end patisserie.
The best bakery business cards
1.  Baking & cooking utensil bakery business card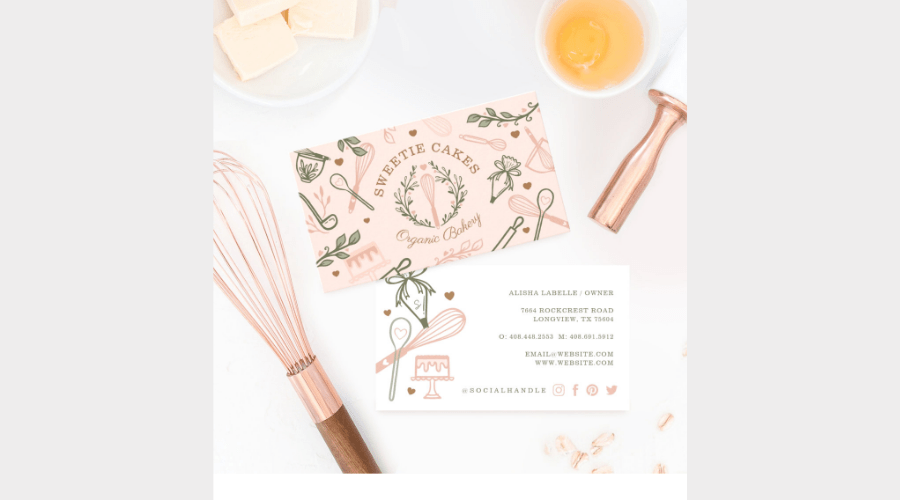 The Pink & olive green baking & cooking utensil bakery business card is a modern and chic representation of culinary artistry. Hand-drawn cooking and baking utensils, including a whisk, piping bag, pastry bag, stand mixer, spoon, and rolling pin, are thoughtfully arranged around the business name, creating a delightful visual. The color palette of blush pink and olive green adds a touch of elegance and sophistication to this business card. This is one of the best bakery business cards and is a simple yet stylish choice suitable for home bakery business cards, bakeries, entrepreneur bakers, chefs, caterers, and more.
---
2. Blush & gold whisk bakery business card
The Bakery pastry chef watercolor baking utensils business card is a delightful and whimsical representation of the baking world. It showcases the essential tools of a baker – the rolling pin, piping bag, and whisk – in a charming watercolor style. These tools, symbols of your craft, are not just visually appealing but also evoke a sense of tradition and love for the art of baking. With your name in elegant script typography, along with your business's name and the heartwarming tagline "made with love,".
---
3. Cupcake bakery square business card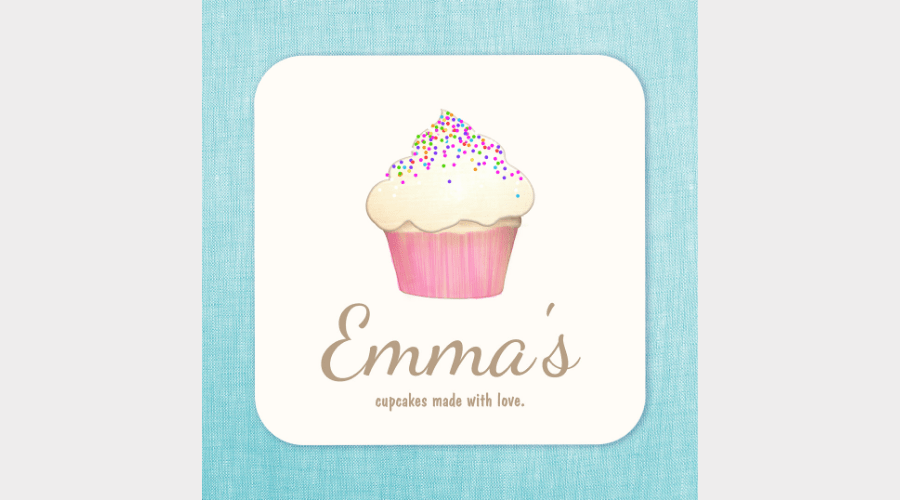 Unique design featuring a cute illustration of a white icing cupcake adorned with rainbow sprinkles and a pink wrapper. Perfectly blends whimsical charm with a subtle touch of elegance, making it a delightful representation of your cupcake bakery, culinary artistry, or catering business. The cupcake illustration adds a playful and inviting element to your business card, enticing potential customers with a sweet and memorable visual. Square business card format offers a distinctive and eye-catching presentation, setting your card apart from the standard ones.
---
4. Fun colorful black & gold business card
The Fun colorful baking & cooking utensil black & gold business card showcases a delightful assortment of hand-drawn cooking and baking utensils, including a whisk, piping bag, pastry bag, stand mixer, spoon, and rolling pin, thoughtfully arranged around the business name. Personalization options include including your company name and a monogram initial, seamlessly integrated into the design of the pastry bag. Whether you're a home baker, bakery owner, entrepreneur baker, chef, or caterer, this business card is an ideal choice for a wide range of culinary professionals.
---
Showcasing your signature delights
Your bakery business card should tantalize the taste buds and make potential customers crave your treats. Here's how to do it:
High-quality images: Don't just settle for any picture of your baked goods. Invest in professional photography that showcases your creations in their most delectable light. Images should be mouthwatering and inviting.

Minimalist design: Keep the design clean and simple, allowing your images to shine. A cluttered card can overwhelm and distract you. Simplicity is key.

Die-cut cards: If your bakery specializes in unique shapes or items (like doughnuts or macarons), consider die-cut business cards that mimic these shapes, making your cards and bakery memorable.

Seasonal and themed cards: Design special business cards for seasonal offerings or themed events like holidays, birthdays, or anniversaries. It adds a personal touch and can create a sense of urgency.
Conclusion
Bakery business cards from Zazzle are more than just contact information; it's a tiny piece of art that reflects your bakery's personality and draws customers into your world of delicious creations. By carefully considering design elements, showcasing your signature delights, baking up your brand, and exploring eco-friendly options, you can create bakery business cards that leave a lasting impression and keep customers coming back for more.
For more information on bakery business card ideas, visit Trendingcult.
FAQs