New York City is one of the most famous tourist spots in the world, and due to its iconic landmarks like the Statue of Liberty and the Empire State Building to vibrant neighborhoods like Chinatown and Little Italy, NYC offers something for everyone. With such a variety of activities and sights, it's important to consider the best time to visit New York City. With the right timing, you'll be able to enjoy the city's many wonders while avoiding the crowds and high prices. Let's take a look at different seasons in New York City.
Plan your trip to New York based on these season of New York
1. Spring in New York City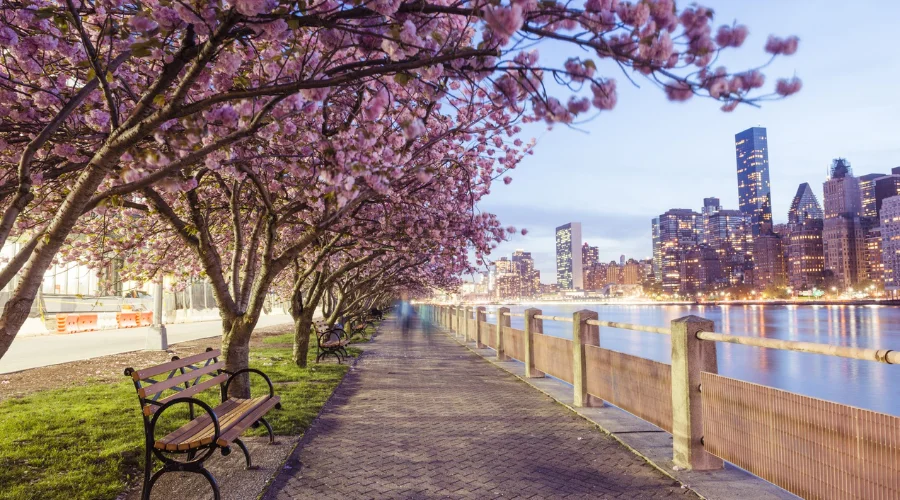 The weather in New York during the springtime is typically mild, with temperatures averaging between 45-75 degrees Fahrenheit. While it can still be a bit chilly at night, the days are usually sunny and mild, making it the best time to visit New York to explore the city.
One of the most popular spring activities in New York City is to visit Central Park and view the cherry blossoms in full bloom. In late April and early May, the trees are alive with pink and white petals and the park is filled with people enjoying the scenery. It's a perfect way to spend an afternoon or evening and a great way to get some fresh air and take in the beauty of the city.
In addition to the cherry blossoms, there are plenty of other activities to enjoy during the spring. Outdoor markets open up around the city, offering a variety of food, art, and other goods. Spring can be considered the best time of year to visit New York as there are also plenty of festivals and activities to take part in, from the annual Easter Parade to the annual St. Patrick's Day Parade.
---
2. Summer in New York City
As the weather warms up and summer approaches, New York City is a bustling hub of outdoor activities and events. With a temperate climate, warm and humid weather is typical during the summer months, making it the best time to visit New York for outdoor events and activities.
One of the most popular summer activities in New York City is outdoor concerts. Concerts can be found all over the city, from Central Park to the beaches of Long Island. Music lovers will find a range of genres to choose from, from rock and roll to jazz, reggae, and hip-hop.
Beaches are another popular option for those looking for the best time to visit New York to cool off. With over 50 miles of shoreline, New York City has plenty of beaches to choose from. Coney Island is the most well-known beach in the city and is home to the iconic boardwalk, amusement parks, and carnival games.
---
3. Fall in New York City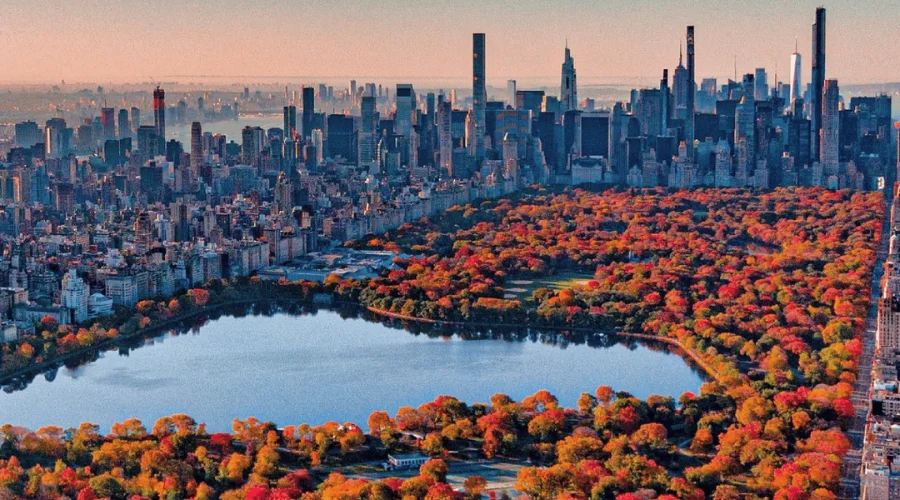 Fall in New York City is the best time to visit New York to take in a beautiful landscape, get creative with the season's special events and activities, and explore a city that's full of endless possibilities.
Fall in New York City is truly magnificent. Temperatures remain comfortable, usually ranging from 50-70 degrees Fahrenheit (10-21 degrees Celsius). The humidity is low, and you can expect plenty of sunshine. It's the perfect time to layer up with cozy sweaters and jackets, while still enjoying the outside air.
As for popular fall events and activities, Central Park's foliage is a must-see. The best time to take it all in is usually early October and late November when the leaves begin to turn golden and vivid shades of ochre and orange. Then there's the beloved Halloween parade in Greenwich Village. Fall is also the best time to visit New York for a pumpkin-picking outing, a visit to a local apple-picking farm, or a tour of the city's many historic cemeteries.
Also read : Best hotels in Singapore That are Perfect for a Vacation
---
4. Winter in New York City
Winter in New York City can be cold and snowy. With temperatures averaging in the low to mid-30s, winter in New York City can be quite chilly. But with the cold temperatures come plenty of snowfalls, bringing a winter wonderland to life. With an average snowfall of about 20 inches, it's the best time to visit New York so you can get quite a bit of snow.
There are plenty of things to do during the winter season in New York City. From holiday festivities like the Rockefeller Center Christmas Tree Lighting to attractions like the Radio City Music Hall Christmas Spectacular, there is something for everyone during the winter in New York City. There are also plenty of winter sports, like ice skating and skiing, to enjoy during the colder months.
Also read : Book The Best Hotels In Toronto For A Pocket Friendly Stay
---
Conclusion
New York City is an exciting and vibrant destination all year round, but the best time to visit New York depends on what you are looking for. Fall and spring are the best seasons for weather and attractions, but there are also great options for visiting during the winter and summer. No matter when you decide to visit, this Trendingcult guide will help you to plan for the best possible experience.
FAQ's