Electronic locks, a revolutionary advancement in security technology, have transformed traditional key and lock systems by integrating electronic components to control access. These locks utilise various authentication methods such as PIN codes, biometrics, smart cards, or mobile apps, offering enhanced security and convenience. Unlike conventional locks, electronic locks provide the flexibility to change access credentials without replacing physical keys, thereby reducing security risks associated with lost or stolen keys. 
Additionally, many electronic locks are equipped with audit trails, enabling administrators to monitor access history and track who entered a particular space and when. This not only enhances security but also proves invaluable for forensic purposes. Electronic locks find applications in residential, commercial, and industrial settings, contributing to the evolving landscape of modern security systems. Their adaptability, advanced features, and integration with smart home technologies make electronic locks a crucial component in safeguarding valuable assets and ensuring controlled access in the digital age.
Benefits of using Electronic Locks
Enhanced Security Features: Electronic lock systems offer advanced security with multi-layered authentication methods like biometrics, PIN codes, or RFID cards, minimising the risk of unauthorised access and creating a more secure environment.




---

Convenient Keyless Entry: (keyless touch lock)

Electronic locks

provide keyless entry, eliminating the need for physical keys. With options such as PIN codes, swipes, or smartphone access, this not only saves time but also reduces the risk of key loss and the hassle of key management.




---

Remote Access and Monitoring: Smart connectivity features in electronic locks enable remote access and monitoring through smartphone apps, enhancing security by allowing users to check and control their locks from anywhere.




---

Audit Trails for Accountability: Electronic lock systems maintain audit trails, recording entries and exits, offering valuable accountability for businesses, landlords, and homeowners who want to track access and enhance security measures.




---

Customization and User Management: Electronic locks allow easy customization of user access, accommodating temporary access for guests or restricting specific areas for certain users. This flexibility is particularly useful in shared living spaces or commercial environments.




---

Durability and Weather Resistance: Constructed from robust materials like metal digital locks, electronic locks are durable and weather-resistant, suitable for both indoor and outdoor use. This ensures consistent performance in various environmental conditions.




---

Quick and Easy Installation: Electronic lock systems often offer quick and simple installation, designed for easy retrofitting without extensive modifications to existing doors, making them a convenient choice for security upgrades.




---

Energy-Efficient Operation:

Electronic locks

are designed to be energy-efficient, featuring low-power consumption and sleep modes. This not only contributes to sustainability but also extends battery lifespan, reducing the frequency of replacements.




---

Integration with Smart Home Systems: In the era of smart homes, electronic lock systems seamlessly integrate with other smart devices and home automation systems, creating a cohesive and interconnected security ecosystem for centralised control.




---

Low Maintenance Requirements: Electronic lock systems have straightforward maintenance requirements, including regular cleaning, software updates, and battery replacements. Many models provide alerts for low battery levels, facilitating proactive maintenance.
---
Best Electronic Locks by The Home Depot
1. Satin Nickel Keyless Touch Electronic Lock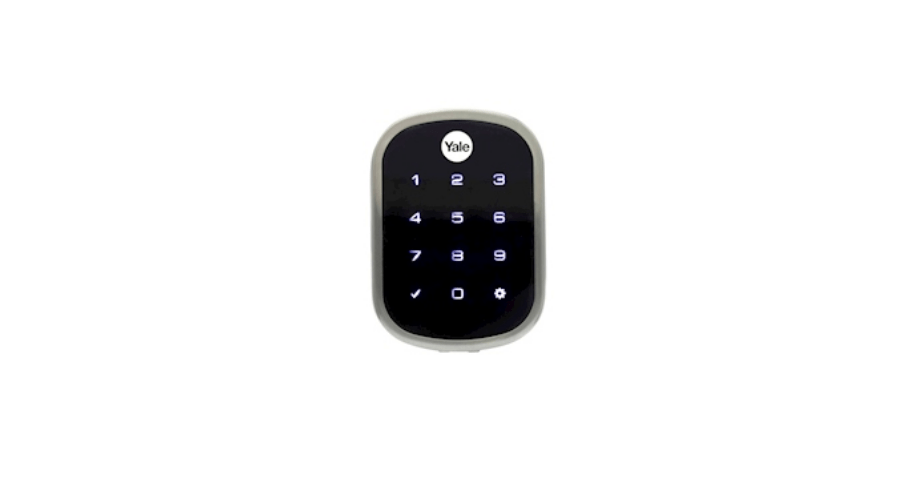 The Yale Assure Keyless Electronic Touch Deadbolt is a secure lock for your home or office door. It uses a motorised deadbolt and has features like a self-closing function, a touch screen for entering PIN codes, and an alarm for added security. It runs on 4 AA batteries (included), fits doors of different thicknesses, and even has an input for an emergency battery. The package includes an adapter and an installation manual for easy setup.
---
2. Smart Lock With Vision Doorbell Camera
Keep an eye on your front door through a live view camera that sends videos to your phone. The recordings stay private on the included memory card. Unlock the door using your fingerprint, and it's more secure than other fingerprint sensors. A special touch screen shuffles numbers, making it harder for others to guess your code. You can also control the door using your voice with Amazon Alexa or Google Assistant. Easily share access with trusted people using offline codes, and manage your door's security from anywhere using the Lockly app on your phone.
---
3. Castle Ns Electronic Lock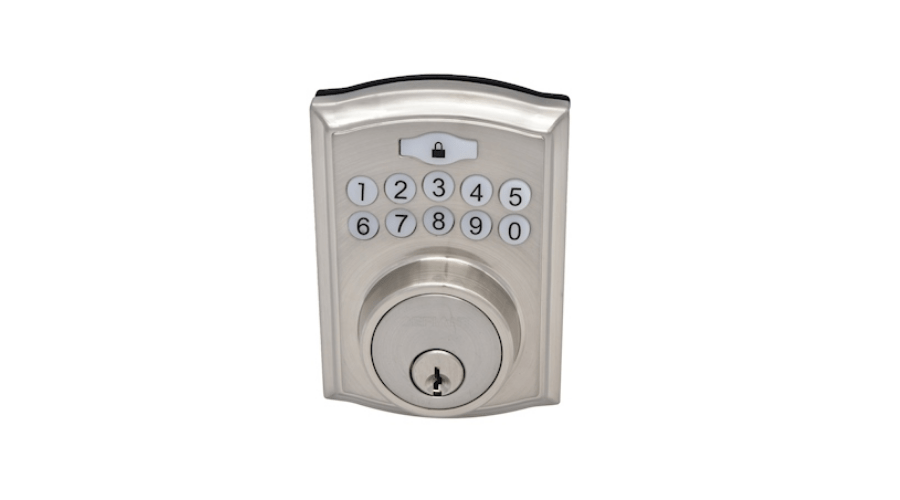 The Castle Defiant electronic deadbolt ensures security for your home's main doors with ANSI grade 3 (residential) quality. Operating through a backlit keyboard, it offers a capacity of 50 passwords, along with an interior knob, mechanical key, low battery indicator, and lock button. Powered by 4 AA 1.5-volt alkaline batteries (not included), the package includes the lock, template, and installation manual. Additionally, the lock comes with a lifetime warranty for added assurance.
---
4. Smart Electronic Lock With Handle
The Smart Code 917 Kwikset lock, equipped with an electronic handle, ensures interior security for homes or offices. Powered by a long-lasting 9-volt battery (included), it boasts a capacity for 30 different codes and features the SmartKey Security system to safeguard against advanced intrusion techniques. With BHMA AAA residence safety certification, its reversible lever facilitates installation on both left and right doors. Crafted from zinc, steel, and polycarbonate, it comes in satin nickel and matte black finishes, measuring 23 x 15 x 13 cm.
---
5. Obsidian Electronic Lock With Touch Screen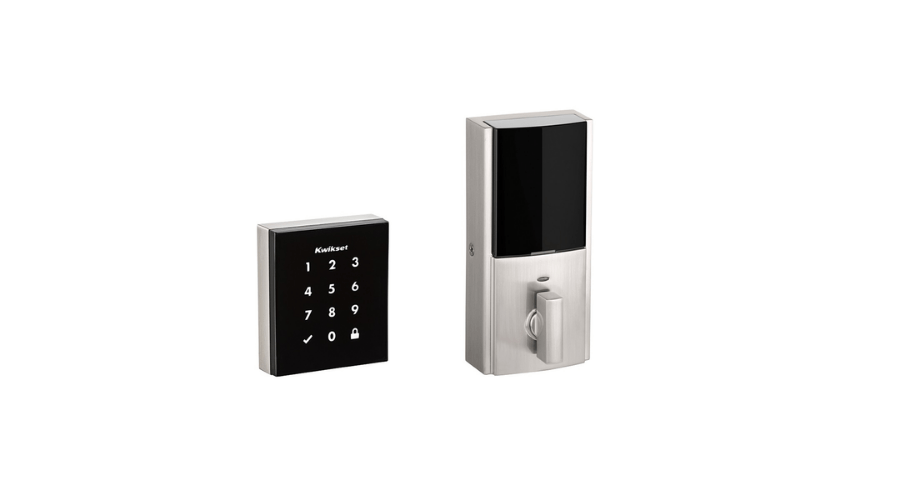 The electronic keyless entry lock uses patented SecureScreen technology to enhance security by reducing the risk of fingerprint code detection. It features an alarm that activates after three consecutive incorrect codes, a custom automatic door closing function, and allows for up to 16 personalised user codes. The tamper-proof interior cover prevents unauthorised access, and the modern design with an ultra-sensitive touch screen enables quick user code entry. A dedicated lock button ensures easy one-touch locking, and low battery alerts are provided through both an audible beep and visual flash.
6. Black Touch Electronic Lock
The LED digital touch screen lock has the capability to store up to 30 user codes and features a one-button closure. Its screen utilises secure-screen technology to prevent keystroke detection. The lock is equipped with a self-closing function, a low battery indicator, and operates on 4 AA batteries. It is resistant to saws, picks, and drills, and comes with a lifetime warranty on both the mechanism and finish, along with a 1-year warranty on electronic components.
---
Maintenance Tips for Electronic Locks
Cleaning and Lubrication: Regularly clean the lock's components and apply a recommended lubricant to prevent friction and ensure smooth operation.

Software Updates: If your electronic lock is connected to a smart home system, regularly update the software to address security vulnerabilities and benefit from the latest features.

Battery Checks: Monitor the battery status and replace batteries as needed. Many electronic locks provide low battery indicators to alert users in advance.
---
Conclusion
In the realm of home security, electronic locks emerge as a beacon of innovation, combining advanced features with convenience. Homeowners seeking to fortify their homes with cutting-edge technology can trust The Home Depot for a wide range of reliable and durable electronic locks. By understanding the key features, materials, and maintenance tips outlined in this guide, you're equipped to make an informed decision that elevates the security of your home to new heights. Choose electronic locks, choose The Home Depot, and embrace a future where security meets sophistication. For more information, visit Trendingcult.
FAQs
What is an electronic lock used for?
Electronic locks are used to secure and control access to spaces, employing technology like keypads or biometric scanners. They offer advanced security features, making them a modern and convenient alternative to traditional locks.
Are electronic locks worth it?
Electronic locks are worth considering for their added security features, convenience, and modern functionality. With options like keyless entry, remote access control, and audit trails, electronic locks provide a secure and efficient alternative to traditional locks. Their benefits often outweigh the initial investment for those seeking advanced and convenient security solutions.
What are the different electronic locks?
Different electronic locks include keypad locks, key card systems, and biometric locks. Keypad locks use codes for entry, key card systems utilise cards with encoded information, and biometric locks use fingerprints or other unique physical traits for access. Each type offers varying levels of security and convenience, allowing users to choose the electronic lock that best fits their needs and preferences.