Tables for lunch are not mere pieces of furniture, but have the innate power to turn a mundane meal into a luxurious and memorable experience. The right placement of utensils, correct dinnerware and inclusion of centrepieces can help you create a beautiful visual symphony in your dining area. In this blog, Trendingcult will talk about many different table setting ideas and pick out some quality findings for tables for lunch. 
Tables for Lunch and Etiquettes 
Before we delve into the intricate details of table setting, let's start with the essentials- to craft a perfect dining experience, you definitely need elements like place settings, tableware, centrepieces, and linens, however having table etiquettes is equally important. Having the right etiquettes ensures that the aesthetics of your table match the occasion and create a comfortable atmosphere for all. Here are some etiquettes you should follow on tables for lunch– 
When you sit down for lunch, take the napkin off of the table and unfold it to place on your lap. You can use the same to wipe your mouth or clean any droppings. At the end of the meal, simply place it neatly to the left of your plate. However, If you need to leave the table temporarily, loosely fold your napkin and place it on your chair.
Start with the utensils towards the end and continually work your way in as the meal progresses.  When you are finished with your meal, place your knife and fork diagonally across the plate, with the fork facing downwards to let others know.
How to Decorate your Tables for Lunch with Tableware 
Fresh flowers like a simple vase of wildflowers or extravagant floral arrangements are a timeless choice for centrepieces. You can also add candles and candleholders for a cosy and rich ambiance. Elegant candelabras, minimalist votive holders, or rustic lanterns can be a great way to add some accent to your tables. Some centrepieces can also play a functional role, such as fruit baskets or breadbaskets.
Linens are the canvas upon which your table setting masterpiece is created. They include tablecloths, napkins, table runners, placemats, and coasters that can help you set the tone for your lunch. You can use a crisp white linen for a cosy and clean ambiance. You can also  consider creative folds or napkin rings for your napkins to add a unique touch to your setting. Add a beautiful table runner for a good contrast that matches the aesthetic of your room. Another important thing to add are placements and coasters. Not only are they decorative, they are also highly functioning. 
How to Set up Tables for Lunch 
Since lunches require a much lighter setting than a proper dinner, the table set up for the same will also be on the lighter side. Start with the basics and add a bread plate and butter knife to the left above the fork. Place a cup and/or glass of wine directly on the knife. And when serving soup, place the bowl on a plate. You can add fresh flowers for centrepieces as they give you a rejuvenated yet calm feel. 
Top Picks for Tables for Lunch 
Of course, for the perfect setup of tables for lunches, it is very important to have the right main character- a perfect table. You can easily find the perfect tables for your lunch gatherings at The Home Depot, where quality meets affordability. Here are some tables of lunch that we are sure can instantly lighten up your dining room. 
Dining Table P/8 Bly Golden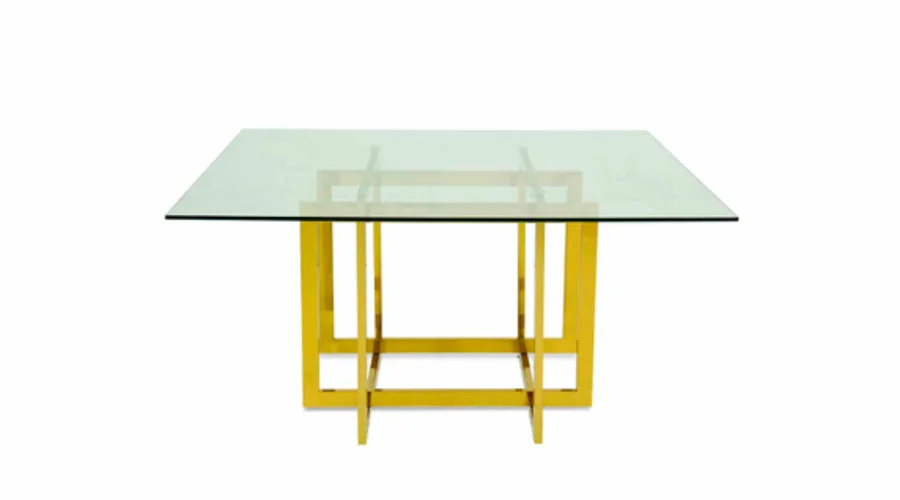 This p/8 dining table has a beautiful golden tamarind accent beneath a high quality glass and gives you a good dining space for a good number of people. Its impressive dimensions of 77 cm long, 150 cm wide and 150 cm deep will be a good fit for large dining rooms. 
---
The 76 cm long, 179 cm wide and 90 cm deep dimensions of this beautiful dining table is another table that will go well with larger dining rooms. The sturdy wooden base provides a good balance and support and will last longer, and give a nice, rustic feel to your dining rooms, while maintaining sophistication and class.
Also read : 5 Foods to Keep Your Hair Healthy and Strong
---
Dining Table With 2 Board Shapes 76 X 90 X 90 Cm Coffee Colour
This classic brown dining table has an adjustable width, which means that the table can be opened to increase the width and accommodate more people. It can easily be folded back after lunch is done. The wooden surface has a steel frame that provides extra stability, plus the water and scratch resistant surface makes it a wise choice for families with kids. 
---
White Square Table, Eames Style. Minimalist And Modern Design
This stunning table has a catchy modern and minimalistic design that blends well with modern furnishing and architecture. The strong wood and metal structure can support up to 90 kgs of weight and easily seat about 4 people. The legs of the tables are further enhanced by non-slip rubber which gives it a firm stand.
Also read : Discover Your Perfect Dress: From Casual To Formal VICI Dresses
---
London Dining Room With 4 White Oslo Chairs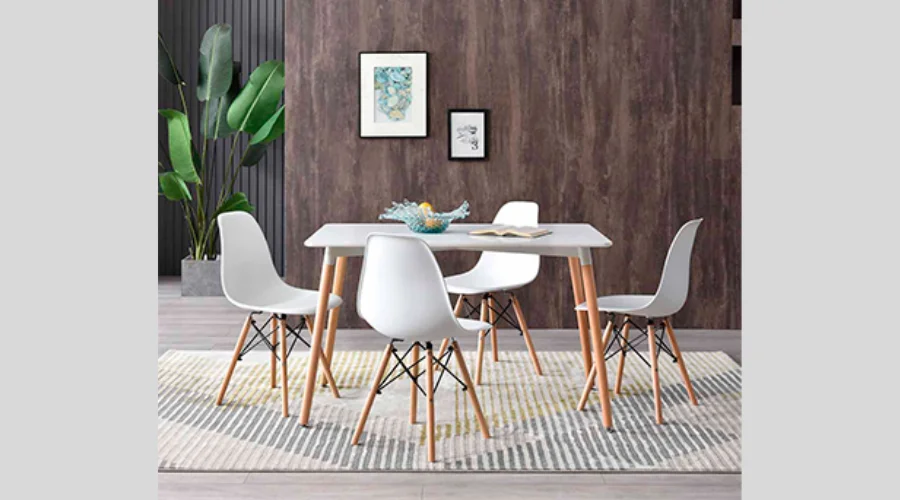 This dining table with 4 pristine white Oslo chairs can be a great addition for up to a family of four. The simple lines, muted colours and decent luminosity make it a great Nordic style furnishing piece. The accompanying chairs too have a decent base that will last longer. 
---
Kult Dining Room With 4 Oslo Chairs Crystal And White Colour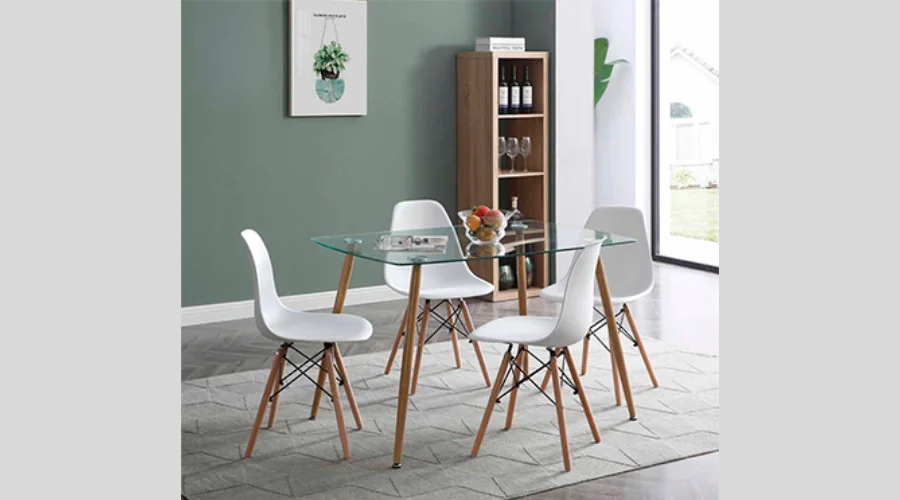 This is yet another table for lunch that comes with accompanying chairs. The strong tempered glass table is placed on a sturdy metal base made of illusion metal that gives it a wooden outlook. It will look beautiful in a chic Boho or minimalistic house.
Also read : Flavorful Kidney Bean Recipes By Gousto: A Wholesome Delight
---
Conclusion 
Setting up a table for lunch is nothing less than an art; it is all about creating an inviting and visually appealing dining experience that will make your guests feel welcomed. You obviously need the right tableware, including plates, flatware, and glassware, but having the right tables for lunch simply seals the deal. Don't miss out on the opportunity to enhance your dining experience with The Home Depot's exceptional range. Check out these top tables for lunch recommendations by Trendingcult today! 
FAQs