In the world of fashion, finding the perfect dress that effortlessly combines elegance, style, and comfort can be a challenging task. However, VICI Dresses, an esteemed fashion brand, has made it its mission to redefine contemporary fashion with its exquisite collection of dresses. From chic everyday looks to glamorous evening attire, VICI Dresses offers a diverse range of styles that cater to every woman's unique taste and personality. In this blog, we will explore with Trending Cult the allure of VICI Dresses for different occasions.
Everyday casual dresses
1. Button-Down Shirt Dress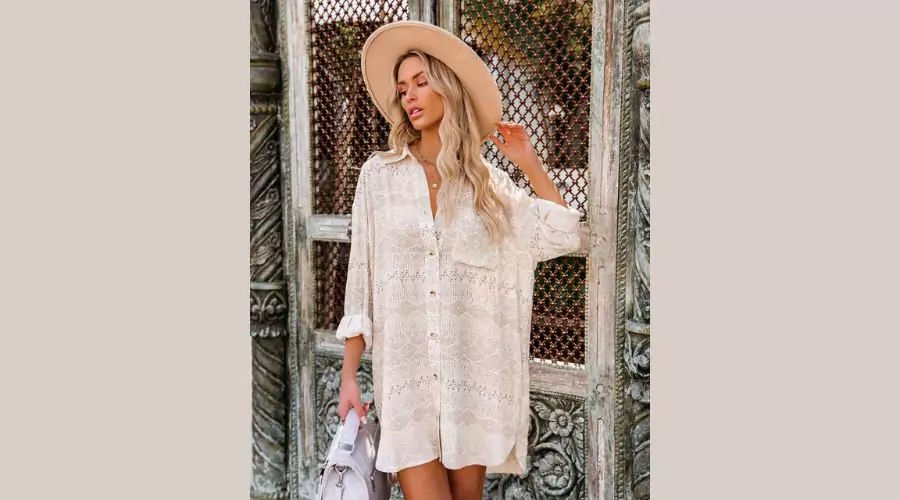 This Button-Down Shirt Dress is a chic and versatile piece that creates an effortless style. The ivory and grey geometric pattern adds a touch of modern sophistication to this dress. This button-down shirt dress is perfect for a casual day out. Made from rayon, the dress offers comfort and breathability, and the bust pocket and rounded hemline add subtle yet functional details to this fabulous dress.  You can pair it with a hat, hoop earrings, a layered necklace, and slides to complete the overall look.
---
2. Ruched Bell Sleeve Mini Dress
This Ruched Bell Sleeve Mini Dress is a delightful and stylish piece that brings together modern trends with timeless charm. The playful poppies print, adds a touch of whimsy to the overall design. Designed with long bell sleeves with elastic smocking, adding an elegant and trendy touch to your overall look. The elastic shoulders ensure a secure and comfortable fit, allowing you to move with ease throughout the day. The ruched body of the dress accentuates your curves, creating a flattering silhouette that complements all body types. Complete your overall look by pairing this dress with hoop earrings, a simple pendant, a bracelet, and heels.  
---
3. Knit Midi Dress
Crafted from a blend of spandex, this Knit Midi VICI Dress offers a perfect balance of softness and stretch, ensuring a flattering and comfortable fit, and is one of the best VICI dresses. Its sleeveless design allows for easy movement and breathability, making it an excellent choice for warm weather or layering during cooler seasons. The racerback detail adds a sporty and contemporary vibe, giving the dress a modern twist. Dress it up with heels and statement jewelry for a chic evening look, or pair it with sandals or sneakers for a relaxed daytime outfit.
---
Cocktail and Party Dresses: 
1. Satin Sleeveless Midi Dress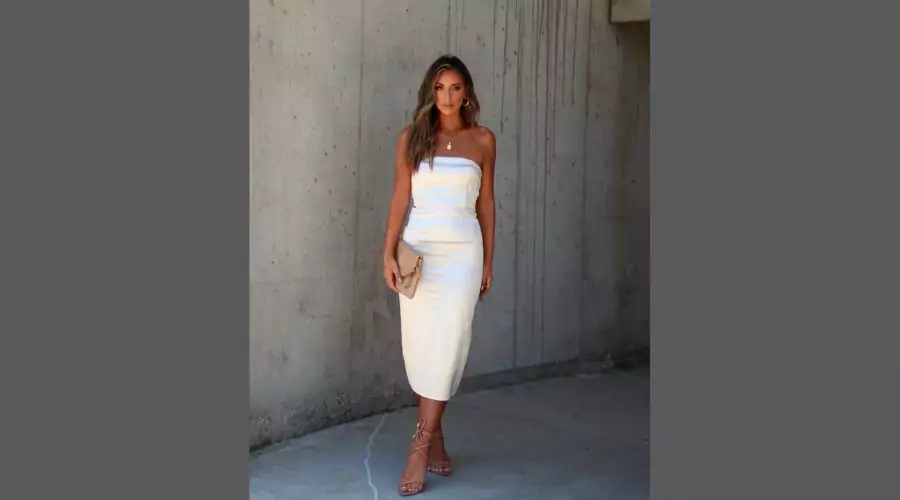 This Satin Sleeveless Midi Dress is the perfect example of elegance and sophistication. Crafted from a luxurious satin fabrication, this dress creates a lustrous sheen and a smooth, silky texture that drapes beautifully over the body. The dress features a back zipper closure, ensuring a secure and seamless fit, while the absence of lining allows for lightweight and comfortable wear. Whether you're attending a cocktail party, a wedding, or a romantic evening out, this satin midi dress is sure to make a stunning statement.
---
2. Off-Shoulder Maxi Dress
This offer-shoulder maxi dress in pink color creates a vibrant overall look making it perfect for a wedding guest dress for a day wedding. The off-shoulder neckline helps accentuate your collarbones to create a sophisticated appearance. The side slit adds a hint of allure and allows for ease of movement, making it perfect for special occasions. Whether you're attending a formal event, a wedding, or a romantic evening, the Off-Shoulder Maxi Dress is a captivating choice that will leave you feeling like a true vision of elegance and grace.
---
3. One-Shoulder Slit Maxi Dress
The one-shoulder slit maxi dress is a stunning and sophisticated piece that effortlessly combines style and comfort. Its one-shoulder neckline adds a touch of modern elegance to the design, while the front slit adds a hint of allure and allows for ease of movement. With no closures, the dress drapes gracefully over the body, providing a sleek and seamless look. Whether you're attending a wedding, a cocktail party, or a romantic dinner, this maxi dress is a chic and captivating choice.
---
Bump-Friendly Dresses
1. Ruffled Tiered Midi Dress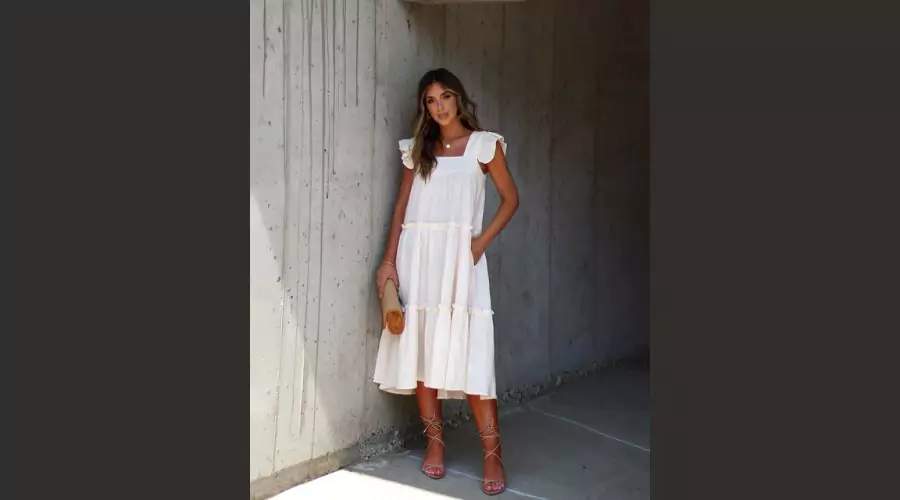 This ruffled midi dress is a delightful and versatile choice for any expectant mother. This bump-friendly dress features a square neckline that beautifully frames the shoulders and adds a touch of femininity to the design making it one of the best bump-friendly VICI dresses. Crafted from a soft cotton fabrication, the dress ensures comfortable and breathable wear for both warm and cool weather. Designed with ruffle sleeves, it adds a whimsical and playful element, while the tiered construction creates a flattering silhouette that accommodates the growing belly with ease.
---
2. Smocked Maxi Dress
This bump-friendly maxi dress is crafted from soft and breathable rayon fabric, ensuring a comfortable and flattering fit throughout pregnancy. The smocked bust not only adds a touch of chic detailing but also allows for flexibility as the baby bump grows. Designed with adjustable straps offer a customizable and secure fit to accommodate the changing body shape. The flowy skirt drapes beautifully, allowing for ease of movement and comfort. The front button closures add a stylish touch and make breastfeeding effortless post-pregnancy.
---
Conclusion
VICI Dresses has carved a niche for itself in the fashion world, captivating women with its exquisite collection that effortlessly balances elegance, style, and comfort. From chic everyday dresses to glamorous evening gowns, VICI's designs embrace individuality and empower women to embrace their inner beauty and confidence. So, if you're in search of dresses that not only make a fashion statement but also resonate with your unique personality, look no further than VICI Dresses. For more information, visit Trending Cult.
FAQs