Tool cabinets are essential for any workshop or workspace, providing a systematic and secure way to store, organise, and access tools efficiently. They help eliminate clutter, reduce downtime spent searching for tools, and enhance safety by keeping sharp or hazardous equipment out of the way. And, if you are looking for a place to buy good-quality tool cabinets, vidaXL has a variety of useful items to look for.
Key Features to look for When Buying Tool Cabinets
1. Size and Capacity
Choose a tool cabinet with sufficient space to accommodate your tools, considering both the number and size of items you need to store.
2. Construction Quality
Opt for cabinets made from durable materials like steel or heavy-duty plastics for long-term use.
3. Security and Mobility
Look for cabinets with secure locking mechanisms along with sturdy casters or wheels that provide the flexibility to move your tools where you need them.
4. Drawers and Shelves
Evaluate the arrangement of drawers and shelves to suit your specific tool organisation needs.
5. Weight Capacity
Ensure that the cabinet can support the combined weight of your tools without structural strain.
6. Durability
Consider cabinets with scratch-resistant, rust-resistant, and impact-resistant finishes to maintain their appearance and functionality over time.
7. Locking System
A reliable locking system, such as a secure key lock or combination lock, is crucial for tool security.
What are the Benefits of Having a Locking Mechanism on Tool Cabinets?
A locking mechanism on a tool cabinet provides essential benefits, including security for valuable tools, enhanced safety by keeping hazardous items out of reach, improved organisation, better inventory control, peace of mind, compliance with safety standards, protection from environmental factors for tool longevity, and a professional appearance in workspaces. This crucial feature not only safeguards your tools but also contributes to a safer and more organised work environment, ensuring that your equipment is readily accessible and well-protected.
Best Materials Used in the Making of Tool Cabinets
1. Steel
Heavy-gauge steel cabinets are exceptionally sturdy and offer resistance to impacts and corrosion. They are suitable for industrial and heavy-duty applications.
2. Aluminium
Lightweight and corrosion-resistant, aluminium cabinets are a great choice when portability and resistance to rust are essential.
3. Heavy-Duty Plastic
High-quality plastic cabinets are lightweight, resistant to corrosion, and suitable for lighter tool storage needs.
4. Wood
Wood cabinets, often used for smaller tool storage, provide a natural and classic appearance but may require more maintenance to prevent wear and tear.
5. Stainless Steel
Stainless steel cabinets are renowned for their resistance to rust and corrosion, making them ideal for humid or outdoor environments.
6. Composite Materials
Some cabinets combine materials like steel and wood to provide a balance of strength and aesthetic appeal.
Where to Buy Tool Cabinets from?
Choose tool cabinets from vidaXL because they offer an amazing combination of quality, affordability, and variety. The cabinets by vidaXL are built to last, constructed with durable materials, sturdy locks, and ergonomic designs, ensuring they stay secure and easily accessible. With a wide range of sizes and styles, you can find the perfect cabinet to match your needs and workspace.
1. Draper Tools Tool Trolley 3-layer Blue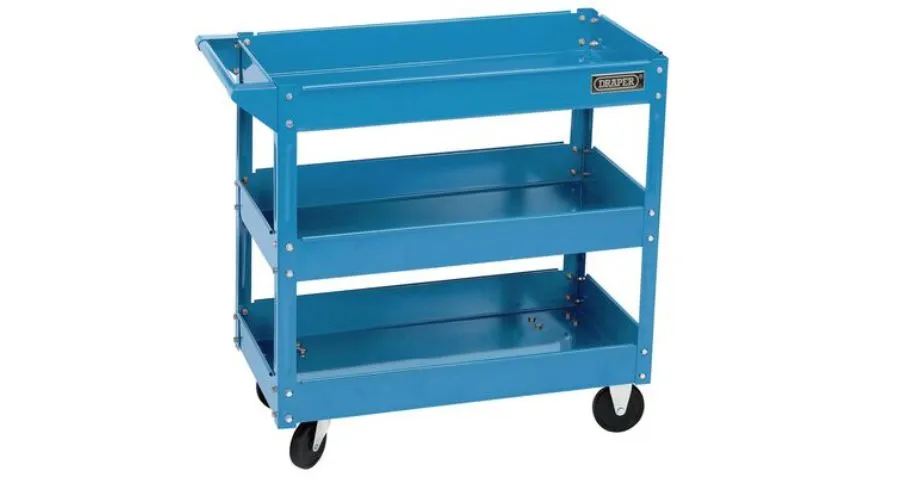 Draper Tools presents a highly practical 3-tier tool cart, a versatile addition to any workshop, featuring four smoothly gliding wheels for effortless mobility. Crafted from robust 0.6 mm thick steel with a protective powder-coated layer, this tool trolley offers exceptional durability and three spacious tiers to accommodate substantial equipment and large tools. With a side handle and casters, manoeuvring this cart is a breeze. Its classic blue colour and quality construction makes it a dependable workshop companion.
---
2. Draper Tools Rolling Cabinet with Tool Box
A vital addition to any workshop, the Draper Tools combo roller cabinet with a toolbox provides extensive storage for various tools and accessories. This robust cabinet consists of a top section with a hinged lid, a middle portion housing three drawers, and a spacious bottom compartment. This diverse layout accommodates both large and small tools, nuts, and screws, keeping them in optimal condition for future use. If you are looking for the best tool cabinets to purchase, this one is available at vidaXL and is surely a great find.
---
Also Read: Different Types And Top Models Of Water Dispensers In The Market
---
3. vidaXL Mobile Tool Trolley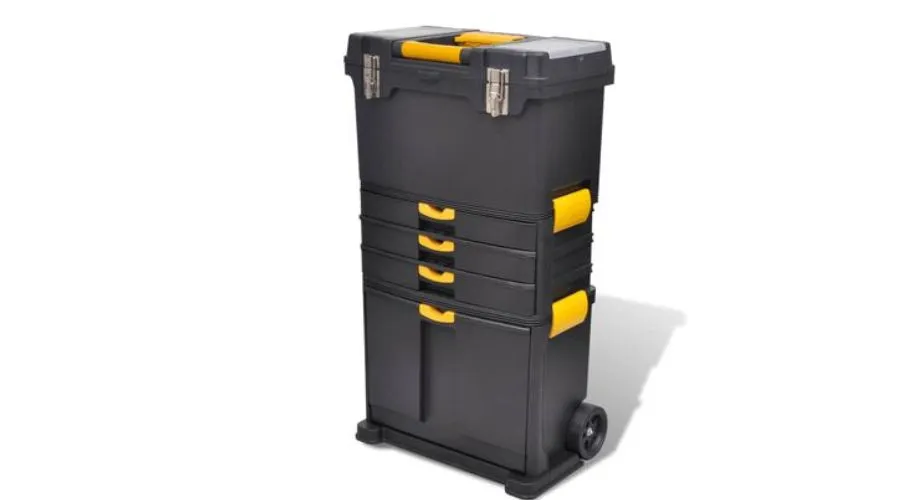 Featuring 2 casters and a handle for easy transport and storage, this High-Quality Tool Case Trolley is an excellent choice for safeguarding your tools and equipment. With a top chest, bottom cabinet, and a central section comprising 3 drawers, it offers ample storage space to keep your tools in optimal condition. The top and bottom cabinets are roomy enough for larger tools, while the middle drawers are compartmentalised for organising smaller items like screws and nuts. Side locks allow for easy separation if you only need the top box.
---
4. vidaXL 8-Piece Storage Bin Set with Wall Panel Red and Black
Maintain order and organisation in your garage, workspace, or workshop with this practical storage bin set featuring a wall panel. This efficient rack, complemented by stackable bins, provides ample storage for small items such as screws, nails, nuts, caps, and fittings. The durable wall panel includes seven bins, which can be labelled for enhanced small parts management. You have the flexibility to stack the storage bins individually, and this expandable set is effortlessly mountable on a wall. It's a versatile and customizable solution for all your storage requirements.
---
Also Read: Different Types And Top Models Of Water Dispensers In The Market
---
Conclusion
If you are looking to find good-quality tool cabinets, vidaXL is one such platform that offers a wide range of tools and other articles for workers and housemakers to look at and at reasonable prices. So, pick a tool cabinet according to your needs and make a purchase with vidaXL. For more information, visit Trendingcult.
FAQs