Baby Sprinkle Invitations, If you are thrilled to share your joyous news of the arrival of the cutest little member with your family and friends, baby sprinkles invitations are surely the right way to go. These heartwarming invites available on Zazzle will express all your love and you can even write any personalized message on the card or send it out with a mini hamper to spread the happiness with your loved ones.
Gift Ideas for Baby Showers
If you are going to your sister's or friend's baby shower, you surely want to give them the world. So, here are some classic baby gifts that would be very useful for the newcomer.
1. Diapers and Wipes
Diapers are always a practical and much-needed gift. You can also include baby wipes or diaper creams.
2. Baby Clothes
Choose cute onesies, sleepers, bodysuits, or outfits in various sizes for the cute baby. But, make sure they are made of comfortable fabrics.
3. Blankets and Swaddles
Soft and cozy blankets or swaddle sets are perfect for keeping the baby warm and comfortable.
4. Baby Gear
Consider items like strollers, car seats, baby carriers, or a high chair if you're looking for a group gift.
5. Nursery Products
Opt for useful nursery items like crib bedding, baby monitors, changing tables, or a crib mobile.
6. Baby Bath Sets
Buy baby bathing gift sets that contain items like baby shampoo, lotion, washcloths, and baby-safe bath toys.
7. Toys and Books
Age-appropriate toys like soft stuffed animals, teething toys, or baby rattles. Start building the baby's library with board books or classic children's stories.
8. Feeding Supplies
Buy feeding articles like bottles, bottle warmers, sterilizers, bibs, and baby utensils for when the baby starts solids.
9. Gifts for Mom
Don't forget about the new mom! Consider a spa day, a thoughtful book, or a breastfeeding support gift.
10. Homemade Gifts
Handmade baby blankets, knitted items, or a homemade baby shower cake can add a personal touch to your gift.
Planning Fun Games for the Event
Planning fun games for a baby shower can add excitement and entertainment to the event. Here are some popular baby shower game ideas to implement at your baby shower-
1. Baby Bingo
Create bingo cards with common baby items like diapers, pacifiers, baby bottles, or more and guests mark their cards as these items are unwrapped as gifts. The first one to complete a line or full card shouts Bingo and wins a prize.
2. Diaper Raffle
Encourage guests to bring a pack of diapers along with their gift for a chance to win a prize in a raffle drawing.
3. Baby Trivia
Prepare a list of baby-related questions and host a trivia quiz. Questions can range from baby facts to celebrity baby names. Guests can form teams or play individually.
4. Baby Name Game
Provide a list of potential baby names and have guests vote on their favorite. You can also ask guests to suggest names.
5. Baby Word Scramble
Create a list of baby-related words or phrases and scramble the letters. Guests must unscramble them within a time limit.
6. Decorating Onesies
Give your guests plain onesies and colors or markers, so they can quickly decorate the clothing item. This can be a fun and creative activity that results in a personalized gift for the baby.
7. Baby Pictionary or Charades
Play a baby-themed version of Pictionary or charades, where guests act out or draw baby-related words or phrases.
Where to Buy Adorable Baby Sprinkle Invitations?
Buying baby sprinkle invitations from Zazzle offers a unique and customizable experience that allows you to create personalized invitations tailored to your specific theme or style. With a wide range of design templates, fonts, and colors, you can easily craft invitations that reflect your creativity and preferences.
Zazzle also provides high-quality printing, paper options, and quick delivery, ensuring that your invitations not only look fantastic but are also ready in a timely fashion. You can even avail of various discounts and deals on Zazzle, making it a cost-effective solution for all your baby's needs.
1. White Orchids Pampas Grass Baby Shower Sprinkle Invitation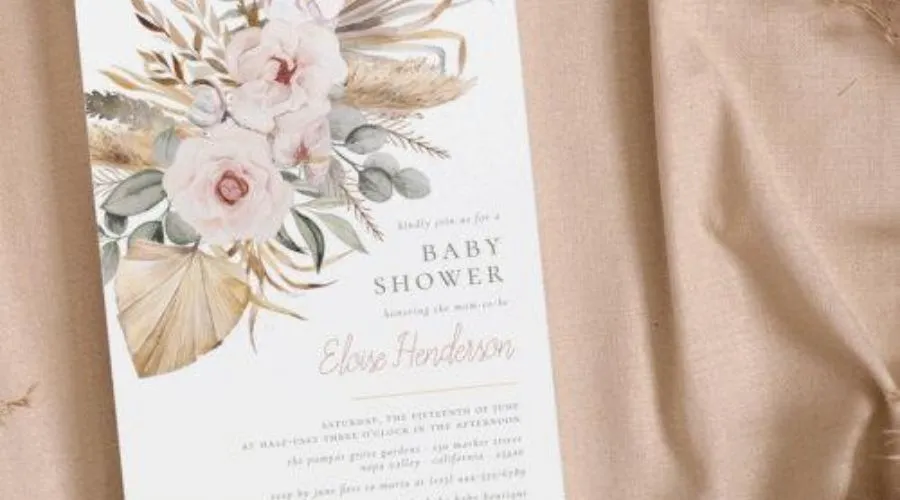 Customize your invitations and announcements of the special occasion effortlessly with these White Orchids Baby Sprinkle Invitations that come in twelve distinct paper types, different color options, and two printing options- Standard and High-Definition.
This flat card includes a standard white envelope, allows for double-sided customization at no extra cost, and boasts high-quality, full-color, full-bleed printing. The Matte paper type, with its timeless appeal and uncoated matte finish, offers a natural feel and excellent writability, ensuring your cards stand out.
2. Watercolor Pink Pumpkin Autumn Baby Sprinkle Invitation
Select from a variety of paper types, printing options, and shapes to customize with these Watercolor Pink Pumpkin Baby Sprinkle Invitations that will surely suit your preferences. The card comes with a standard white envelope and offers the flexibility to add photos and text on both sides without extra charges.
You can even choose between Standard and High-Definition printing for high-quality, full-color, full-bleed results. The 12 unique paper types and colors are also available, including the versatile and budget-friendly Standard Semi-Gloss paper.
3. Watercolor Blue Baby Shoes Boy Baby Sprinkle Invitation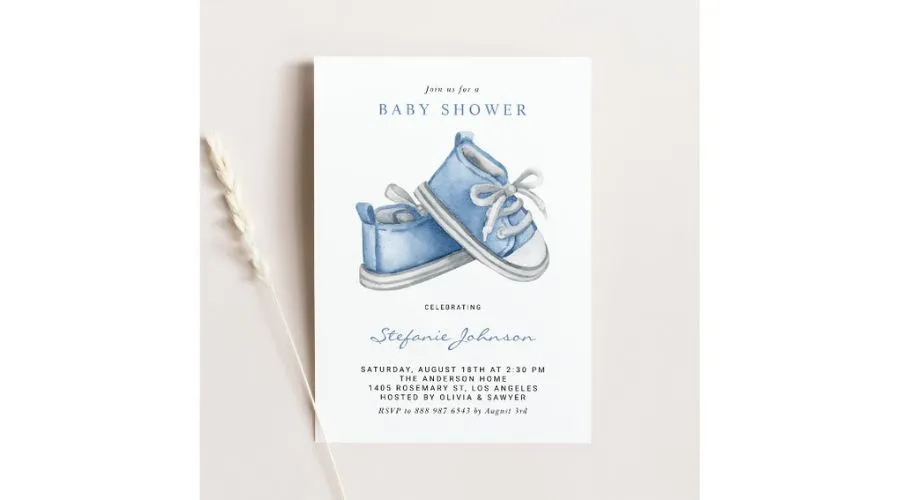 Design your custom baby sprinkle invitations for a boy for the most special occasion with ease! You can select from a variety of paper types, shapes, and printing options to create the perfect card. These 5″ x 7″ cards come with standard white envelopes and allow you to add photos and text to both sides at no extra cost.
Choose between Standard and High-Definition printing for exceptional results, and pick from 12 unique paper types and colors. The Semi-Gloss paper type offers versatility and affordability while delivering sharp, vibrant images with outstanding color and detail, making it an excellent choice for all your printing needs.
4. Pink Rainbow Sprinkle Donut Baby Shower Invitation
Create personalized baby sprinkle invitations and announcements for the very prestigious event with ease! Tailor your card by selecting from twelve distinct paper types, two printing options, and six shape choices to match your unique style.
You have the freedom to add photos and text to both sides at no extra cost, and you can choose between Standard and High-Definition printing. The paper type offered here is Matte, known for its timeless and natural feel, featuring an uncoated matte finish that imparts a soft and elegant look to your printed colors.
Also read:- Choosing The Right Chopping Boards For Your Kitchen At The Best Rates
Conclusion
If you are looking to officiate your good news by throwing a baby shower, these baby sprinkle invitations by Zazzle are a really great idea to move forward with. The platform offers tons of baby sprinkle invitation templates that users can download and personalize. Customers can even choose from different paper materials, designs, and colors, and accordingly customize them as per their liking. And, these sprinkle invitations for babies are actually more affordable than you'd think. For more information, visit Trendingcult.
FAQs