Nothing is more satisfying than organized tools, all in one place, easily accessible. Are you a passionate gardener or do you have a crowded shed? Then an outdoor storage cabinet is a solution to your apprehensions! Storage cabinets come in various shapes, colours and sizes. If you are unsure about the right one for you then you should definitely take a look at vidaXL's collection of storage cabinets! From spacious compartments to cutesy shapes, there are so many options for you! 
Outdoor Storage Cabinets from vidaXL to revamp your exterior space! 
1. Gray Garden Cabinet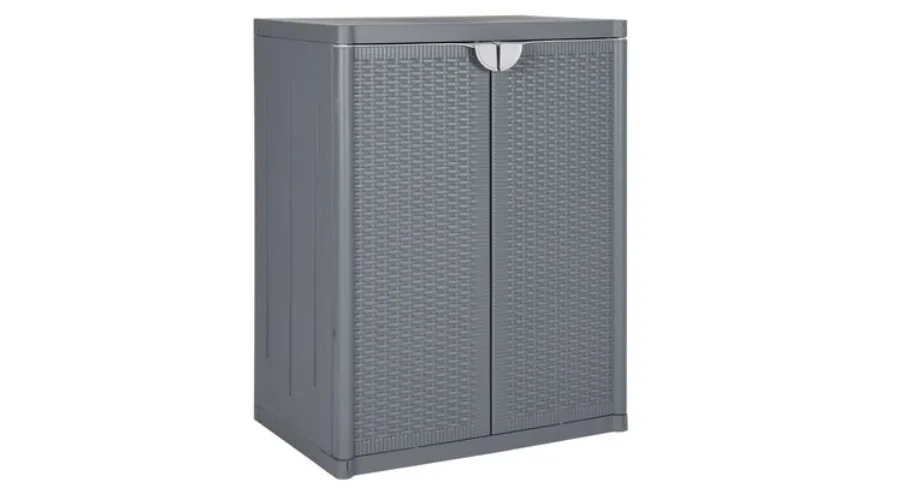 This gray garden cabinet has a classy finish. A perfect fit for any type of venue, whether it's a garden, porch or garage! Made of Polypropylene (a type of plastic), it is lightweight and durable. The interior of this cabinet includes two shelves which divide it into three compartments. You can arrange your cleaning supplies, gardening tools or other fixing tools here! Now you don't have to worry about them lying around or getting lost. 
The top of the handle doors have silver-coloured handles which makes it easy to use and open the cabinet. If you feel like storing other decorative materials or essentials then you can consider that too. For safety, it is recommended to fix the cabinet on the wall so it doesn't turn over.
---
2. Aqua Brown Garden Cabinet
Everyone's gardens need a cute little accessory. And if you are looking for one then this aqua brown cabinet needs your attention. Shaped like a birdhouse, this cabinet is not only eye-catching but also compact and durable. The paint is water resistant and the roof is waterproof so you don't have to worry about untimely rains. 
The cabinet has two shelves and three spacious compartments that you can use for storing essentials like pool equipment, gardening seeds and tools as well as paint boxes. Most suitable for small and light items and those appliances that need water protection.
---
3. Poly Rattan Black Colored Garden Cabinet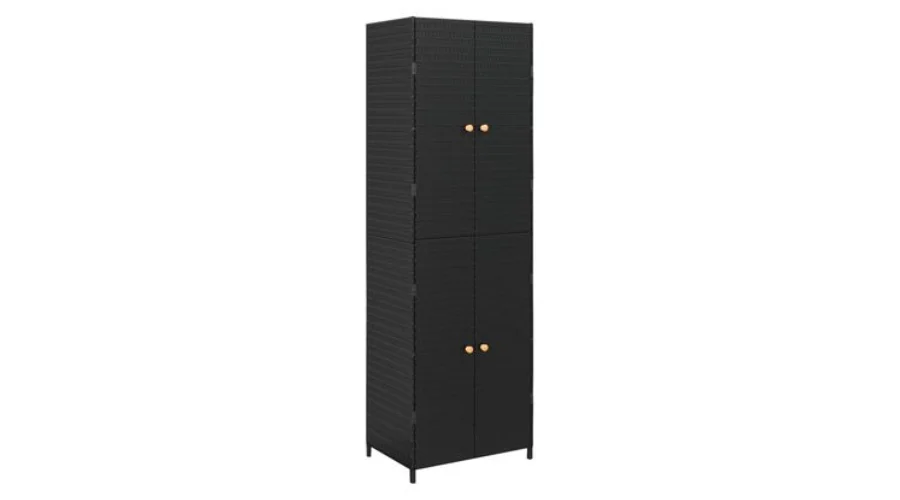 The black finish of this poly rattan cabinet has a timeless aura. The cabinet is 180 cm long with four compartments where you can easily keep your small items. The cabinet handles are made of acacia wood which guarantees their sturdiness and strength. 
The outer appearance of this cabinet makes its functionality versatile. If you don't feel like using it as an outer storage cabinet then you can use it indoors to keep other items like books or cutlery. A highly practical cabinet, it is easy to clean and maintain. The water-resistant feature makes it an attractive option for those who are considering it for outdoor use.
---
4. Gray Colored Fancy Garden Cabinet
A mini cabinet for your normal tools and essential items. This poly rattan cabinet is durable, stable and absolutely water-resistant! It will easily endure unexpected rains and humid weather. The frame is powder coated with steel which adds to the strength and structure of the cabinet.
This outdoor storage cabinet comes in two colour options- Gray and Black. Although there is not much space to keep your big tools and equipment, the fancy design and uniqueness of this cabinet are certainly appealing. You can keep decorative items like flower vases or pots to enhance their look!
---
5. Beige Colored Storage Cabinet
In love with light-coloured furniture? You'll definitely love this beige-sandy-coloured storage cabinet. It is small in size with two compartments so you can stash your small tools there! The shelf and legs are adjustable to cater to your convenience. It is better to fit this cabinet on the wall. The seamless assembling experience makes the whole process super quick and easy! 
This groove cabinet is made of recycled plastic and if you are an environmentally responsible person then this is a great option for you! The product has an IPX3 rating which proves its protection against water. An IPX3 rating basically determines the product's power against water resistance. The rating range is from 0-9. 9 being the strongest.
---
Conclusion
Outdoor storage cabinets are a blessing in disguise. Not only do they help one organize essentials properly, but they are also practical and affordable. vidaXL is a go-to place for your home-related needs. From furniture, and gardening items to industrial products, they have an expansive catalogue for their buyers! If you are considering a storage cabinet inclusion for your home then vidaXL is the right spot for that! For more information on outdoor storage cabinet waterproof and outdoor metal storage cabinets, visit Trending Cult.
FAQs