Chill time doesn't always need to be an outdoors or time-consuming activity. Sometimes it can mean as little as a nap or some quality time in the fresh air. Another way to just relax and de-stress is sitting on a cosy rocking chair! Rocking chairs have been around for so long! They are a classic way to just let loose and enjoy some leisurely time. vidaXL, a home and garden retailer from the Netherlands has a comprehensive range of rocking chairs suited to different needs. Keep reading to find some rocking chair recommendations exclusively from vidaXL!
---
About vidaXL
vidaXL is an absolute go-to for customers looking to give their home a makeover or add new furniture! From furniture, accessories, sporting goods, vehicle parts, industrial products, and hardware tools to other cool accessories, you'll find it all here! vidaXL supports your home decor journey and will give you a seamless and convenient experience.
---
Rocking Chairs from vidaXL to 'rock' your world! 
1. Wine Red Velvet Rocking Chair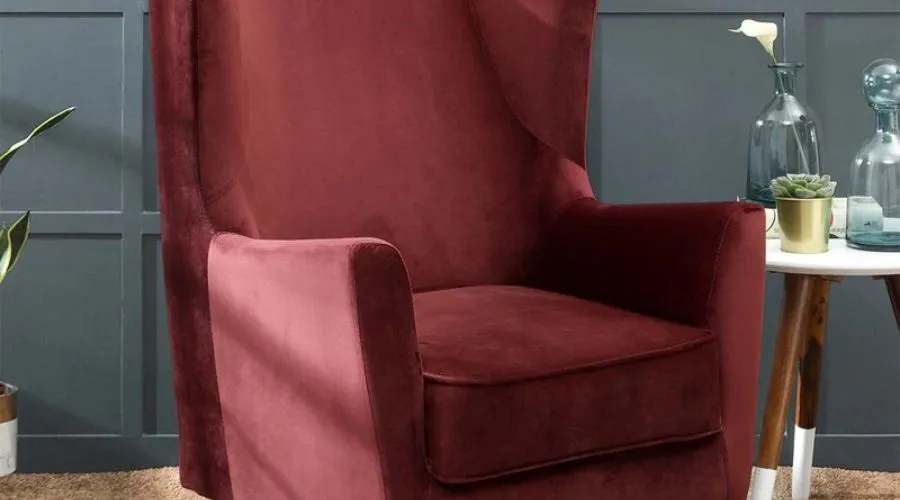 1. Available in 11 different colours, this velvet rocking chair will give an elegant touch to your home! The block-patterned cushion and thick foam make it super comfortable to sit on. The red shade of the chair is an attention-grabbing feature. And we assure you that the next time you have guests, they will definitely notice this new addition! The chair is made with a steel frame and is highly durable and stable. So no, you don't have to worry about failing. Just don't rock too hard or else you definitely will fall off! The fluffy feel of the chair will provide solace and warmth.
---
2. Solid Acacia Wood Rocking Chair 
1. Wooden rocking chairs are one of the most common options for these chair users. They have a timeless allure and vintage-type vibes. So if you are a lover of the 90s and like being old-schooled then this chair is the one for you! This chair is an ideal fit for any type of surrounding. Whether it's your garden, patio, bedroom or living room! The acacia wood ensures durability and the backrest is shaped in a way that provides maximum comfort. If you want to make the experience even more soothing then add a soft cushion on the back and rock on!
---
3. Pink Rocking Chair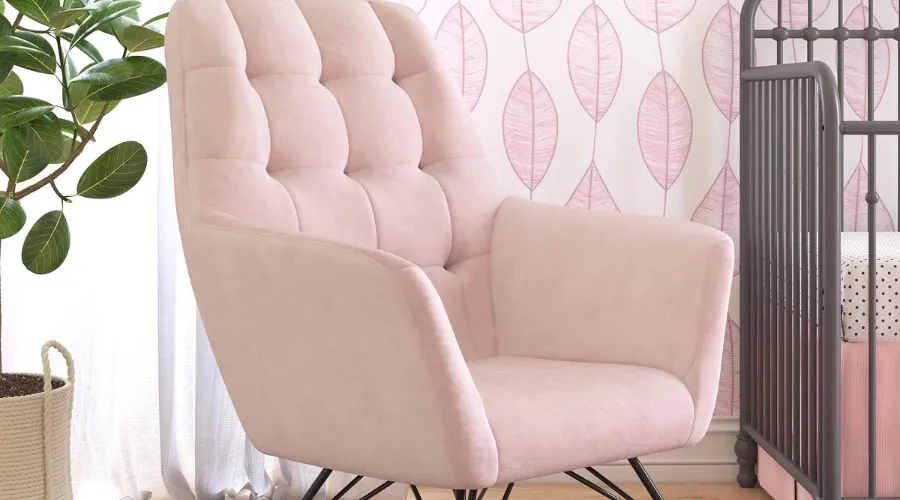 1. Do you love vibrant and bright colours in your home? Then this pink rocking chair will be super appealing to you. The backrest has a line-style pattern and the armrest is built sturdily to ensure a seamless time. The chair comes with 8 colour options so if you aren't feeling it pink then you'll certainly love the other tones. Here are the other available colours- Light grey, wine red, black, mustard yellow, light green, cream, and dark grey. The rocking chair requires assembly but it won't be that difficult so just take a deep breath and relax! It is made of velvet, solid rubberwood and steel which guarantee its sturdiness and endurance strength.
---
4. Rocking Chair with Curved Seat
1. Some people love collecting classic retro items and furniture and if you are one of them then take a look at this chair! It is available in four colours- black, white grey and brown. The chair radiates an old-fashioned vibe and is a perfect fit for your home if you are into that! It is versatile and fits anywhere flawlessly. Besides that, the line pattern on the backrest and seat ensures airflow. And the top handles on the top give it a royal-style aesthetic. The curved seating is a stylish addition and also improves posture. Suitable for everyone- from children, adults to old people! Because everyone deserves to 'rock' from time to time!
---
5. Fabric Rocking Chair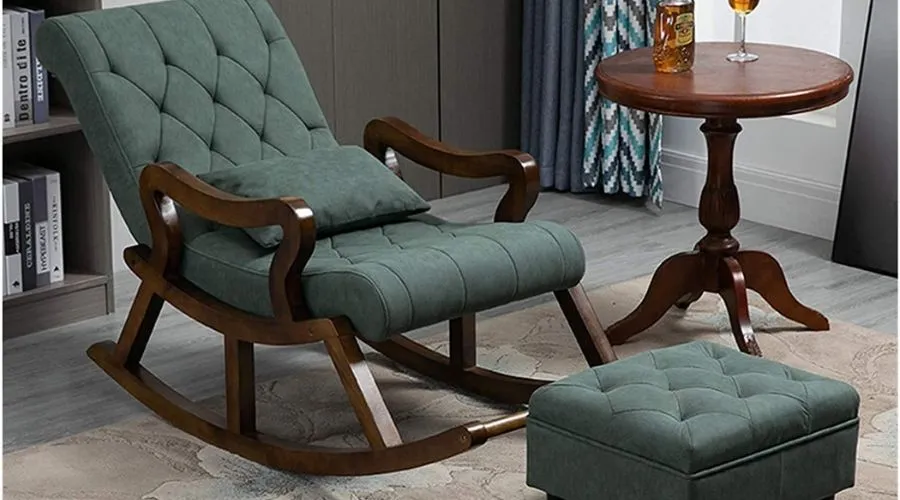 1. The chair covered with fabric is ideal for quick naps and utmost back support. The chair is filled with foam and made of metal, rubberwood and plywood. For maximum relaxation, take a cosy cushion and a thin blanket as you sit and spend some alone time. Whether you want to rock your baby to sleep, read a book, send quick emails from the laptop or just lay back content undisturbed, this chair is an excellent partner. The line and block pattern gives it a charming look enhancing its visual appeal.
---
Conclusion 
Rocking chairs are a perfect way to unwind and bask in meaningful quality time. They are soothing and come with many benefits. On top of that, they are a great way to fill empty spaces and accessorize your home. Perfect companions for reading, listening to music or simply taking a nap, rocking chairs are a must-have for every home! vidaXL's rocking chair inclusions ensure that relaxation is simple and affordable. For more information, visit Trending Cult. 
FAQs