Wall shelves are an excellent way to enhance and adorn decorative details in different corners of living spaces, offices or other establishments. From displaying showpiece objects to keeping important items, wall shelves are useful additions everywhere. Popular retailer vidaXL is an ideal place to get your home related needs fulfilled. vidaXL's range of categories and products will give you various options to choose from.
Decorate and Accessorize- Wall Shelf recommendations from vidaXL
1. Floating Black Wall Shelf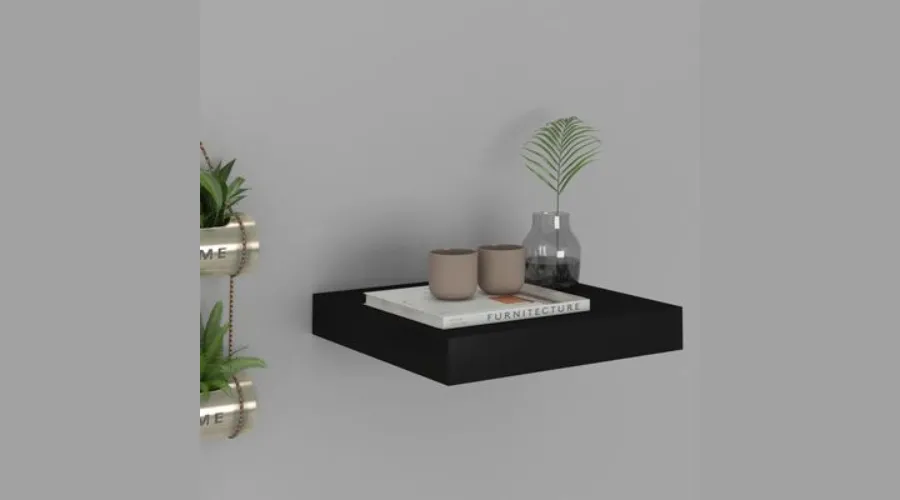 Show off your vintage items or awards on this black wall shelf. The invisible mounting installation system makes the entire process smooth and fast. The wall shelf is durable and super stable because of its metal frame.
Convert your boring and empty corner spaces into a haven of stunning eye-catching items. This wall shelf has a width of 23.5 cm so you can keep limited items on it. But less can be enough too! Adorn some of your fanciest and prettiest items, because they deserve to be seen and appreciated! This black shelf will certainly elevate your space and take it to the next level. There are 10 different color options to choose from so take your time!
2. Chipboard Wall Shelf (2 Pieces)
An elegant way to decorate your space, these wall shelves will give your space an upgrade. Whether it's your own home or your workplace, creating a beautiful wall is simple and affordable. Thanks to this wall shelf set. From books, small vases, photo frames, to electric candles, accessorize the wall shelf according to your preferences! The black shade goes with all backgrounds and settings, increasing the versatility of the shelf. The wall shelf is made of chipboard, which ensures its light weight and strength.
3. Glossy Gray Cube Wall Shelf (2 Pieces)
Certainly a glossy way to enrich your empty walls. These cube wall shelves are super cutesy and will integrate into any setting easily. You can add decorative items on the top or between the shelf spaces. These shelves are perfect to make your wall pop.
Give them a meaningful remark by adding your nostalgic photo frame or awards on the shelves. These shelves can also be a great fit for the kitchen where you can keep spice jars, jams, and ketchup bottles. The shelves are simple to maintain and don't take much time to clean. All you need is a wet cloth and wipe them every once in a while. They are made of processed wood which ensures their long life and utility.
4. Wall Shelf With Drawer
This wall shelf will definitely keep you hooked with its multi purpose functionality. It includes a drawer that you can use for keeping your essential items such as keys, pens, frame holders, notepads, etc. The matte finish makes it a perfect centerpiece for your space. Whether it's a dull wall or an empty one, adding this shelf will give a touch of charm to it.
The shelf is available in two sizes- 48 cm and 80 cm. So you can decide the size that caters the most with your preferences.
5. 5 Piece Wall Shelf Set
5 ways to elevate your walls, that sounds cool doesn't it? The acacia wooden finish with steel frames gives added strength and durability to the shelves. You can decorate the shelves together or in separate corners of the walls, depending upon the need.
The black colored frame and wooden planks give it an old-school and homey aesthetic. It is ideal for decorating small vases, awards, showpiece items, and mini ornaments. The next time you have guests over, they'll definitely compliment this stunning addition to your interiors.
6. Floating Corner Shelf (Blue)
Add a vibrant touch to your wall with this unique corner shelf. The invisible mounting system makes it easy to attach and incorporate into your home. It is 35 cm wide, so you can keep decorative items, books, awards, collections, and vases on it. It is available in 10 different colors, so if you aren't feeling colorful, you have other options!
Conclusion
A wall shelf is an outstanding way to beautify your walls without doing too much! It is super elegant and classy, and it helps fill empty walls and corners. Wall shelves fit perfectly anywhere and don't take up too much space. vidaXL is a convenient platform to get a diverse range of wall shelves. The platform is handy and provides an extensive selection of product categories at competitive prices. If you are thinking about incorporating wall shelves into your personal spaces, then vidaXL is the right place!
For more information, visit Trendingcult.
FAQs