25 mins away from South Tenerife airport, Spain. Lies a comfy yet luxurious stay at Hotel Best Jacaranda. Located in the famed area of Costa Adeje, nestled in the middle of lush greenery and overlooking the Atlantic Ocean, Hotel Best expresses a hue of comfort, luxury, and peace. The hotel welcomes an ideal getaway for families, solo travellers, and couples. 
The 4-star hotel in Costa Adeje has spacious, bright rooms. You are equipped with all the nitty-gritty, like Free Wifi, Flat-screen TVs, and air conditioning for a comfortable stay when you're not out exploring the range of amenities: four outdoor pools, a SPA centre, a fitness centre, and a tennis court. The SPA offers massages, body wraps, and facials to dive deeper into tranquillity. When you've seen enough, you will identify the three restaurants, two bars, and a snack bar with a wide range of international business and mixed drinks—a great excuse to stop time and delve into a multidimensional vacation. 
Hotel Best Jacaranda location 
The desirable location in the middle of Costa Adeje is one of Tenerife's popular destinations. A saunter away from the crystal clear waters and heavenly sands of the magnificent coastline. Local shops, bars, and restaurants neighbour the hotel for guests to ponder and explore. Siam water park is an excellent tour away from the hotel for a dash of excitement. The hotel is 18km away from South Tenerife Airport. A mere 20-minute drive away. 
Accommodation in Hotel Best Jacaranda: 
Glance over the 550 rooms and their features and amenities: 
There are various rooms to opt for per your needs and preferences: standard rooms, family rooms, and suites. All of them are spacious and have an extended balcony or terrace to relax and gaze out from. Family rooms accommodate four guests to house your kin. Suppose plush is what you desire. The suites are spacey, with a living area, a Jacuzzi, and a pristine ocean view. 
The rooms at Hotel Best Jacaranda are equipped with modern amenities to ensure a comfortable stay. All rooms have air conditioning, a flat-screen TV, a minibar, and a safe. The private bathrooms come with a hairdryer and complimentary toiletries. The family rooms and suites have additional amenities, such as a sofa bed, a coffee maker, and a bathtub.
Reviews and Guest feedback
Hotel Best Jacaranda holds positive reviews from guests to its accord. It is credited to the spacious, comfy, and sparkly clean rooms maintained by warm and eager staffing. The guests also praise the accessibility of the location as it is a hop, skip and jump away from exploring the local area. 
Dining Hotel Best Jacaranda: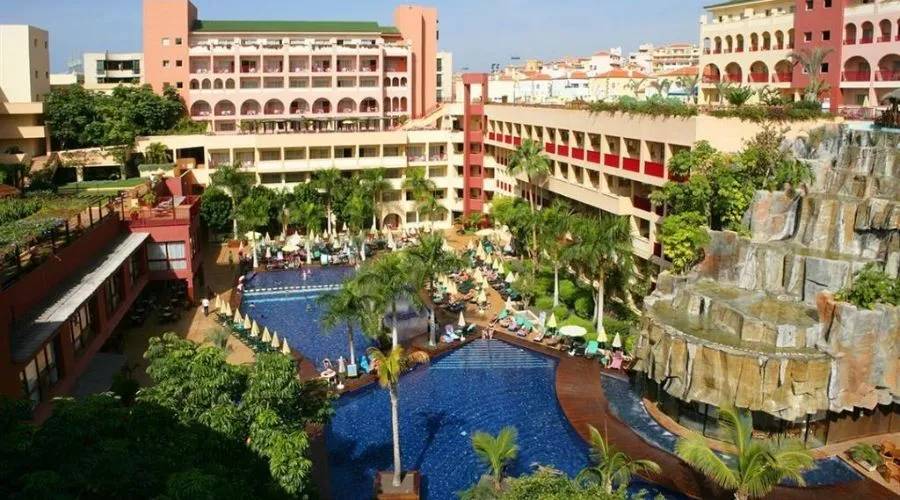 After all those walks, swims, and exploring, one can get hungry. Let us take a look at the dining options at the hotel. 
Hotel Best Jacaranda boasts an impressive range of restaurants and bars. There are two main restaurants, a buffet-style restaurant serving international cuisine and a themed restaurant specialising in Mediterranean dishes. Guests can enjoy drinks and light bites at the pool and lobby bars. 
Types of cuisines offered
The buffet-style restaurant is the spot to take your taste buds on vacation. The finest chefs rustled up a wide variety of International dishes like Italian, Chinese, and Mexican. The Mediterranean-themed restaurant serves the best seafood and grilled meats with various vegetarian options. Regardless of your dietary requirements, the dining will satisfy you. It even caters to the all-important vegan bellies. 
Activities and amenities in Hotel Best Jacaranda: 
Apart from the perfect rooms, there are many ways to make the most of the hotel. 
1. Overview of the Activities and amenities 
To ensure a memorable stay for guests, the hotel offers many outdoor swimming pools, a children's pool, and a splash park for young vacationers. The fitness centre, sauna, and massage service will aid in the body and mind balance we crave.  
2. Pools, fitness centre, and SPA 
Jumping into the pool on a sunkissed afternoon can always go right, primarily if a waterfall exists. If you don't want to plunge, relax by the poolside at the sun lodgers or under a parasol. You may be on vacation, but the fitness centre and sauna are a great reminder to burn those extra calories and stay aligned with your fitness regime. Walk into the SPA to explore the variety of massages and treatments to deepen your relaxation. 
3. Nearby attractions and activities
The hotel is just a stroll away from the beach, close to famous attractions like the Aqualand water park, Siam water park, and the Tenerife top Training sports complex. Easy access to shopping centres and restaurants is excellent for exploring the world around those curious minds. 
Value for money
Hotel Best Jacaranda truly delivers when it comes to value for money. A range of competitive pricing to match all budgets for guests to enjoy top-notch amenities at a reasonable rate. 
Many guests have spoken well about the hotel and its rates. They have also expressed the quality of service and amenities that exceed their expectations for the price—an excellent choice for travellers seeking a valuable vacation in Tenerife.
Conclusion 
Best Jacaranda hotel tenerife is an excellent choice for people seeking a relaxed yet adventurous stay in Tenerife. Its modern amenities, spacious rooms, and convenient location are held accountable for this. The on-site dining facilities are spectacular, with a wide range of options for guests of all tastes and preferences. To add to this m the nearby activities and attractions make it smooth for guests to explore the island's offerings. The affordable pricing and value for money have Hotel Best Jacaranda in high regard for its previous guests. If you're looking for a splendid vacation in Tenerife, look no further than Hotel Best Jacaranda. Explore TrendingCult for more helpful information on hotel best jacaranda tenerife!
FAQ's