Are you looking to add a touch of style and warmth to your living room or dining area? Look no further than the wide selection of round carpets on VidaXL. Round carpets are not only functional, but they also serve as stylish statement pieces that can transform the overall ambience of a room. If you're in search of the perfect round carpet for your space, VidaXL offers a wide range of options to suit your style and needs. 
VidaXL is a leading online retailer that offers round carpets in a wide variety of colours and materials, so you're sure to find the perfect one to match your decor. To get you started, we are going to share the top five round carpets available on VidaXL. But before that, let's discuss some tips for choosing the right round carpet for your home.
Tips on choosing the right round carpet for your home
If you are one of those people who always procrastinate when it's time to pick something to elevate your home decor, we feel you! Sometimes, you just don't know what will go well with your space. But don't worry. Here are some valuable tips to simplify the process and ensure that you make an informed decision:
Consider the size of your room. A large rug will make a small room feel even smaller. On the other hand,

a small rug

will get lost in a large room. 

Think about the style of your home. If you have a minimalist interior, something simple will be a good choice. If you have a vibrant and colourful interior, then a carpet with more personality will be a better fit. 

Consider the materials you want. Wool rugs are warm and luxurious, while synthetic rugs are affordable and easy to care for. 

Think about the colours you want. Neutral colours go with any décor, while bold colours add a pop of style.
5 Stylish round carpets on VidaXL for your dining and living area
1. vidaXL Rug Handmade – Braided Jute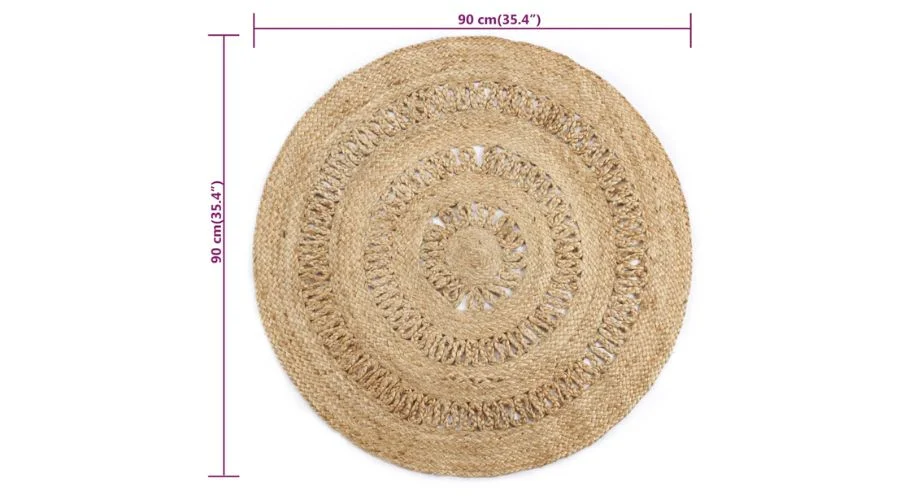 Elevate the natural charm of your living room or dining area with this handmade rug on vidaXL. This round carpet is crafted from durable and eco-friendly jute material, making it a sustainable choice for your home. It's the perfect option for those who are conscious of the environment. The handmade braided design adds a nice texture and visual interest, creating a rustic and earthy feel. With a diameter of 90 cm, this rug is perfect for smaller spaces that need a touch of warmth and character. Experience the cosy and inviting atmosphere it brings to your room while enjoying its easy maintenance and long-lasting quality.
2. vidaXL Handmade Rug with White Print – Jute
The vidaXL Handmade Rug with White Print is the perfect piece to transform your home into a stylish space. This exquisite round carpet features a captivating white print design on a high-quality jute background. The handmade construction ensures exceptional craftsmanship and long-lasting performance. With a diameter of 90 cm, it is an ideal choice for smaller living rooms or even as a chic addition to your dining table. The natural jute material and the elegant white print blend well to create modern aesthetics with organic charm.
3. vidaXL Handmade Rug Featuring Dark Blue Print – Jute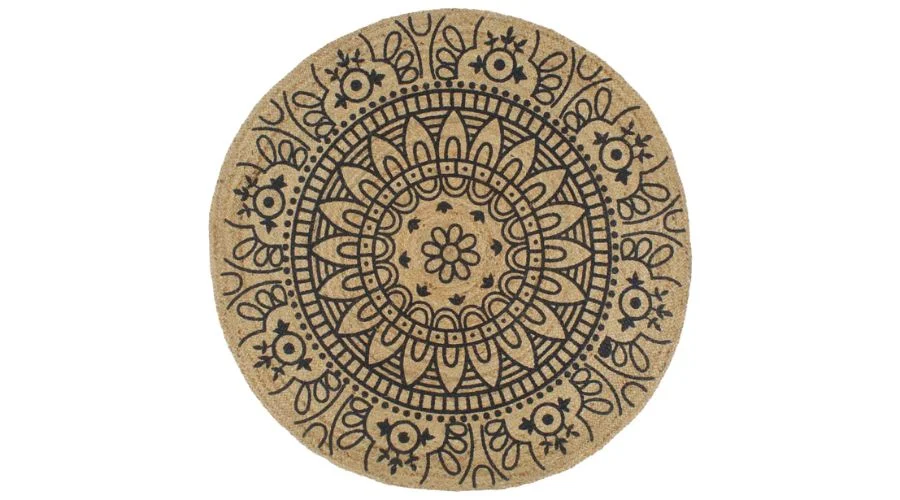 This handmade rug on VidaXL adds a pop of colour and personality to your living space. The round carpet boasts a stunning dark blue print design that instantly catches the eye. Crafted with meticulous attention to detail from high-quality jute material, it offers both durability and an aesthetic appeal. With a diameter of 90 cm, it is perfect for smaller spaces, creating a cosy atmosphere. The deep blue print complements various decor styles, making it a versatile option for those seeking a vibrant and stylish accent piece.
4. LABEL51 Carpet knitted – Cotton
The LABEL51 Carpet comes in an exquisite design, offering luxurious comfort. Made from soft and comfortable cotton material, this round carpet begs you to sink your feet into its plush texture. The round-knitted design adds a unique element to your living room or dining area while giving a minimalist vibe. With a generous diameter of 150 cm, it is the perfect choice for larger spaces, allowing you to design and position your seating area with style. The elegant black colour effortlessly blends with any decor, making it a timeless, versatile and sophisticated addition to your home.
5. vidaXL Handmade Spiral Rug –  Jute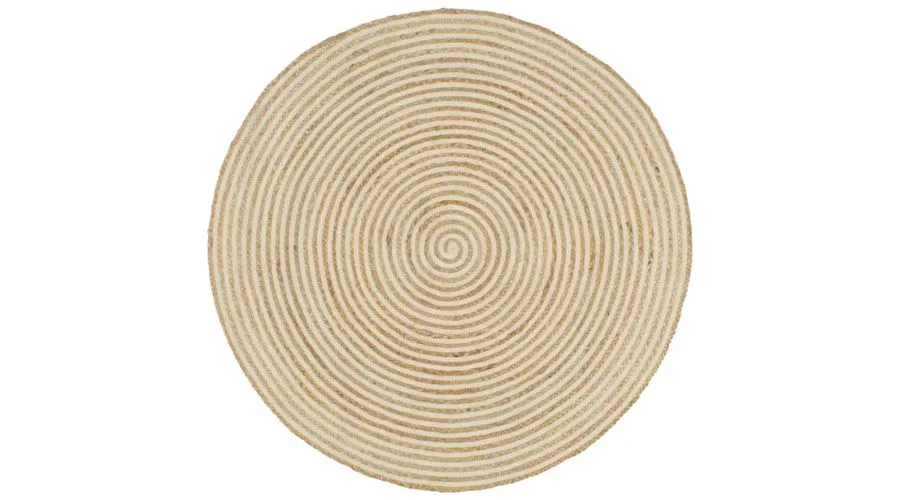 The vidaXL Handmade Spiral Rug features a catchy spiral design carefully handcrafted from white jute material. The contrast between the natural texture of the jute and the modern spiral pattern creates a visually striking effect. With a diameter of 150 cm, this round carpet is perfect for spacious rooms. Install this aesthetic piece in your living room and dining room for a touch of luxury and sophistication. Striking a combination between comfort and style, this handmade spiral rug is a must-have piece. 
Conclusion
A round carpet is the perfect addition to your living room or dining area. It's that one piece that brings style, comfort, and warmth to your space. VidaXL offers a diverse selection of round carpets, each with its own unique features and design. By considering factors such as size, style, material, colour, and pattern, you can find the ideal round carpet that suits your needs and enhances your home decor. Explore the options available on VidaXL and choose the round carpet that best reflects your personal style and elevates the ambience of your living space. For more such updates, visit Trending Cult. 
FAQ's